Adventurers around the globe have paid tribute to Dixie Dansercoer after the veteran polar explorer's fatal crevasse fall on Monday.
Mourners gathered yesterday afternoon at a sculpture of Dansercoer in the harbor of Nieuwpoort, his hometown. The monument commemorates his 2007 expedition to retrace the journey of the Belgian Antarctic Expedition of 1897–1899. The Belgica Expedition (named after their ship) made the first overwintering in Antarctica and included such later polar luminaries as a young Roald Amundsen and Frederick Cook.
Belgian adventurer Louis-Philippe Loncke organized a card and flower assembly at the De poolreiziger (the polar traveler) sculpture, including signatures from a range of Belgian adventurers, international polar travelers, and various organizations such as the International Polar Guides Association. The rock band, K'S Choice, which provided the music for one of Dansercoer's documentaries, also signed.
Polar veterans expressed their shock and sadness at the loss of a colleague and friend. "Crushed and shocked by the news of the death of my friend Dixie Dansercoer yesterday," wrote guide Hannah McKeand. "Dixie was a warm, bright, wise, and funny man, who always had a kind word."
Dansercoer's wife, Julie Brown, poignantly wrote of Dansercoer yesterday: "Dixie was so much more than a polar explorer. He was fun and spontaneous and lived life to the fullest. He would want you to do the same."
About the Author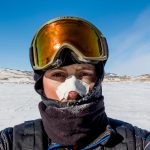 Ash Routen
Ash is an outdoor and adventure writer from the UK. He juggles a day job as a public health scientist with a second career in outdoor writing.

His words have featured in national newspapers, international magazines, and on various websites. Major bylines include Financial Times, Daily Telegraph, Porsche, Outside Magazine, Rock and Ice, and Red Bull.

He holds two degrees in Exercise and Health Sciences, and a PhD in Public Health.

His areas of expertise are polar expeditions, mountaineering, hiking, and adventure travel. In his spare time Ash enjoys going on small independent sledding expeditions, outdoor photography, and reading adventure literature.

Read more at www.ashrouten.com or follow Ash via @ashrouten on Twitter and Instagram.