Whether you need a picnic blanket, a warm layer around the fire, or an extra layer on top of or under your sleeping bag, a quality camping blanket is a versatile and valuable piece of gear to have in your arsenal. Here in the Pacific Northwest, we spend a large chunk of our time outdoors May through October, hanging out in parks, by rivers, and engaging in various outdoor activities, so we know a thing or two about what makes the best camping blankets.
Read on to learn more about every kind of camping blanket out there: high-quality cheap camping blankets, down, quick-dry, wool, fleece, light, heavy, and even highly technical, thermal blankets.
Best Camping Blankets
My first test with this blanket was a day of bouldering. I took this blanket to the sandy riverside area where the Klickitat River meets the Columbia River. While this is a popular swimming and windsurfing spot, it boasts a small bouldering wall my friends and I often climb on. On Sundays, we climb together, and those with kids bring them to play in the sun and the water. I brought this blanket, hoping it would be a good base for the young kids and to test how well it held up to the sand. The kids loved it, and when it was time to go home, all the sand rolled right off with a couple of shakes, and compressing the blanket back into its stuff sack was no problem at all.
For the next test, I took this blanket car camping, and it turned out to be just warm enough for a solid night's sleep before climbing the next day. I've taken this blanket on nearly a dozen day trips now, and the ripstop polyester has yet to show wear and tear.
I used this blanket as a dog bed while bouldering and the dog had no complaints. It works well as a picnic blanket; my only concern is that dropped food may stain the polar fleece. One of my favorite components of this blanket is that it is machine washable, making clean-up and getting rid of the inevitable food stains a breeze.
At 2.8lbs, this product is lightweight enough that your friend's kid-turned-pack mule can carry it for you, and the carry strap slides easily over the shoulder or in other bags. Lastly, the blanket measures 79in x 58in, making it large enough for two adults to cuddle, four children to spread out on, or the perfect size for one adult who moves around a lot in her sleep.  Read the in-depth review here.
Key features
79in x 58in
2.8lbs
Versatile
Packs easily
Small but mighty—The Matador Pocket Blanket may lack some warmth, but this blanket takes the cake as far as portability and compressibility go. I've used this blanket as a blanket, something to sit on to keep from getting too dirty, and as a rope tarp when rock climbing. I opted for a red one since I am often outdoors and in the backcountry. It could double as a flag to wave down rescuers should something go wrong.
This blanket folds up to become palm-sized, but when unfolded, it measures 63in x 44in and features corner stakes for easy securing to the ground.
Need an emergency tarp? Done. Need a quick nap? Done? Rope tarp? Done. Don't want to get your gear or clothes dirty? Done. This product has become a must-have for all my outdoor adventures and has come in handy many times. I've even used it to tie lights to a tree while bouldering.
Even after years of use, the ripstop nylon fabric has yet to give way, tear or show holes. One of my favorite things about this blanket is that it isn't hard to fold and put away. Many compressible blankets are a struggle to repack and put in their bags, but not this one. The stitching guides the folds, and the blanket easily tucks back into its sleeves.
Key features
Built-in stakes
Lightweight
63in X 44in
Rumpl and Dakine teamed up to create the NanoLoft Puffy Blanket with summer travel in mind, made to be durable, weather-resistant, lightweight, and ultra-packable. Rumpl's NanoLoft insulation is created with its very own synthetic down alternative, made up of small clusters of fabric that mimic the characteristics of down by trapping warmth inside pockets of air. It is 100 % post-consumer recycled and made with recycled plastic bottles.
This outdoor blanket is built to last and stand up to the elements, with 30D ripstop polyester fabric and a durable water-repellent finish for both stain and water resistance. Our tester recently converted their RAV 4 to be an ultimate adventure vehicle, complete with a full-sized bed in the back. The Rumpl NanoLoft Puffy is their favorite addition. Lightweight yet warm, they don't need any additional blankets to sleep comfortably through a chilly night of camping. This blanket shines in its versatility. You can wear it around your body to keep you warm while walking around the campfire, complete with a cape clip to fasten it over the shoulders for hands-free use. Make sure to have a quality camping pillow, as well.
Key features
Vegan
Synthetic down
100% post-consumer recycled plastic bottles
While I don't own a Rumpl The Original Puffy Blanket, I have experienced their greatness first hand. Many of my van-lifer friends own one of these dense down blankets due to their versatility and portability. When unfolded, this blanket measures a whopping 52in x 75in and packed down tucks into 7in x 16in for simple storage inside of the included bag.
One evening while paddleboarding and cooking out on the river with friends, I was pulling my board into shore. I angled my board to approach the shore horizontally so I could step right off and snag my burger. As I approached, the current ripped my board out from under me, and I came crashing down onto rocks and very shallow water. With a few bruises and a very bruised ego, I got up and changed clothes. The temperature was dropping, and I was freezing from my unexpected plunge.
A friend whipped out a Rumpl down blanket out of their van, and I stayed wrapped up in its cozy depths for the rest of the evening. The down kept me warm, and the ripstop exterior held up great against the rocks I dragged this poor blanket on and had also held up to anything my notoriously hard on gear van-lifer friend had done to it too.
Key features
Ripstop exterior
52in X 75in packable
Machine washable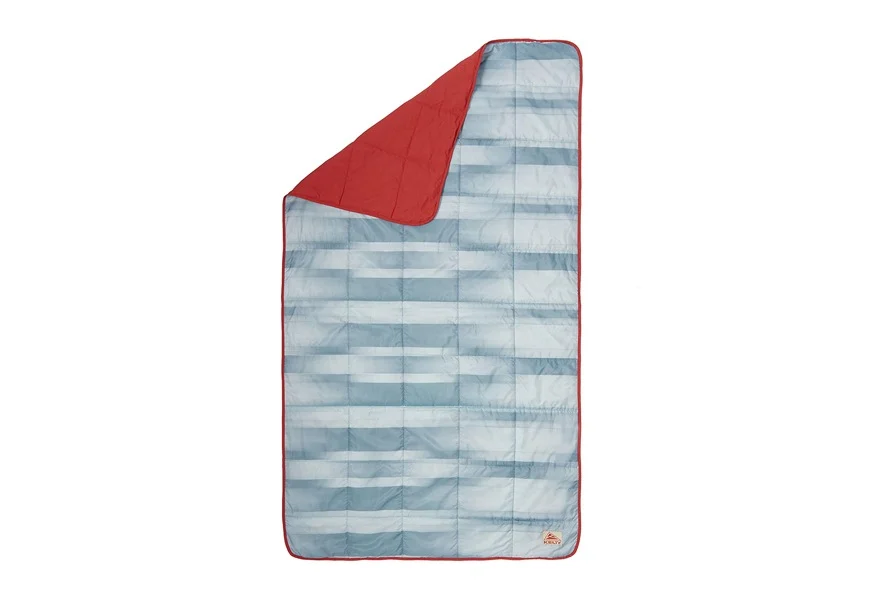 While not quite big enough for you and your bestie, the Kelty Bestie Blanket is still quite an impressive and cost-effective blanket. Kelty has quite the brand reputation for quality outdoor goods, and this product is no exception. Weighing in at a mere one and a half pounds, this blanket is the epitome of lightweight and portable. It stuffs into a sack for easy carrying. Its synthetic down insulation allows you to pack this model into shockingly small spaces.
When expanded, you'll have 76in x 42in of decadent brushed fabric lounging space with a slick sleeping bag material on the opposite side to help with abrasion from rocks or rough ground. Five printed patterns allow you to express your own style around the next campfire.
Key features
Five designs
76in X 42in
CloudLoft Insulation
7in X 11in when packed
The NEMO Equipment Inc. Puffin Blanket stands out from the crowd with its innovative features. The integrated stuff sack is one less thing to lose if you're as forgetful as I am. Additionally, the creatives at NEMO added a toasty foot pocket.
The single-person Puffin Blanket spreads out to 85in x 55in, making it more than large enough to wrap yourself in a little burrito, and packs down to about the size of two regular-sized Nalgenes. The filling is a synthetic down, and the outer layer is polyester ripstop for water resistance and durability.
Key features
85in X 55in
Integrated stuff sack
Afoot pocket
Synthetic down
Polyester exterior
Why trust us
The products in this guide were selected and recommended by skiers, rock climbers, hikers, mountaineers, mountain bikers, paddleboarders, kayakers, and all-around outdoor mountain people. We know a thing or two about the outdoors, and many outdoor folks are hard on their gear.
Each product was vetted for durability and needed to have strong reviews when used heavily in the outdoors. The products were tested in multiple camping environments, the beach, parks, forests, riverside, by campfires, and more to make sure they can stand even the most diverse outdoor experiences.
Who this is for
This guide is for anyone who needs a new camping blanket. Most of the layers in this guide are made of down, fleece, or synthetic materials and are outdoor-focused, but there's no reason you can't use these blankets indoors or at sporting events.
If you haven't added a high-quality camping blanket to your gear arsenal, now is the time. If yours is worn, we've got plenty of durable options in our lineup that are ready for whatever you can throw at it.
How we picked
This curated selection of the best camping blankets was chosen by reading hundreds of blanket reviews and consulting with a team of outdoor enthusiasts who ski, camp, rock climb, mountain bike, hike, and kayak. These folks, myself included, know how to put gear to the test, and that's just what we did with these camping blankets. Only the best made the cut.
How we tested
How else do you test camping blankets other than, well…camping. It turns out there's more than one way to put these blankets to the test.
Many of these blankets were tested for car and tent camping, and several acted as extra layers around campfires or bonfires. Some of these even made it to impromptu rope tarp status, enjoyed days at the beach, and made for great dog beds and picnic blankets too.
The durability of camping blankets allows them to be versatile tools in all kinds of outdoor settings, and I've always got mine in my car and at the ready.
Features to look for in camping blankets
Size
The worst possible feature in a blanket is when it doesn't actually cover your whole body. Cold feet are the enemy of every tall or long-legged person trying to use a blanket. It's best to ensure your new camping blanket is long enough to adequately cover your feet even when you toss and turn in the middle of the night. If you plan on camping with your boo, ensure your blanket is large enough for two humans and the impending overnight tug of war.
Weight
If you are hiking or backpacking into a site, weight matters. In this case, you should opt for a compressible and lightweight camping blanket. If your site is car-side or you are camping in your car, weight is less of an issue.
Material
Material is a big consideration that can affect warmth, weight, portability, and more. You may be surprised to learn that not all heavy camping blankets are the warmest, and not all quick dry camping blankets are the lightest. Check out our breakdown below of the pros and cons of the varying materials in blankets for camping.
Compressibility
If you're limited on space or need your blanket to fit in a pack, the more compressibility, the better. The good news is, all the blankets on our list come with stuff sacks to keep them tucked away and leave more room for snacks, summit beers, and more.
Warmth
Warmth is the whole point, right? Well, maybe. The warmest cold-weather camping blankets may be heavy or have other downsides that we agree to deal with in exchange for warmth in the worst conditions. Other times, we sacrifice warmth for packability or durability. Before purchasing a camping blanket, consider the conditions you plan to subject it to.
Water/Weather-proof
You can't predict the weather. Even if you're a meteorologist, all they can do is make educated guesses. It could rain at any point during your weekend camp out, and you and your gear need to be ready. This is why water and weather-resistant, warm camping blankets are critical.
Design
In theory, the design of a blanket is simple. In actuality, it is quite an in-depth and ever-evolving idea that changes as textile scientists learn more about how we stay warm and what materials are capable of. Stitching, fabric choices, and nifty features like stake holes can be deciding factors.
Color
Color is a personal preference. For the most part, you can and should choose designs you love. Another consideration when it comes to color is that the great outdoors is unpredictable, and should things go south, a brightly colored or red blanket could end up being a helpful signal for rescuers.
Comfort
If your blanket is not comfortable, you simply won't use it. Blankets are supposed to help you rest, sit, and sleep more comfortably, and any blanket that doesn't do that doesn't belong in your arsenal.
Versatility
The cool thing about blankets is that you can use this piece of fabric for any use you can come up with. Ensuring versatility in your new gear is critical and that often ends up being a materials question. Wool and fleece may not be best used on the ground as a picnic blanket as they are excellent at attaching themselves to every piece of forest debris imaginable.
Types of camping blankets
Wool – Wool camping blankets are fire resistant and can keep you warm while retaining 30% of its weight in water. Wool is the warmest material available too, so if warmest camping blankets are what you're after and you aren't worried about weight, this is a great option. The main downside is that they aren't light. Wool is dense and heavy and while there are many types of wool, they all end up being surprisingly heavy.
Fleece – Fleece is a water-resistant material that won't absorb more than 1% of its weight in water, making fleece camping blankets a somewhat weather-resistant option. Fleece is a lightweight material, but these blankets tend to shed or pill, which can become quite a nuisance.
Synthetic – Synthetic materials can include synthetic down, acrylic, polyester, and more. If you want to avoid animal products in your camping blankets, synthetic options are an excellent way to go. Extreme care usually needs to be taken with synthetic fibers around fire and warmth, so always check the manufacturer's warnings and recommendations for care.
Down – Down camping blankets are slowly dominating the camping blanket world. Down is an airy and highly packable material for lightweight camping blankets, making it an attractive option for hiking, backpacking, and anytime you need to think about weight and portability.
Camping blanket FAQ
Q: Do I really need a camping blanket?
Well, do you like to be warm? Sure, a sleeping bag will keep you toasty, but few other items add a layer of warmth and can also be used for picnics, signaling, carrying items, or any other use imaginable while camping. I love using my camping blanket around the campfire, and they are easy to share with a friend. A sleeping bag can't match that. So no, you probably don't really need one, but chances are once you have one, you'll cherish it for a long time to come.
Q: How do I wash my camping blanket?
Before washing your blanket, you will want to check the manufacturer's recommendations. Some coverings can handle the high heat of a dryer, others can't, and some blankets need special care and must be hand washed.
Q: How do I carry my camping blanket?
Many camping blankets come with their own stuff sacks to assist with compression. These stuff sacks can usually be carried on their own, put inside a pack, or attached to the outside of a pack.
Q: Are fleece blankets good for camping?
Fleece blankets are generally good for camping. They don't retain much moisture, so they can keep you warm even when wet and tend to be lightweight and fire-resistant. The main downside of fleece is its propensity to pill and shed, causing a mess and potentially not following Leave No Trace principles.
Q: Are wool blankets good for camping?
Wool blankets are an okay choice for camping. They are generally warm and water-resistant, but their most significant downside is weight. They are rarely packable and often weigh significantly more than other materials like down, fleece, or synthetic materials.
Q: Can I use a regular blanket for camping?
You can, but your regular blanket is likely not as durable, portable, or warm as a camping-specific blanket. A camping blanket often comes with its own bag or carry sleeve and is built with durability in mind. Why trash your favorite throw blanket or have it smelling like campfire smoke when you can use a blanket designed for any adventure you take it on.
Q: Can camping blankets handle bad weather?
Hopefully, you won't get stuck out in bad weather or a storm while camping, but weather can change fast in the mountains. Each blanket will have its own weather and waterproof ratings to let you know what it is suited for. Some blankets will be more resistant to water. Others may help with wind. At the end of the day, camping blankets are made for the outdoors and should handle some adverse weather.
Q: Can I use the same blanket for tents and hammocks?
Absolutely! Camping blankets are versatile and can be used in various places, including a tent, hammock, car, and more. There's nothing wrong with having a few extra camping blankets either, though!
Q: Do camping blankets melt with ironing?
Whether or not your camping blanket melts is dependent on the fabric used. You should always check with the manufacturer before ironing your blanket or applying high heat.
Sources:
How to Clean Synthetic Fabrics – How Stuff Works
10 Things to Bring on a Family Camping Trip – How Stuff Works