Water is everywhere. And it touches everything. Recent events and studies have shown us that even once-safe water sources (like your friendly municipal water treatment plant) may be harbingers of dissolved lead. I don't care if you're a suburban Jones or a rugged adventurer, your biological imperative for potable water is one thing you can't change. The fastest, most cost-effective way to survive and conquer unsafe drinking water? A well-engineered filtered water bottle.
Lucky us, there is a wellspring of bottle-based water filters and purifiers available today. But the science behind what you need for your exact situation is overwhelming. Not only that, sorting the poser filters from those that are truly reputable is painfully time-consuming. (We put this guide together; believe me — we get it.)
We dove into the science, waded through the ocean of options, and brought only the best filtered water bottles to the surface with us. So suck it up and jump on in — time to take control of your H2O. The water's not great, but we're about to change that.
Removes 99.9% of bacteria and protozoa
Extremely long-lasting filter life
Bottle, hydration reservoir, and gravity filter options
Inexpensive to replace
The MODL is a modular all-in-one bottle that isn't simply a large filtered water bottle that morphs into a filtered hydration pack. Instead, it's "an entirely new category of gear: the utility bottle."
I had the chance to test out the MODL and all of its four function-modifying attachments, or "MODs." First is the Go MOD (creates a sports bottle-like configuration), then the Flow MOD (morphs the MODL into a 1-liter hydration reservoir), the Rinse MOD (a screw-on cap that turns the MODL into a shower-like spray gun), and finally, the MOD de resistance — the Pure MOD (a robust, versatile filtering attachment).
The Pure MOD is an extremely stringent portable water filter that boasts a 790-gallon (3000-liter) lifecycle. The 0.1-micron hollow-fiber membrane filter removes 99.9% of bacteria and protozoa from any freshwater source at a flow rate of 1 liter per minute — comparable to the fastest, best filtered water bottles currently available. Just one of many testaments to MODL's worth: When the Texas power grid collapsed, our city was placed under a days-long boil water mandate. Within a matter of a few hours, every store in Austin was sold out of bottled water. Fortunately for my dog, George, and me, the Pure MOD kept us hydrated, safe from waterborne illness, and about as happy as two peas in an icy, post-apocalyptic pod could be.
The Pure MOD pairs with both the Go MOD for classic water bottle usage or the Flow MOD for a hydration reservoir setup. The Pure MOD provides interior and exterior mounting options for both bottle and hydration reservoir configurations; interior for on-the-go, exterior for base-camp friendly gravity filtration. With the Pure MOD, the MODL is a full-on, go-anywhere water filtering system. Read the in-depth review here.
See MODL Filtered Water Bottle with Pure MOD Filter on MODL Outdoors
Protects against bacteria (99.999999%), parasites (99.999%)
Filters out microplastics, chlorine, organic chemicals (99.999% )
Long-lasting, 2-stage filter straw
Meets EPA and NSF/ANSI standards
The LifeStraw Go Water Filter Bottle houses the company's original claim to fame  —  the LifeStraw  —  in a durable, BPA-free Tritan food grade bottle with a leakproof lid.
The large straw contains a two-stage filtering configuration. The first stage uses a 0.2-micron hollow fiber membrane microfilter to removes bacteria (like E. coli and Salmonella) as well as parasites (like Giardia) and microplastics from your water. The second stage comprises an activated carbon filter, which mitigates chlorine and organic chemical compounds (like herbicides and pesticides). Activated carbon filters are widely used to improve the flavor and odor caused in water by less caustic chemicals like chlorine.
The LifeStraw bottle's membrane microfilter has a lifespan of 1000 gallons (4000 liters). However, the activated carbon filter needs to be changed out every 26 gallons (100 liters). Replacements of both filter components are pretty cheap. It's a good idea to stock up before going afield for long bouts of time if you're, say, hiking the PNW Trail — which would be a great way to put the Go bottle to use.
Our tester and his daughter used the Go for a week of alpine hiking during a summer vacation in Colorado, and it was their only source of water while in the backcountry. The filter worked as advertised but required considerable suction that slowed the intrepid seven-year-old daughter's drinking rate. Notably, the friction-attached filter element fell off the lid once. We recommend visually checking that the filter is properly seated before drinking, as the bottle includes no other safety measure against drinking unfiltered water.
LifeStraw offers the portable filtered water bottle in 16 different colorways, so there's something to suit even the glampy-est of gear collections.
See LifeStraw Go Filtered Water Bottle on REI
See LifeStraw Go Filtered Water Bottle on Walmart
EZ-Clean Membrane
2-liter/minute fast flow rate
Removes harmful organisms
Collapses down for easy storage
Made to hydrate users quickly with minimal spatial requirements, the BeFree fast flow filtered water bottle is, to our knowledge, is one of the few collapsible options among all water filtration bottles on the market. And that's not the only reason it makes our list. Katadyn's been a prize-holder in the outdoor industry for around 90 years. The company is pro at making unpotable water safe for human consumption.
Using the BeFree water bottle filtering system is easy — just fill the hydration-bladder-like sleeve with water from any freshwater source, cap it off, squeeze, and sip. The fibrous EZ-Clean membrane filters out certain types of pathogens  —  bacteria and protozoa  —  but it isn't rated to handle viruses. And at a flow rate of 2 liters per minute, the BeFree is easily one of the fastest on-the-go portable water filters out there.
The drawbacks? Many users complain that the bottle is prone to leaking and breaking. That said, with gentle handling and storage, trail runners and hiking mavericks say that it's their favorite filtered bottle for lightweight, on-the-go demands.
Our tester has been using the BeFree for a few years, and it's his preferred water filtration method when weight counts – it's one of the lightest filter systems available for backcountry use. And he agreed with the flow rate claims, stating how refreshing it was to gulp down an entire bottle as fast as possible in the Texas heat, especially when it had been a while since he had come across surface water on summer backpacking trips.
See Katadyn BeFree Fast Flow Filtered Water Bottle on Amazon
See Katadyn BeFree Fast Flow Filtered Water Bottle on REI
See Katadyn BeFree Fast Flow Filtered Water Bottle on Walmart
Ultra-fast purification time
Eliminates 99.9999% of waterborne pathogens
Filters out toxic inorganic compounds
Innovative SimpleVent drinking cap
GRAYL's GeoPress is the maker's second fast-action water purifier. Like its predecessor, the Ultralight, the GeoPress uses advanced filtering technology and positive pressure to eliminate 99.9999% of all waterborne pathogens (bacteria, viruses, and protozoan cysts). It also traps toxic inorganic compounds found in freshwater in record time. It takes just 8 seconds to process 24 ounces of water — or 5 liters per minute (which is…really fast, you guys).
The GeoPress underwent independent testing by a certified lab and successfully met or exceeded NSF/ANSI protocols 42 and 53 for pathogen and chemical removal. It's also met the EPA's guidelines for the protocol used in testing microbiological water purifiers. Some of the pathogens it conquers include Rotavirus, Hepatitis A, Norovirus, Giardiasis, Cryptosporidium, E. Coli, Cholera, Salmonella, and Dysentery. And GRAYL's award-winning One-Press global protection endorsement means the unit is fit to protect you from the nasties on all seven continents.
The drinking cap of this portable filtered water bottle is cross-contamination-proof and the fast-flow spout is manageable with just one hand.
The GeoPress is close to the best water purifier bottle currently available. The only downside? A filter this discerning gets spent faster than others  —  350 purification cycles (65 gallons) is all she wrote for each filter cartridge.
But back to the good news  —  the GeoPress, just for funzies, is available in five colorways: Alpine White, Camo Black, Covert Black, Coyote Amber, and Visibility Orange.
See GRAYL GeoPress Filtered Water Bottle on Amazon
See GRAYL GeoPress Filtered Water Bottle on REI
Advanced ION exchange purification technology
Activated carbon filter handles particulate
Tested against NSF/ANSI standards 42, 53, 401, P473, P231
Lid/filter fit any Nalgene bottle with standard mouth
The Epic Nalgene Outdoor OG is a serious water bottle and one of the best filtered water bottles for travel to parts unknown. Epic Water Filters is a Colorado-based filter maker that engineers everything from single-trip filters to plumbed-in home filtration systems. The company partnered with Nalgene to create the Epic Nalgene adventure bottles.
The OG is a water bottle with purifier capabilities owing to its advanced ION exchange and activated carbon filter construction. Its advanced filter design looks like what you'd expect from a collaboration between two industry sweethearts  —  independent laboratories tested the filter successfully against NSF/ANSI standards 42,53, 401, P473, and P231. That means it meets water filtration standards for removal of contaminants including bacteria, cysts, viruses, arsenic, lead, organic chemicals, VOCs, and heavy metals.
The only drawback to a purifier/filter of this precision is its lifespan  —  each replaceable filter peters out at around 100 gallons. Fortunately, replacement filters are readily available through Amazon and all Epic retailers  —  usually for less than $30 a pop.
The 32-ounce classically styled Nalgene bottle is available in two colorways and features a lid-integrated carrying handle. It's also available in a 48-ounce OG Grande style, although by default, the larger version comes with a lighter-duty filter than the Outdoor OG.
See Epic Water Filters Nalgene Outdoor OG Filtered Water Bottle on Amazon
Two organism-neutralizing modes: Normal (kills 99.99%) and Adventure (kills 99.9999%)
Qualified water purifier
Rechargeable lid, no need to replace filters
Double-wall insulated stainless steel
The stainless steel LARQ bottle isn't exactly a filtering bottle, but it is one of the best water purifier bottles on the market. What gives it the 'purifier' distinction? The UV-C LED sanitizing tech housed in the bottle's lid.
Okay, so you can't use UV rays to clear out sediment, chemicals, most odors, or flavors  —  those jobs are for activated carbon filters. But when it comes to breaking down the DNA of bacteria, protozoa, cysts, and viruses in relatively clear water, the LARQ is what's up  —  at least according to some independent labs and 2019's Core77 Design Awards. In-lab testing showed it to be 99.9999% effective against E. coli, Salmonella, Staph, and MRSA.
With the lid secured, users can initiate a 60-second cleaning cycle by pressing the LARQ's button; alternately, the UV-C mechanism will auto-clean the bottle's interior every 2 hours. And the lid is endlessly rechargeable via the included micro-USB cable, meaning you won't need to stock up on replacement filters. The company claims (and many a customer has verified) that a single, full charge results in up to 1 month of power.
For water that is already clear to the eye, free of heavy particulates, and sans any unappealing odors/tastes like chlorine and silt, the LARQ's UV-C technology is a chemical-free, filter-free last stop before consumption.
The LARQ stainless steel, double-wall vacuum insulated water bottle is available in 17- or 25-ounce capacities and five colorways (Granite White, Himalayan Pink, Monaco Blue, Obsidian Black, Seaside Mint). Fancy.
See LARQ Self-Cleaning UV Filtered Water Bottle on Amazon
See LARQ Self-Cleaning UV Filtered Water Bottle on LARQ
Meets ANSI/NSF lead-reduction standards
Proprietary filtration media
Inexpensive filter replacements
Easy-fill flip cap
The astrea ONE stainless steel filtered water bottle makes our list for one crucial reason: it's one of the very few options that's capable of reducing lead. It's a feature worth splurging for, given alarming concerns over lead particulates in some of the United States' water systems. Not that you'll need to splurge — the astrea ONE and its filter replacements won't break the bank.
The astrea ONE is certified to ANSI/NSF standards 42, 53, and 401 for heavy metal and chemical reduction. That means, in addition to lead, the astrea filters out other heavy metals like benzene, mercury, and copper, and a laundry list of noxious chemicals, including pesticides, herbicides, and pharmaceuticals.
Not much is known about the ONE's proprietary filter technology, but we do know that it isn't comprehensive enough to tackle organic pathogens. That's why we recommend the ONE Premium Filtering Water Bottle for light-duty, tap water-only use.
The ONE is also available as a 23-ounce BPA-free plastic bottle. Both options come in a number of colorways; bright, bold, or muted in tone. For more in-depth information about the astrea ONE and its proprietary granular media filter, check out its old Indiegogo page here.
See astrea ONE Premium Stainless Steel Filtering Water Bottle on Amazon
See astrea ONE Premium Stainless Steel Filtering Water Bottle on Bed Bath & Beyond
Slimline filter fits inside the straw
Leak-proof
Built-in carrying loop
Fits standard cup holders
The Brita Plastic Water Filter Bottle is designed for long-term, light-duty use. It excels at sequestering flavor and odor resulting from chlorination, a common water treatment element. Don't expect this filter to do any heavy lifting — it's more of a "home-to-yoga" companion.
A replaceable filter inside the straw filters water as it gets sucked up through it. Owing to its household name and big-box store availability, Brita's replacement filters are some of the market's most cost-effective and easiest to come by. When used with potable tap water (which is the only type of water you should run through a filter of this tiny caliber), an individual filter should last through 40 gallons.
The BPA-free bottle holds 26 ounces of water, features a leakproof lid and integrated carrying handle, and has a unique lid design. It opens by pressing the button on the front, revealing an easy-sip straw. This lid is 100% leak-proof and has a handle, making it easy to carry. We also like the fact that it's available in five colorways.
See Brita Plastic Water Filter Bottle on Amazon
See Brita Plastic Water Filter Bottle on Walmart
Who this is for
Anyone and everyone who wants to clean up their water act with a viable, reputable option regardless of budget constraints.
Whether you've come here looking for a portable, everyday solution to tap water contaminants like lead and chlorine, or a robust purifier capable of extinguishing waterborne pathogens for a week-long trek in the boonies, this guide runs the gamut.
Why you can trust us & how we chose
At our core, the ExplorersWeb crew is a bunch of adventure enthusiasts. Our various backgrounds reflect exploration, competitive cycling, outdoor thrill-seeking, international travel, trail-blazing, rock climbing, primitive camping, and the like. These experiences have put each of us head-to-head, mouth to mouthpiece, against many industry-leading filters and purifiers.
We looked to bottles that we've used and trusted, their makers, and paired that with the best information we could find about what you lovely folks in the cloud had to say.
We wanted to present a list of filtered water bottles that would answer every need, starting at the kitchen tap and ending at some remote reservoir miles off of the grid.
The clean water product category is a burgeoning and ever-growing one, so we'll be updating this guide as we continue to test more contenders and as newer, better bottles are released. So don't be a stranger — check back every now a then, won't ya?
How we tested
Every which way we could! I personally took one filter bottle on a 5-week, hard-riding test drive that included a weekend gravel biking trip, two camping trips, multiple trips to the funkiest corners of the Austin Greenbelt, and a pull from every public faucet and spigot I could access.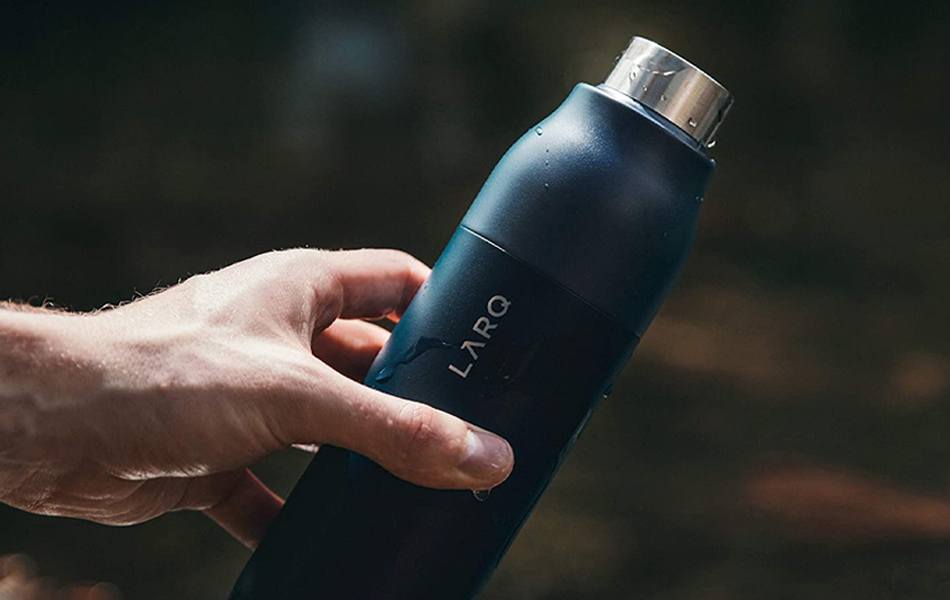 Features to look for in filtered water bottles
Lead removal certification
Look for water filters with NSF/ANSI Standard 53 certification marks and lead particulate reduction claims (Class I). You will find each of these listed on the product packaging or the manufacturer's website. NSF 53 certification requires 'point of use' filters, like water bottle filters, to reduce dissolved, soluble lead and insoluble lead particulates.
Lead is an extremely difficult contaminant to filter out, but it's perhaps the single most common pollutant found in municipal drinking water in the developed world. If that doesn't concern you, it ought to; according to the EPA et al., "Lead and copper enter drinking water primarily through plumbing materials. Exposure to lead and copper may cause health problems ranging from stomach distress to brain damage."
Regulatory institutions like the EPA, Center for Disease Control, and NSF International are taking renewed action to mitigate lead contamination of tap water, and stringent filtration technologies are being developed. Despite these and other ongoing efforts, surprisingly, few bottles are capable of filtering lead.  Even fewer bottles have received NSF 53 certification. Unfortunately, it's a new, rare thing to offer.
In this guide, we've made it a point to include bottles that meet NSF International standards for lead reduction/removal. We've highlighted these capabilities in the bottle's Key Features sections.
Until all the old, deteriorating lead plumbing lines in your municipal water system are yanked out and replaced with non-lead pipes, strongly consider using an NSF 53 filter on any tap water you intend to drink, cook with, or give to your pets. Fortunately, big household names like Brita and Pur now offer lead-reducing models of the older, classic pitcher, tank, and faucet versions at most big box stores. (An aside: both companies advertise the lead reduction models in BIG OBVIOUS LETTERING on the packages, it's hard to miss 'em. If a filter can handle lead, the maker generally wants buyers to know it).
If you would like to learn more about how to safeguard your drinking water from lead contamination, the US EPA's Basic Information about Lead in Drinking Water primer is an accurate and thorough place to begin.
Filtration capability
How you plan on using your filtered bottle — and where you plan on using it — should guide your choice of filtration.
For everyday use in domestic and urban settings, like filtering your tap water, you don't need a lot — a simple single-stage activated carbon filter or block should do the trick. Look for the bottles in our list that we've flagged as "light-duty."
Mid-duty filters typically consist of an activated carbon stage and a second stage composed of fiber-like media, which traps unpleasant tastes and odors.
Heavy-duty filters often qualify as purifiers and contain additional, specialized stages like ion exchange and/or 0.2-0.01 micron hollow-fiber membranes. These lattermost stages typically eradicate or trap waterborne pathogens. Most heavy-duty filters can also handle more organic and inorganic contaminants than their lighter-duty counterparts.
Whatever your needs, it's crucial that you find a filter that has been independently tested against and certified to meet the corresponding ANSI/NSF Standards. You can find this information on the bottle's packaging or, at the very least, on the manufacturer's website. You can also access the NSF database, which lists every manufacturer and filter model that meets the ANSI/NSF standards.
Filter lifespan
Manufacturers can't anticipate exactly how, where, or when customers will use a filter  —  it's too variable from person to person. So 'lifespan' of most filters is measured by the total water volume that a single filter can adequately process. The range of filter lifespans included in this guide is broad, starting at about 30 gallons (114 liters) on the low end and up to 1000 gallons (3800 liters) at the upper limit.
It's important to keep a record — or at least have a sound estimate — of how many gallons/liters your filter has processed (especially if you're braving unpotable conditions with it). I recommend this method because a filter's flow rate does not reliably indicate its performance on a micro-level. Just because water comes out on the other side doesn't mean that your cartridge has fettered out the bad stuff.
When water filters and water purifiers reach maximum accumulation of impurities, they can no longer produce safe, healthy water.
Water-holding capacity
Bottle capacity varies a little, but not by a lot. A filter bottle should be fully functional but easy to carry. As such, most filtered water bottles and purifiers have a capacity between 16 and 48 ounces.
Benefits of using filtered water bottles
Environmental impact
When you ditch mass-marketed bottled water for a reusable filtered bottle, you actively reduce the number of single-use plastic bottles that end up in landfills and waterways. Most expandable plastics today take up to 1,000 years to biodegrade.
According to recent data, Americans alone toss 35 billion plastic bottles in the trash every year. Not only does single-use plastic directly harm vital ecosystems, but the amount of energy (oil and coal) used to manage plastic bottle waste and the space (landfills) dedicated to containing it is immense – an estimated 1 billion gallons and 44 million cubic yards annually.
Harmful contaminant reduction/removal
The filter you choose determines which various gnarlies you'll be protected from. Modern filtration tech mitigates contamination from volatile organic compounds (VOCs), dissolved pharmaceutical compounds, steroidal hormones, heavy metals like lead and mercury, microplastics, and harmful waterborne pathogens like bacteria and cysts — even viruses if you're using a purifier.
While most filters only offer protection against some contaminant classes, there are quite a few filter bottles that nearly do it all, including purification of certain viruses. You'll find that we've included several maverick-level bottles in this guide.
Improved taste and smell
Removing pollutants from your drinking water carries the nice fringe benefit that it removes the unappealing tastes and odors that accompany them. Activated carbon filters excel at sequestering many (not all) of the most common flavor/fragrance offenders.
Light-duty filters remove unpleasant flavor/odors like chlorine from tap water; heavy-duty filtration systems mitigate harmful, foul-smelling pathogens from the swampiest backcountry, and everything in between.
Cost
On average, one single-use bottle of water contains $0.04 of water. And with the typical 20-ounce bottle costing around $1.50, that equates to a 3,750% markup. With that math, a gallon of water in 20 oz. bottles costs $10. The same simple math displays the cost-benefit of investing in a self-filtering bottle.
Convenience
Dexterous filtered water bottles or purifiers make it possible to travel further and deeper without depending on traditional infrastructure. The human individual's potential for outdoor adventure has never been more physically accessible. With the advent of modern filtration and purification technologies, waterborne illness has never been so surmountable.  This means more opportunities to explore and experience remote and unpopulated regions the world over.
Filtered water bottle FAQ
Q: Is a water filter the same as a water purifier?
A: Short answer: Not quite.
Long answer: Portable water filters and purifiers use different types of technology to remove water-borne pathogens. Portable water purifiers can eradicate or otherwise remove viruses from polluted water, whereas most portable water filters cannot.
But, unless you're traveling to areas where untreated human or animal waste impacts your source of water, a dexterous two- or three-stage filter will (probably) be all you need to hack it.
A filter removes contaminants according to the filter's porosity. Basically, if a contaminant is larger than the filter's pore size, that contaminant becomes trapped in the filter media as the water is pushed through it. This simple mechanical function is largely what enables filters to trap bacteria, chemicals, heavy metals, volatile organic compounds, dissolved solids, particulates, sediment, and protists like Giardia and Cryptosporidium. Viruses, however, are close to one-tenth the size of most bacteria and significantly smaller than the pores of most filter media.
Water purifier bottles available today feature either a hollow-fiber filtering membrane with 0.02-micron pore size (virus-catching) or UV-C light technology, which eradicates viruses by scrambling their DNA.
That said, most purifiers are highly specialized at removing harmful microorganisms but come up short in areas like heavy metal or chemical removal, where filters traditionally shine. For this reason, some manufacturers have developed portable options that combine filter and purifier capabilities.
Think of it this way: All purified water has been filtered in some way, but not all filtered water is purified.
Q: Can a filtered water bottle be put in a fridge or a freezer?
A: Refrigeration is fine for filtered bottles. Freezing  —  in most cases  —  is not, as it can corrupt the more sensitive materials that make up a water filter. Water that gets frozen inside a filter expands, and can shred the mechanism beyond repair.
Some filter types are unaffected by icing (UV lights, for instance), but the options are limited and often very expensive.
Q: How does a filtered water bottle work?
A: A filtered water bottle works just like any other water bottle. You fill it with water, and you drink from it throughout the day, refilling when necessary. Filtered water bottles can come in handy whether you fill them with tap water from your kitchen, visit a location with subpar drinking water, or rely on natural water sources.
Q: How long do filters last?
A: This varies substantially from model to model. For a more precise estimate, look into each filter's technical information.
A filter's useful life also depends heavily on the frequency of use, the severity of pollutants in the water being processed, and how well you maintain and store your filtered water bottle between uses.
To give you an idea of how disparate one type of filter's lifespan can be from another, take the bottle with the shortest lifecycle in this guide (30 gallons) and compare that to the one with the longest lifecycle (1000 gallons).
Generally speaking, sequestering more contaminants shortens a filter/purifier's life cycle.
Q: Does the filter deplete important minerals and nutrients from the water?
A: It can. If a filter is certified to remove TDS and VOCs, it likely extracts nonharmful minerals and solids.
Some filter makers also offer enriched filters or add-on units to remineralize clean, filtered water with only the good essentials.
Q: Are filtered water bottles dishwasher safe?
A: For the most part, the bottles, NOT the filter/purifiers, are dishwasher safe. Look to the manufacturer's specifications before committing your filtered water bottle to the dishwasher. And never put a filter or purifier element in the dishwasher.
Most filters and purifiers (except for UV light purifiers) can withstand mild rinses under clean, room-temperature water. Any excessive heat, cold, or force can destroy the filter's delicate elements and ruin its functionality altogether.
Q: How do you clean a filtered water bottle?
A: Cleaning most filtered water bottles is as easy as cleaning most normal water bottles. But, since the materials used both in the bottle and in the filtering/purifying elements vary so greatly from one model to another, always consult the manufacturer's recommendations for your specific bottle.
Never place a filtering or purifying assembly in a dishwasher, freezer, or submerge it in liquids that are extremely hot or extremely cold (including clear water). Avoid exposing your water filter/purifier to chemical treatment except as approved by the manufacturer.
Sources: