MODL (pronounced maw · dohl) is a modular all-in-one bottle that's light, packable, exceptionally tough, airtight, and — to borrow from MODL Outdoors cofounder, Justin Guld — it isn't simply a water bottle, hydration pack, filter bottle, etc. It's "an entirely new category of gear: the utility bottle."
The MODL system is adaptable and grounded in the startup's "flexible design philosophy." What might sound like an overly ambitious product is actually an intuitive and conceptually simple multitool that's ideal for the avid outdoor person, casual camper, cyclist, kayaker, trail runner, or work-to-gym professional.
After several weeks of putting it through the wringer, I've found the MODL all-in-one system to be incredibly dexterous, capable, and, in most cases, quite preferable to traditional contenders.
MODL Bottle Complete System, Unboxed
I had the opportunity to try out the MODL Complete system, which combines the base bottle and four function-modifying attachments, or "MODs."
Go MOD – Includes a silicone sports bottle spout and straw. Turns MODL into your everyday water bottle.
Flow MOD – 1-meter long straw and unified mouthpiece. Unlocks MODL's hydration reservoir functionality.
Pure MOD – An extremely stringent portable water filter that boasts a 790-gallon lifecycle. The 0.1-micron hollow fiber membrane filter removes 99.9% of bacteria and protozoa from any freshwater source at a flow rate of 1 liter per minute. The Pure MOD provides interior and exterior mounting options; interior for on-the-go, exterior for gravity filtration. With it, the MODL is a full-on, go-anywhere water purifier.
Rinse MOD – A showerhead-like cap that turns the MODL into a portable camping shower and water sprayer.
Also in the box were a set of the company's new, extra-long SuperLoops and a spare set of LifeLoops. Both loop types are silicone bands that attach to the MOD caps and are key to mounting and securing the bottle "from bag to branch to bike."
As for the base bottle's construction, imagine a 1-liter widemouthed jar that's made entirely of BPA-free silicone and is open on both ends. Lining each end is a threaded stainless-steel rim for screw-top compatibility with the MOD caps. What you get is a collapsible, hyper-versatile tube that's modular, open-ended, easy to clean (dishwasher safe, too), and full of ever-evolving potentiality.
At the time of writing, the MODL bottle is available in black, blue, and vapor (translucent) colorways. I received a vapor MODL, and it's the option that I recommend by a mile due to the small host of additional functions a transparent device has to offer (nightlight, trekking-pole mountable lantern, etc.).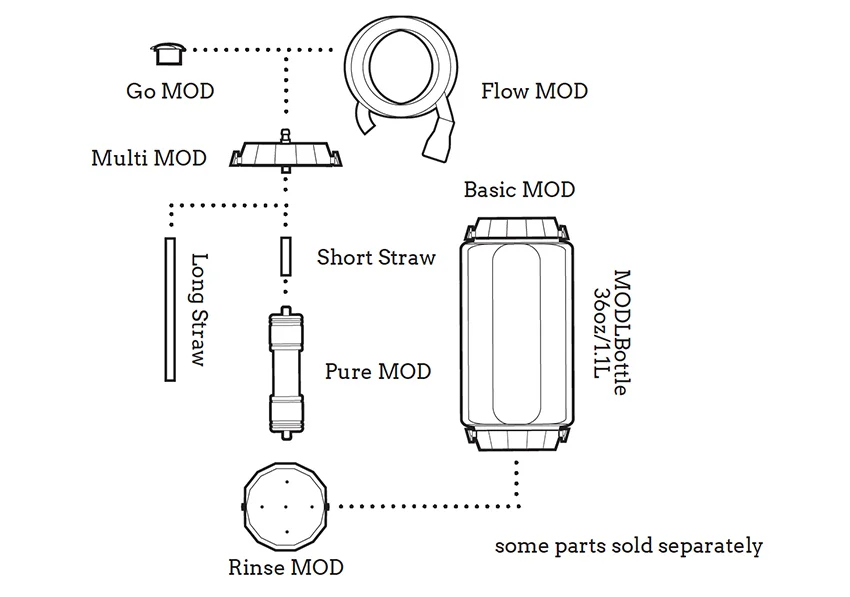 Overview of Methods and Mischief
To get a feel for the thing, I decided to swap it out with my trusty old blue insulated water bottle, which has seen years of rugged abuse and dons the most tasteless sticker assortment in all of Austin. I was pretty sure that I'd come back to the old battleax following the review period.
Spoiler alert: I was wrong about that.
The next few weeks found me functionally glued to the MODL bottle. This was largely for the purposes of field research; I wanted to see how versatile the utility bottle really was, what it could withstand, and how applicable it might be at any given time and in any situation.
But the MODL also benefits from playful architecture. The body is 360 degrees of dense, grippy silicone, which gives it a structure that's surprisingly pliable. It looks and feels like something you'd find in the Discovery Store next to the water wobblers and dinosaur K'Nex (read: awesome and loads of fun).
During those 5 weeks and through dozens of applications, the MODL utility bottle proved capable:
Bikepacking/cycling sport bottle (self-mounting; no bottle cage necessary)
Camping shower (crude and shortlived but functional)
Conversation starter
Devastatingly precise squirt gun
Dry storage container
Everyday water bottle
Gravity water filter
Hot water bottle (just like gramma had)
Hydration reservoir/water bladder
Improvised dog water bowl
Lantern/light diffuser for cell phone lights and headlamps (clear colorway only)
Pillow (surprisingly cush)
Portable water filter/purifier
Rinse station
MODL Bottle a la Gravel Bike: The Real Test
After a short familiarization and tinkering phase, it was time to test the MODL complete utility bottle's ilk. First up? A weekend gravel biking tear through the rural hill country.
Go MOD + Pure MOD for on the Road
It was a 3-hour drive from Austin to Llano, a remote area southwest of the capital, so commuting attire was the vibe. I, in my best pairs of joggers and Crocs and the utility bottle, donning its Go MOD sport bottle spout and Pure MOD filter, hit the road dressed for comfort.
The Go MOD spout, which comprises the same high-grade silicone as the body, was something I didn't know I needed until I had it – taking a swig requires no more than a soft bite and flip of the integrated plug. Easier than unscrewing the saucer-sized caps on polycarbonate bottles and more tooth enamel-friendly than the hard plastic pull-and-push nozzles. And the optional silicone straw means you can sip away while keeping your chin down and eyes on the road.
Flow MOD + SuperLoops for the Gravel Bike
After arriving and setting up camp, it was time for a change. To accommodate my gravel bike's bare frame, I employed MODL's new, extra-long SuperLoops. I swapped the Go MOD out for the meter-long Flow MOD straw to get my hands-free hydration game on. And away I went.
The Flow MOD was especially impressive. The extra-long hose and unified silicone mouthpiece far outpaced the small litany of other hydration packs in my apartment. It proved exceptionally hermetic, and without the funky "new" plastic taste that plagues so many water bladders.
The MODL, even at maximum capacity, didn't spill a drop, nor did it budge from its original position on the bike's frame. Which, given the nature of backroads gravel biking, says so much. Using the Flow MOD hose meant I didn't have to pry a bottle from its cage. I've been known to crash while futzing with bike water bottles (what?), so this perk took me from fangirl to brand loyalist.
The only thing that could have improved the ride? A clip system for the straw, maybe. But I'm not entirely sure that would be desirable, and it's not at all necessary.
…Nose MOD? (Pure Filter MOD to the Rescue)
In an email to the fellas at MODL as a follow up to the gravel biking trip, I wrote the following:
I came home with a gnarly sinus infection, and I desperately needed 0.1-micron filtered water for a saline rinse kit.
So…thank you for including the Pure MOD. It totally saved me from running to the store in my sweatpants and Crocs. The general public thanks you, as well. 
Take note — the MODL may come in handy when you least expect it.
Purchasing Information
Given the MODL bottle's dexterity, I imagine we'll see MODL systems and an ever-expanding arsenal of MODs at local and national adventure retailers in fairly short order. For now, MODL Outdoors is a direct-to-consumer seller.
Over at the shop, MODL Outdoors has more than a few options on deck:
MODL Complete, MSRP $95
Includes: 1 MODL Bottle, 2 LifeLoops, 2 caps, 4 MODs (Go, Flow, Rinse, + Pure)
MODL Bottle,  MSRP $40
Includes: 1 MODL Bottle, 2 LifeLoops, 2 caps
Go + Flow MODs, $35
Includes: 1 Go MOD, 1 Flow MOD, 1 multi-MOD cap, 1 straw, 1 LifeLoop
Pure MOD Filter, $25
Includes: 1 Pure MOD (3,000-cycle filter), small silicone straw adapter
Rinse MOD Cap, $15
LifeLoops (x 4), $5
SuperLoopsTM (x 2) , $12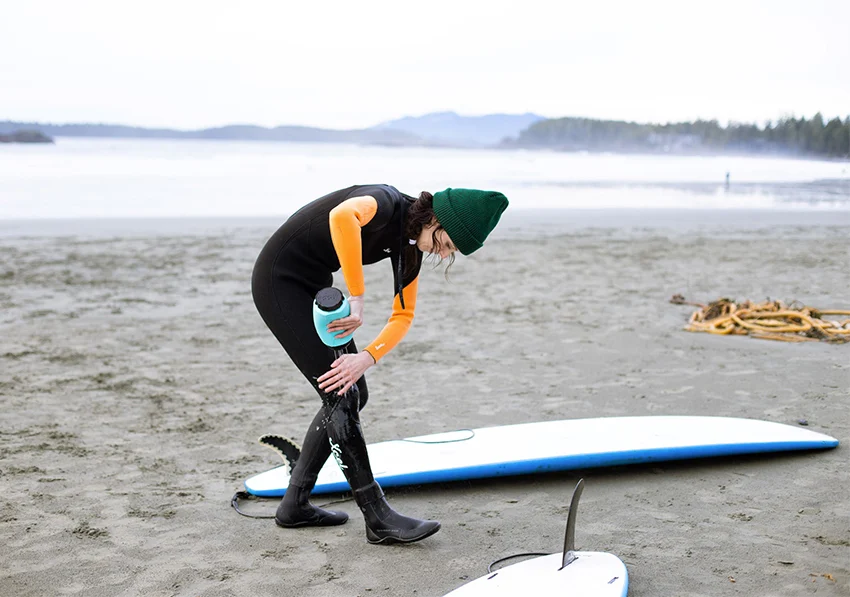 Tapping Out
The MODL utility bottle and system is truly a fun, creative, modular contrivance — a product that takes after its founders, I've found. Apart from occasionally wishing that there were a few more loop configurations and lengths available and maybe a standard cupholder adapter, there's not much constructive criticism I can offer. They'd probably just take it and patent it into another MOD anyway.
MODL Outdoors is a young, footprint-focused, vivacious, well-intentioned, and innovative startup. It's made up of three outdoorsy dudes who took the time to craft a nuanced, flexible solution to gear shortcomings. Nothing is set in stone, you know. Just because we've done something one way for X amount of time doesn't mean that a better approach isn't out there. The MODL crew went with the flow and created something pretty mega in doing so — an adaptable, ever-evolving line of durable, multipurpose gear.
In this contributor's humble opinion, the MODL may very well be the biggest thing to happen to the outdoor gear world in recent history. You can bet I'm staying tuned for whatever MODL Outdoors does next.
See MODL Filtered Water Bottle with Pure MOD Filter on MODL Outdoors