Hydration pack: a lightweight, body-hugging, functional bag with an internal water reservoir for quick sips between dodging trees and rolling over boulders. Easy-access pockets for necessities, trekking pole attachments, utility straps are among other features you'll find in the best hydration packs.
Water is life. And getting outside — no matter which adventures you choose — is next to necessity. It's water that keeps us headstrong in those adventures, especially as temperatures begin to rise with the spring and summer months. Carrying water bottles isn't always practical. Being hands-free and taking what you need on your back is, though.
We've done the leg work, literally, taking a handful of these hydration packs out for a spin and getting into the nitty-gritty of what makes the best hydration packs for the average outdoor enthusiast.
1.5L pack
1.5L reservoir
Vest pack
Several external meshes and zipper pockets
Trekking pole storage
Adjustable chest and underarm straps
Running with the Osprey Dyna 1.5L Hydration Pack with a 1.5L reservoir felt like I was wearing a tactile sports bra. I will dare to say women with smaller chests could run sans sports bra throughout the hot summer months — the goods contained beneath an irritation-free, breathable mesh and perforated foam harness. The hydration vest offered a snug female-specific fit with removable, adjustable straps under the arms and across the chest for a smooth, bounce-free run.
The Osprey Dyna 1.5 was ideal for short to mid-range trail and road runs. It is littered with pockets, both mesh and zippered, ranging in size. On a 10-mile trail run, I carried a small first aid kit, a roll of tape, keys, phone, a buff, a full bladder and shoved an extra layer through an auxiliary loop without feeling too weighed down or off-balance. The accompanying 1.5-liter Osprey Hydraulics Reservoir with QuickConnect and the pack's sternum strap bite valve magnet made hauling water on the 10-miler feel like nothing.
For me, the vest's versatility made it the best hydration pack when running. After testing the pack and fully-filled reservoir out a long run, I took it for an early-morning slow 6. On the latter test, I ran with just two of my soft bottles in the front mesh chest pockets for hydration, no reservoir (I needed the room to shed layers as the sun came up). Safe to say, the Osprey Dyna 1.5 is my go-to for spring and summer runs, road or trail, rain, or shine. Read the in-depth review here.
See Osprey Dyna 1.5L Hydration Pack on Osprey
See Osprey Dyna 1.5L Hydration Pack on Amazon
Ventilated tension mesh back panel
Durable dual-layer bottom panel
Quick hanger hydration system
Trekking pole attachments
Perfect for a long day hike in the local greenbelt or state park, the Gregory Juno 24 Hydration Pack has your back. It supported and kept my back and shoulders happy on a 12-mile hike with a wide, padded hip belt and the Perimeter wireframe.
The wireframe helped distribute the weight across my entire back, and the hip belt alleviated the pressure on my shoulders well. In the spring Texas heat and humidity, the VaporSpan ventilated suspension with moisture-wicking mesh was a key feature; I appreciated the continuous breeze and the moisture-wicking mesh. My day hikes stretch across breakfast and lunch, following the rising morning temperatures.
The pack has multiple compartments: two large zippered hip pockets, a zipped top pocket, and accessory pockets and straps around the pack's exterior. I found the Juno 24 happily fit a large, two to three-person first-aid kit, a small breakfast and lunch, raincoat, a mid-layer, extra hiking socks, my essentials, and a small camera with ease.
The 100% nylon material withstood beatings in the back of my truck and on the trail. Sitting down to eat or swim, I was confident my belongings were kept dry and secure. Read the in-depth review here.
See Gregory Juno 24 Hydration Pack on Gregory Packs
2L capacity
High-flow 'easy-twist bite valve
Main compartment with external mesh pocket
Adjustable, breathable breast and underarm straps
Exterior adjustable bungee strap
Whether you're a multisport athlete or need a hydration pack for hikes, skiing, or running, the Vibrelli Hydration Pack is a versatile and capable hydration pack with plenty of space for all your needs. This pack features a bladder pocket, plenty of storage for snacks and emergency gear, and an adjustable bungee strap for holding a bike helmet or anything else you need to store.
The pack's 2-litre capacity ensures you have enough water for any activity or adventure. The tester only went through all two liters during longer day hikes. The Vibrelli has accompanied the editor on several cross-country ski excursions without freezing, day hikes, and endurance runs of up to 10 miles.
The sternum and hip straps adjusted easily to keep the pack from bouncing. The pack distributed weight comfortably without digging into the skin — a must-have for the tester on longer runs and busy ski days with terrain changes. An emergency whistle also adorns the sternum strap.
Whether you're a righty or a lefty, the pack allows you to put the hose on either side and secures it with a strap. Reflective tabs improved visibility in the dark, and 420 denier ripstop fabric endured abrasions from trees, rocks, and anything else encountered.
In the tester's opinion, the affordability, durability, and space made the Vibrelli Hydration Pack stand above the rest for any outdoor activity. Read the in-depth review here.
See Vibrelli Hydration Pack on Amazon
3d vent mesh for breathability
1.5L crux reservoir
Chest zip and stuff pockets
Back external accessory pockets
Lifetime warranty
Adjustable dual chest and underarm straps
The CamelBak Chase Bike Hydration Pack is a significant departure from most hydration packs – the hydration bladder and all other riding tools and supplies are supported by a vest instead of shoulder straps. I preferred this method of transferring the load to my body for mountain biking compared to a standard hydration pack.
My cell phone and gels lived in the front pockets. I distributed my multitool, bars, and rain shell in the two main back pockets and stash pocket. The water reservoir hung in its dedicated pocket. I secured car keys in a small, zippered pocket with a key clip.
Every part of the Chase Bike Vest that touched my body was mesh, and I found the ventilation excellent even in Central Texas humidity. But the predominant advantage for me was the increased security and load distribution of the vest structure. I'll never go back to a standard hydration pack for mountain biking.
See CamelBak Chase Bike Hydration Pack on CamelBak
See CamelBak Chase Bike Hydration Pack on Amazon
7L capacity with 2L bladder
Adaptive fit adjustable sizing system
Quick-release bite valve with magnetic chest strap connect
360-degree reflective trim
Six external pockets
My experience with the Nathan VaporAiress 2.0 was delightful. The snug, harness vest fit with a broad-shouldered back panel felt like a second skin while moving over rocky terrain.
Nathan claims the Adaptive-Fit Adjustable sizing system makes for a tailored, customizable fit, and I agreed. The fit made it a champion of marathon hydration packs. The adjustable straps under the arm pulled from the center of the chest rather than from the outside of the breasts, pulling everything snug towards the body's center rather than just cinching down the side panels. The armholes are large enough to avoid uncomfortable chafing under the arms, and the skin contact materials didn't bother me, even after pouring sweat 7 miles in.
I chose the Nathan over my Camelbak and Osprey hydration packs when it came to long,  leisurely paced trail runs and long, early morning weekend road runs. It's ideal for those longer hauls because the broad shoulder panel was fully supportive, unlike narrower panels that run between the shoulder blades. When tightening down these less substantial models, I felt they forced my chest out, reducing comfort.
See Nathan VaporAiress 2.0 Hydration Pack on Nathan Sports
See Nathan VaporAiress 2.0 Hydration Pack on REI
18L pack with 2L reservoir
Contoured shoulder straps
High denier ripstop shell
Reflective trim
Cushioned bite valve
Lifetime warranty
The Teton Sports Oasis 1100 Hydration Pack is like the minivan of hydration packs: it's large enough at 18 litres to carry a full day's worth of food, water, and other necessities. While it may not be the most aesthetically pleasing pack here, it absolutely does the job and offers a rarely-seen amount of storage. It's also suitable for almost any activity and resembles a regular backpack while staying true to the signature hydration pack profile.
Adjustable anti-shock chest straps, shoulder, and waist straps, along with contoured pads in the shoulder straps, and a weight of 2 pounds already sound better than a regular pack. A 2-litre reservoir slides into a designated rear pocket and is behind one large internal pocket, two smaller front pockets; each has two zippers for easy access into the hydration pack.
In addition to the reservoir, the pack has two mesh side pockets for snacks or an extra water bottle and a bungee shock cord to attach a helmet or store wet rain gear. Adjustable strap clips keep the pack compact and provide extra webbing to shove extra layers as the day wears on.
See Teton Sports Oasis 1100 Hydration Pack on Teton Sports
See Teton Sports Oasis 1100 Hydration Pack on Walmart
3L water reservoir
One main and two external pockets
360-degree rotating mouthpiece with shut on/off valve
1000 denier water repellency
External utility webbing
For a tactical look and function, the MARCHWAY Tactical Molle Hydration Pack grabs attention. The hydration bladder and 3L pocket plus two front zippered organized pockets, adjustable shoulder, hip, and waist straps, and utility webbing on the front sum up its multi-functionality reputation. It is 1000 Denier water repellent nylon for any weather and military-grade webbing, durable buckles to withstand a beating, and strong zippers to keep all your gear secure.
The bladder has a small middle divider to keep it slim. The wide filling opening has a handle for keeping a firm grip on the reservoir while filling, and then the handle acts as a hook on the interior of the bag to keep the bag vertical. The 0.4mm thick TPU hose is flexible and more resistant to cold than PVC/EVA, making it a great option for the snow bunnies in the crowd. The bite valve has an on/off function, and the mouthpiece rotates 360 degrees, so you're not wrestling with the hose as your flying down your favorite black diamond.
See MARCHWAY Tactical Molle Hydration Pack on Amazon
1.5L lumbar reservoir
Blinker light attachment
Compression straps and ergonomic hip belt waist strap
Magnetic hipbelt bite valve
AirScape back panel
Internal tool organization pocket
An ode to the iconic fanny pack style instead of a typical backpack-style hydration pack is the Osprey Seral Lumbar Hydration Pack. While not ideal for running, cyclists may prefer the ergonomic, angled waist strap closure system allowing the pack to hug the hips. The contoured lumbar wrap and compression straps keep the pack flush against the lumbar spine and limit bouncing. An AirScape back panel with thick foam and a central air channel allow air to continue moving. At the end of the day, you won't be cold with a pool of sweat drying behind the pack.
This small hydration pack is bigger than it seems, spanning the width of an average male's hips, leaving room for large pockets in addition to the 1.5L reservoir dedicated compartment. The hip straps have dual-zippered pockets and a magnetic bite valve attachment. An internal tool organization pocket in front of the reservoir holds necessities for trailside repairs or keeps the wallet handy for brewery hop rides.
See Osprey Seral Lumbar Hydration Pack on Amazon
12L capacity with 3L reservoir
Integrate tool organization pocket
Air Director back panel ventilation
Adjustable shoulder and chest straps with removable hip belt
Reflective trim
Magnetic tube trap connect
External gear loops and pockets
Camelbak is usually the name folks know in regards to hydration packs. An old model MULE is a pack that has seen me through years of runs, hikes, and festivals and still doesn't quit. The updated CamelBak M.U.L.E. Hydration Pack is not the best Camelbak for running but great for accompanying mountain bikers, cyclists, hikers, and climbers to the day's summit.
It's a good mid-sized hydration pack: not as large as the Oasis 1100 but larger than the previous Mubasel model with the combined 12L capacity with a 3L hydration bladder in the designated back pocket. The integrated tool organization features, front helmet and armor carry, and elastic pump loop make it an excellent hydration pack for mountain biking. Camelbak Air Director back panels have channels for cool airflow, and the ventilated harness keeps the weight distributed over the shoulder girdle and back while staying cool. Adjustable sternum straps and a removable stability belt around the hips allow users to find the perfect, snug fit.
The bladder is BPA-free and has a wide bite valve with a twisting on/off valve. From previous experience with Camelbaks, the bite valves are very soft to the point of potentially puncturing if you bite too hard. Luckily, Camelbak sells individual replacement parts for the bladders, so there's no need to replace the whole reservoir if a component breaks.
See CamelBak M.U.L.E. Hydration Pack on CamelBak
Why trust us and how we tested
Our team is constantly on the go. Whether by our own two feet, skis, two wheels, four wheels, whatever necessary to keep moving during adventures. A worthy hydration pack is a loyal companion and necessity in our contributors' endeavors: discovering backcountry cross country skiing, surviving a day of multi-pitch climbing, marathoning, backpacking, falling in love with cycling again, and whatever shenanigans we can find between.
We tested the hydration packs in mediums familiar and comfortable to each of us; activities we partake in often and know what we need in a hydration pack to perform optimally and comfortably still.
Who this is for and how we picked
Hydration packs aren't limited to one sport. We picked a range of hydration packs suitable for specific activities for creatures of habit or models that perform well under varying circumstances.
The activity-oriented models tend to run a bit pricier due to materials or features added to address activity-specific needs. The all-around options typically are better on your budget.
Features to look for in hydration packs
Ease of filling
Certain companies like Osprey have patented top-filling reservoirs with a fold-over seal. But most reservoirs have a wide circular opening in the front for filling. Regardless of design, it was easy to slide the empty bladder out of the designated pouch, slip under a tap, and then the fluid's weight made it easy to place back into the bag.
Sometimes, there's a hook or catch on the pack's interior to keep the reservoir vertical as the volume decreases throughout the day.
Ease of drinking
The tube from the reservoir runs from the bottom up through a port at the top of the bag. Usually, hydration packs have a shoulder strap clip or magnet to keep the tube and bite valve accessible and out of the way when not needed.
Some bite valves are just that: bite valves with no other switch or gate to control water flow. Just bite and suck. These are great for fast-paced endeavors like cycling or running. Other models have a twist valve to avoid any water dribbles, but sometimes the water flow tends to be slower.
Ease of cleaning
Top filling reservoirs are easy to clean by reaching your hand inside with a soft rag to get into the seams. With front filling bladders, if your hand won't fit inside the wide opening, then you'll need to look into cleaning tablets, brushes, or kits. Some tubes disconnect for an easier time cleaning the nooks and crannies between the different parts.
Storage
Choose the hydration pack's size based on activity and what you'll need to carry. If you're mountain biking, you may need a more extensive first aid kit than someone running. Also, consider the time of day you typically venture outdoors; if it's dawn or dusk, consider the possibility of needing the carry layers.
Comfort and weight
Wearing a well-fit hydration pack should feel like you're still moving bareback. Hydration packs meant for specific activities will have different specs in terms of weight and comfort.
Running hydration packs will be much lighter, and emphasis is on the breathable, anti-chafe mesh material. Hydration packs for cyclists focus more on the pack's shape and length and ensuring the hip belts don't impede cycling movements.
The larger packs like the Gregory Luna 24 and Oasis 1100 are heavier and made with stouter materials to withstand tears, punctures, and the stresses of a larger pack. As the hydration packs get larger, make sure comfort is still considered. The shoulder straps, chest straps, and hip belts should accommodate the additional weight.
Drinking tube and bite valve functionality
Some manufacturers divulge the diameter of the drinking tube to consumers. It seems like a picky specification to make or break a decision on a hydration pack, but you don't want to feel like you are trying to suck and smoothie up a narrow straw, especially during higher exertion.
There's a happy medium here. A wide enough tube facilitates good water flow while still narrow enough to travel through the pack and port without being squished and impeded by other items in the pack. And then what if the tube is perfect, but the bite valve is too small? Camelbak has an excellent bite valve, whereas Osprey and Nathan valves are similar, but the former's have a plastic piece in the center to bite around, decreasing the volume of intake per gulp.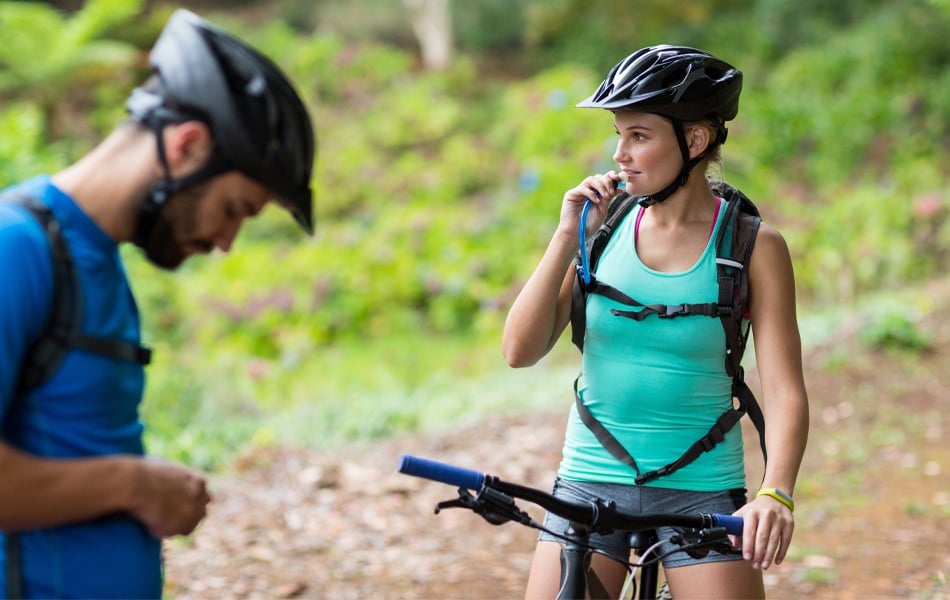 Hydration pack FAQ
Q: What can you put in a hydration pack?
A: You can put anything in the hydration bladders except carbonated beverages; jostling the bladder with a soda or beer could create pressure in the reservoir and potentially pop the bag or cause leaks. If you're drinking something other than water, be sure to exercise proper cleaning measures after each use to avoid a lingering flavor or mold.
Q: How do you drink from a hydration pack?
A: Hydration packs usually have a hook or clasp to hold the bladder upright. A hose exits the bottom of the bladder and terminates in a bite valve. A clasp, hook, or magnet keeps the hose and bite valve out of the way when not in use.
As you drink the water, gravity keeps decreasing the water level until empty. When you bite and suck on the valve, water travels through the hose from the bladder, over your shoulder, to your mouth. Some bite valves have rotating closures to avoid any leaking if the bite valve is accidentally opened.
Q: How long do hydration bladders last?
A: Reservoirs usually deteriorate or need replacing because of mold; with proper care, they can last years. There are reviews of hydration bladders lasting over 10 years with correct cleaning measures.
Q: How often should I clean the reservoir?
A: Cleaning the reservoir is essential to the longevity of the bladder's materials. Frequent users can rinse the bladder out with water after every use, and about once every two weeks, do a deep clean of the reservoir. If the bag is being stored between use, a deep clean is necessary after each adventure.
Q: How do I clean the reservoir?
A: Fill the reservoir with warm water, mild soap, and close it. Shake the bladder gently, then hold it high above a sink and open the bite valve. Let the warm soapy water run through each component of the reservoir. If the hose and bite valve are detachable, clean them individually with a small brush and pipe cleaners. Rinse thoroughly with water, put everything back together, and run water through the entire system one more time. Let everything completely dry before storing.
Q: Can you put a hydration pack on a regular backpack?
A: You can put a hydration pack or 'bladder' into a normal backpack, but it'll be missing key features of an actual hydration backpack. Features like an opening in the bag for the tube and mouthpiece to slide through or an interior hook or clasp to keep the bladder from slumping towards the bottom of your bag as it empties so gravity can continue to do its work.
Q: Do hydration packs keep water cool?
A: Not typically unless stated otherwise in the specifications.
Q: Can you put ice into a hydration pack?
A: Yes, you can. Some bladders will have insulated lining to avoid condensation from gathering outside the bag, preventing damp clothes or wet granola snacks.