Flashlights have come a long way since the "torch" days of old. New technology has given us LED bulbs, thousands of lumens, and even further-reaching beams. Sustainability comes into play with rechargeable batteries, which add a longer run time and lightning-fast charging. Water-resistant cases and rugged, lightweight designs mean there are options for everyday use, as well as tactical LED flashlights for those who spend their lives in the outdoors and illuminating the shadows.
With thousands of options on the market, how do you know which is the best rechargeable flashlight? Brightness, battery life, weight, size, and design all play a factor, but the best rechargeable flashlights sport a killer combination of all five. Let's take a look at some of the best, brightest, lightest, and fastest-charging flashlights out there.
The best rechargeable flashlight
Universal Compatibility Magnetic USB
Charge Base
1,000 lumens
Runs 20 hours on lowest setting
Just 2.5-inches and 1.8 ounces
Our in-house tester can't stop raving about this tiny flashlight that packs a huge punch. At just 2.5-inches long and 1.8 ounces, it's small enough and easy to clip onto your pocket, your backpack, or on the visor of your car. But push the button and — wow — instant and brilliant illumination!
The S1R Baton II kicks out up to 1000 lumens, which is amazing for its size. For most of our tester's uses, he runs it on level two (or 600 lumens), where it claims a beam distance of 145 feet. This level has a great battery life — while our tester has never drained the entire battery, the brand claims a run time of up to 20 hours on the lowest setting of 12 lumens.
What's another feature he loves? The battery regulation. "The battery regulation is smart. It will kick out 1000 lumens for 1.5 minutes, then drops to 300 lumens for up to 37 minutes. Or start out at 600 lumens for 1.5 minutes and you can drop down to 300 lumens for another 45 minutes. At each stage down, the Baton II will do a similar high-power burst before dropping down to the next level." These figures seem immensely more impressive when you see just how tiny this light is.
It's rechargeable by a magnetic USB charge base for convenient re-charges. Even better? This charging base is compatible with all other rechargeable flashlights, too. For those looking for a great little light that packs a punch, this flashlight is hard to beat. Read the in-depth review here.
See Olight S1R Baton II Rechargeable Flashlight on Amazon
See Olight S1R Baton II Rechargeable Flashlight on Olight
See Olight S1R Baton II Rechargeable Flashlight on Walmart
18650 USB battery or CR123A lithium batteries
Quality C4LED
High/Strobe/Low
Compact size
Runs 30 hours on low
The ProTac 2L-X 500 Lumen Rechargeable Flashlight from Streamlight is at the top of the pack for compact flashlights. This 500-lumen tactical LED flashlight can be charged from a USB source, but also supports 3.7V CR123A lithium batteries. Military-spec anodized aluminum housing keeps your light protected from whatever you come across — whether that's an accidental drop onto the rock, toddler's teeth, a sand storm, or pouring rain.
ProTac has two light output settings plus a strobe setting for security and detection. This lightweight (less than four ounces, with batteries!) flashlight features Streamlight's proprietary TEN-TAP programming function to personalize the settings. Maximum illumination at 500 lumens has a 165-meter beam distance and run time of 2.75 hours. The low setting sports 40 lumens with a 49-meter beam distance and 30-hour battery life. As you'd expect from such a quality manufacturer, the light source is a C4 LED light with a 50,000 hour lifetime. This model also includes a removable pocket clip and holster for more ease of carrying. Read the in-depth review here.
See Streamlight ProTac 2L-X Rechargeable Flashlight on Amazon
See Streamlight ProTac 2L-X Rechargeable Flashlight on Walmart
6,000 Lumens
Handheld spotlight
CREE XHP-70.2 LED Beads
100,000 hours of light
9000mAh
Included tripod
If you need a bigger beam for your efforts, the Buysight Rechargeable Handheld Spotlight can lend you a considerable hand. This handheld, rechargeable flashlight provides a 6,000-lumen beam that reaches up to 800 meters. Keep it on its strongest light setting for up to 10 hours, or a full 32 hours on the lower light mode. Pressing the switch for five seconds will activate an SOS flash that's powerful enough to direct any emergency team. Don't need that much light? No problem; the Buysight Rechargeable Spotlight also operates on a side floodlight basis, which provides a lantern-like light source for camping, hunting, or fishing. Run it for 20 hours on its stronger setting or 40 hours on the low light mode—all off of one battery charge. Running traffic control? The Spotlight also gives you a red-and-blue warning light mode, which is visible even in hazy or foggy conditions and runs for up to 30 hours.
What's not to love about a hands-free spotlight? The Buysight Spotlight also comes with a tripod to let you see while you work with both hands. When you're running low after a week-long camping trip, plug the Rechargeable Spotlight into a wall outwith with the included 5.5 mm X2.1 mm DC charger; forget extra batteries when you can easily charge this high-powered flashlight. It also doubles as a portable power bank for your other electronics; plug in a USB cable and recharge your phone or campers in the woods.
Shatterproof glass, a double cup construction protection the bulbs, and an extra-hard anodized aluminum body mean this spotlight is ready for business. However, at only 1.8 pounds, it's a lightweight tool to tackle heavyweight jobs.
See BUYSIGHT Rechargeable Handheld Flashlight on Amazon
Pack of 2 flashlights
1200 Lumens
Beam up to 600 feet
Pocket clip
Water-resistant
Micro-USB rechargeable
Two for the price of one? We'll take it. The Karrong LED Tactical Flashlights double pack gives you two hardy, water-resistant light sources for the price of one of our other choices on this list. Each of these flashlights is micro-USB rechargeable with the included 18650 lithium-ion rechargeable batteries. The T6 LED chip provides a beam that reaches out 600 feet and provides a whopping 1,200 lumens from a wide beam to a narrow laser. The small metal clip makes this an easy tool to tuck into a backpack, in a pocket, or on a belt.
See Karrong 1200 Lumens LED Tactical Flashlights 2-Pack on Amazon
Runs 3.5 hours
Includes lanyard
Lithium ion cell pack
1.2 ounces
Doubled clip for hats and pockets
Streamlight is one of the top names in tactical flashlights, and their Rechargeable MicroStream 250 Lumen Flashlight is a prime example of that high-quality work. The lithium-ion batteries, which can be fully recharged in four hours via MicroStream USB, power a 250-lumen beam that extends out 68 meters. The hardy military-grade anodized-aluminum makes this a durable and abrasion-resistant light source, with unbreakable and scratch-resistant lenses keeping the beam safe. Click the push-tail button for access to high and low modes, and easily attach the flashlight to a hat brim or pocket with the doubled-over clip.
See Streamlight 66604 Lumen MicroStream USB Rechargable Pocket Flashlight on Amazon
See Streamlight 66604 Lumen MicroStream USB Rechargable Pocket Flashlight on Walmart
Rechargeable batteries or 3 AAA
Water-resistant & anti-abrasive
1000 lumens
600-foot beam
1-year warranty
Peak Plus has created an excellent value with their heavy-duty Super Bright LED Rechargeable Tactical Flashlight. This flashlight is great for a range of low-light conditions. Simple construction with a zoom setting allows for adjustable focus across 5 light modes.
The beam from 1000 lumens reaches up to 600 feet away. Weighing in at 11 ounces and five inches long, it's certainly not the heaviest on the market. It has also been tested to be weather and shock-resistant. Power this flashlight up with the included rechargeable batteries or three AAA batteries, in a pinch.
See PeakPlus Rechargeable Tactical Flashlight on Amazon
1000 lumens
Rectangular design
Integrated Micro-USB rechargeable lithium-polymer battery
Battery gauge
Pocket clip
Slim design
1,000 lumens and nearly 24 hours of battery life are just a few of the reasons to pick up the SureFire Stiletto Pro Multi-Output Rechargeable. This rectangular-designed flashlight is both unique and effective. An integrated Micro-USB rechargeable lithium polymer battery alerts the battery gauge on the exterior so you always know how much light you have left. The melonite-coated steel spring pocket clip will hold this flashlight securely in a pocket, bag, or belt, while a tactical switch and primary switch activate the different light outputs. Why is this flashlight so expensive, you ask? Because it's designed as a fighting tool and non-lethal self-defense weapon, first and foremost. Strobe-setting white light can be used to disorient and even temporarily blind your opponents, giving you a non-lethal option of attack.
See SureFire Stiletto Pro Multi-Output Rechargeable Flashlight on Amazon
Why you should trust us
The author has been a backpacking, climbing, and rafting guide for nearly a decade, as well as a firefighter and EMT. Camping in torrential rains, trekking in the dark, surveying an emergency scene, and changing tires in the middle of a blizzard are all situations where she's found herself in need of a good flashlight — the brighter, lighter, and more versatile, the better. Rechargeable batteries are a huge plus for someone who doesn't want to carry lots of extra batteries and who values efficiency over wastefulness, but the versatility of these flashlights to switch to traditional batteries in a pinch makes them all the more useful. From the dark depths of Alaska in January to the hazy dusks of Colorado summers, the author knows good lights, and where to find them.
Who this is for
Recreationalists, homeowners, and EDC-enthusiasts looking for the best deal and the best product. These rechargeable flashlights offer something for everyone, whether you're looking for the next spotlight to illuminate your hunting camp or a lightweight flashlight to keep in your backpack.
How we picked
We chose from a range of budget-friendly, everyday flashlights to tactical must-haves. Each of these rechargeable options has multiple modes to choose from to conserve battery life or light up the trail.
How we tested
We tested on the snow-covered routes of New Hampshire's snowmobile trails to fire-scene investigations, from ambulance calls at 2 A.M. to searching for a dog in the woods. We carried flashlights in backpacks, bunker gear, pockets, and ATVs to put them through their paces — and are happy to report that they came through with flying colors.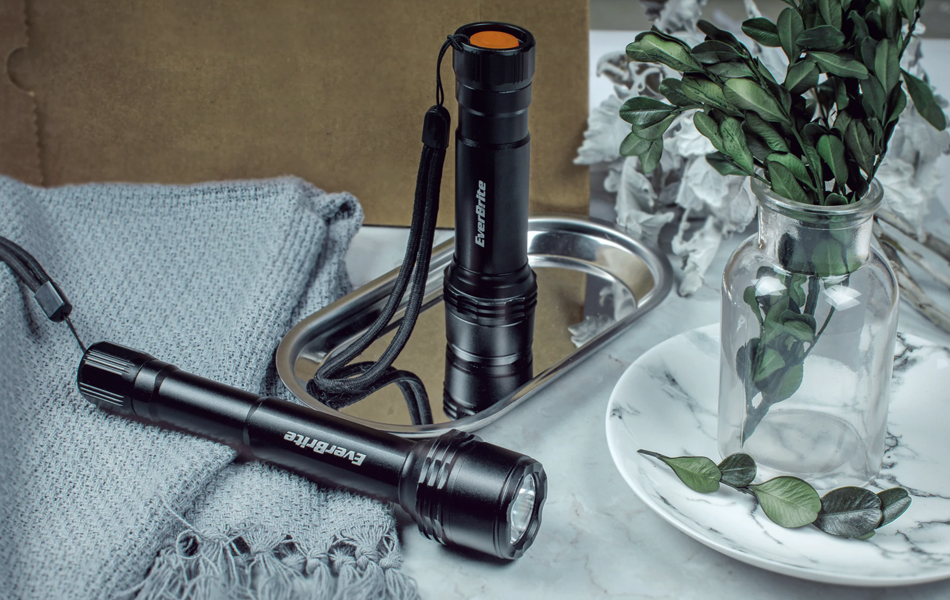 Features to look for in rechargeable flashlights
Improvements have come quickly in the flashlight realm, with manufacturers making use of technological advances in brighter and more compact ways. With such a wide range of rechargeable flashlights on the market today, it would be sensible to spend time deciding what you really need out of a flashlight before taking the plunge.
Prices can range from $20 all the way to $200 — a bit of research and time will undoubtedly pay dividends in the long run. With that said, it's probably best to start by looking at your budget. If all you need is a backup light for the glove box in your car, then there is no point looking for a space-age flashlight.  However, if you're looking for a rugged tactical option, then you may be willing to spend a bit more.
Once you've decided where you sit on the price scale, it's time to consider some of the following categories.
Light output
The majority of flashlights today utilize LED bulbs since they are the most efficient light producers, especially compared to the old incandescent bulbs. Typically, manufacturers measure light output in lumens, although many factors determine how the lumen converts into beam distance.
Generally speaking, anything under 100 lumens are used as a backup source of light in case of a power outage. Once we pass the 100 lumens mark, there should be sufficient light to use outside if all you intend to do is walk your dog or perhaps see what you were doing when camping or fishing. A flashlight around 250 lumens is a great option to keep in your glove compartment, a backpack, or out in the garage. However, if you're using this flashlight hunting, searching, or for emergency work, you want well over 1,000 lumens.
To give you an idea of the brightness level, it is claimed that at 150 lumens you will cause temporary blindness if you flashed the light into somebody's eyes at night. However, the same effect in the daylight would require more than 300 lumens. The higher the lumens, the more light you'll cast. A wider or longer beam will be more useful in the long run.
Battery life
Clearly, the power and light output have a considerable impact on battery life. It is worth considering what you will generally use your flashlight to do. High lumen intensity will undoubtedly drain your battery faster, but this may be perfectly viable in situations where you do not need continual light.
For continual use, such as cycle lights and hiking lights, it is worth considering lower lumen settings with extended runtime to extend your battery life. Generally speaking, most tactical LED flashlights will have several light settings, like high, low, strobe, and SOS settings. These give you options that will save your battery from constantly running on its highest setting.
Beam distance
Beam distance refers to the distance your flashlight throws light out in front of you. This will vary considerably depending on how bright the LED bulb is, how the beam is reflected out of the lenses, and also how the focus is set on the flashlight. Beam distance and the beam flood path are both useful for different situations.
A focus setting will also give you the ability to change the flood diameter of the beam. In some instances, you may wish to have the beam set to the maximum length; in others, it may be useful to have the beam set to the maximum width and shortest distance, giving you a flood effect.
There are also other unique features, such as colored lights, which can be useful for night vision and traffic control situations. Strobe emergency settings are extremely useful if you are camping, sailing, or in any case that may require a distress signal.
Water resistance
The quality of a flashlight's construction and the quality of materials used impact aspects like water resistance, dust resistance, shock absorption, and abrasion resistance. These should all be taken into consideration so that you select a flashlight fit for your needs.
In general, water resistance is measured on the IPX scale — the lower the number, the less water-resistant the flashlight will be. For example, IPX4 would mean your flashlight is splash-resistant at best. IPX8 would imply that it could be submerged in water up to 1 meter. If you plan to use your flashlight as a backup, a lower IPX would be acceptable; if you plan to use your flashlight outdoors and in inclement weather, a higher IPX rating would prove far better.
Ease of use
Developments in USB rechargeable flashlights and LED flashlights have made them easy to use. Most have simple touch buttons or tail switches that can be operated with one hand. Some of the best tactical flashlights feature programmable switches to access different modes at the touch of a button. Most will come with guides to programming or toggling your flashlight to the setting you want.
Size
Size really does matter. If all you are doing is walking the dog, there is no need for a 12-inch military-grade flashlight. However, if you are a firefighter and your life depends on having a flashlight that can withstand the heat and throws out a powerful beam, you might not be as worried about compactness over brightness. Be sensible with your choice and fit the flashlight to your desired usage.
Design
Much of your design preferences lie with your personal preferences. If you prefer a sleek, tactical flashlight with a pocket clip, there are several options that fit exactly that description. However, there are also more flashlights that are designed to act as a spotlight, set up on a stand, or act as an emergency strobe to direct traffic. Find a flashlight that sports a textured, anti-slip grip, durable materials, and a light switch that you can easily use with one hand.
Types of rechargeable flashlights
Tactical flashlights
A tactical flashlight is a flashlight that has been manufactured to the highest standard for use by the military or professional forces. They tend to be made from high-quality aerospace alloys that are anodized for extra durability and performance. Usually, the best tactical flashlights will be highly water-resistant, anti-slip, and shockproof with powerful beams to ensure top performance in all situations.
Everyday flashlights
In today's reality, an everyday flashlight will feature trickle-down technology from the top tactical lights. Made from cheaper materials and with slightly reduced performance, the budget prices are still worth it! If you want an affordable but hardy flashlight, these everyday options are still a great option—and are a sight easier on your wallet.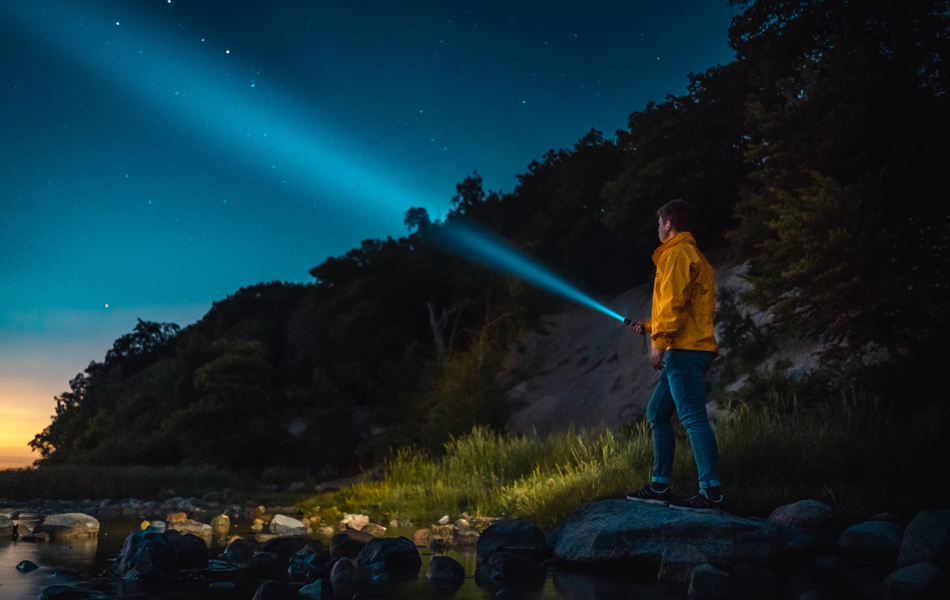 Rechargeable flashlight FAQ
Q: How many lumens do you need in a flashlight?
A: At a minimum, you should look for a flashlight over 100 lumens. Any count below that would only work in a small space inside a house. Ideally, for an everyday flashlight, you want at least 250 lumens, and for a camping-grade flashlight, at least 1,000. Emergency services should look at more than 5,000 lumens to light up a larger or longer area.
Q: What is the perfect flashlight?
A: The flashlight needs to fit the purpose you intend to use it in.  Spend some time thinking about what your requirements are and how you plan to use your flashlight. In general, the perfect flashlight would have around 1,000 lumens, be lightweight, easily switched on and off with one hand, durable, waterproof, and feels comfortable in your hand.
Q: What is a rechargeable flashlight?
A: Rechargeable flashlights use rechargeable batteries, plain and simple. Most batteries can be removed and charged in an adapter, while others are charged directly by USB.
Q: What are LED flashlights?
A: LED flashlights utilize a different method of generating light from traditional tungsten lights. LED stands for light-emitting diode. The benefits of LED flashlights are numerous, but foremost among them is their super-bright, long-lasting bulbs. They are also very stable and shock-resistant.
Q: Are rechargeable flashlights waterproof?
A: Not all rechargeable flashlights are waterproof, but they are very common. A flashlight's water resistance is graded on a scale — the lower the number, the less waterproof the flashlight will be. Some flashlights will only be water-resistant, while others will be fully waterproof to a depth of two meters.
Q: Is there a way to prevent shortened battery life?
A: A great way to extend the life of your new battery is to completely charge it overnight before using it for the first time. This is called initializing and will give you the maximum capacity for the battery.
Only recharge batteries when they are near to being fully empty.
Try to avoid letting your battery get fully empty.
Never try to overcharge your battery (multiple days in a row).
Sources:
Guide To Choosing The Right Flashlight – Streamlight