Hiking, exploring, whatever it is you like to do, you need proper traction, insulation, and comfort in a snow boot. We take a look at the best winter snow boots on the market in 2022.
The king of the hill in our snow boot race topped the other 13 selections. Kamik just can't be beaten when it comes to price versus quality. First and foremost, you get amazing waterproofing protection all along the upper section and the collar. At that collar, you get a pull cord to keep everything nice and tight, and double down on your waterproofing.
When you're talking about snow boots, effectiveness usually trumps comfort. Kamik caught our eye from the rave user reviews, and after slipping them on ourselves, we can attest to how phenomenal they feel for your heels and arch. Last but not least, the exterior is made of a 600D nylon construction, which is basically a bulletproof vest in the fabric world. No drop of water is getting into Kamik Greenbay snow boots.
Key features
600D nylon construction
Waterproof upper prevents snow from seeping in
Drawstring along cuff for extra comfort
Synthetic rubber insole
Planning on climbing or traveling in the backcountry? If so, Arctic Sport's muck boots are a fantastic choice. You can use them as low as -40°F and they're completely waterproof from collar to the sole, providing excellent traction in soft powder as well as thicker snow with ice forming on top. When you get under the hood, you'll find an EVA midsole to protect you from slips and falls with enhanced shock absorption technology. Everything about this boot is fantastically durable, from the comfortable construction to the design that contours to your foot.
Key features
100% waterproof
EVA contoured midsole for maximum support and shock resistance
Highly durable rubber insole
Designed to retain heat for extended periods of time
Usable in conditions as low as -40°F
Chukka boots? In winter? Hell yes. Sperry's just the right brand to take this crazy concept and turn it into reality. First and foremost, we need to talk about the waterproofing on this bad boy. There is rubber along the entire toe box, as well as a reinforced heel area that not only provides excellent support but repels water at the same time. You've got a high-quality leather upper with a three-ring cuff that helps contour to your pants and socks, creating a nice waterproof layer. The leather is a bit more susceptible to absorbing water, so we recommend getting a nice waterproof shoe spray to finish off the job just to be safe. Sperry Top-Sider Duct is known for its excellent size-as-shown percentage, so you won't be getting some over/undersized, unfamiliar boot in the mail.
Key features
Leather upper
Synthetic sole with excellent traction
Waterproof rubberized toe box
Reinforced heel for added support
See Sperry Men's Avenue Duck Boot on Amazon
See Sperry Men's Avenue Duck Boot on Backcountry
Our editor's choice for men's snow boots, Sorel really hit this one out of the park. You can remove and replace the Thermo Plus interior (if you want to, though, with quality like this, we would recommend just keeping them in), and really get to play around with how these fit on you. The durable, non-slip rubber insole is surrounded by waterproof leather and a synthetic outsole.
If you ever find yourself in -148°F conditions, well, we don't know what you'll be doing, but it must be pretty important. Thankfully you can have Baffin Impact under your feet to keep your digits properly warm throughout your expedition. Eight layers provide the most amazing comfort and insulation available, albeit for a premium price. You get a wide arch for extra grip on the ice, and a rubber insole to keep your feet from slipping. Nylon and rubber make up the exterior, while the cuff is crafted to fit tightly and provide excellent heat retention and comfort.
Key features
Rated to the insane temperature of -148°F
Nylon and rubber construction
Includes a leather inner system (or suede depending on availability)
Rubber insole
Tight cuff for maximum insulation
These boots provide you with top-of-the-line waterproofing, but also provide protection as low as -40°F. Since these are like a textile casing for your foot and leg, you have one thing to worry about: sweat buildup. Fortunately, Bogs took care of that with their own brand Max-Wick liner.
Key features
Textile construction w/ rubber insole
Bogs Max-Wick lining to keep sweat off your feet
100% waterproof against the toughest snow, slush, and ice
A viable solution for as low as -40°F
Kamik Men's Nationplus Boot offers high-quality on a budget. Your lacing eyelets are rust-proof, so you won't endure any nasty surprises when you go to pull these snow boots out next winter. They hold the quick lacing system in place, all built into the durable leather exterior. Like many others on this list, you can get into terrain as low as -40°F while wearing these without worrying about your digits freezing off. Moisture-wicking technology pulls the sweat from your feet while you walk, leaving less of a stinky odor when you go to slip these on again when the next snowstorm hits. They make an ideal addition to your extreme cold weather gear.
Key features
Leather exterior with rubber insole
Rated to withstand temperatures as low as -40°F
Rustproof lace system means no worries as time goes on
Moisture-wicking interior pulls sweat off your feet and avoids nasty odors
Columbia is one of our favorite brands. They beefed this snow boot up a bit on the temperature protection, rated to withstand -65°F. Bugaboots are made out of a diverse cast of materials, each with a seam-sealed waterproofing level, providing different levels of comfort in key areas of your ankle, arch, and heel. Sweat is wicked away by the comfortable, cushioned interior.
Key features
Omni-grip traction is unlike anything you've ever used; ice is no match for you
Comfortable interior cushioning also wicks away sweat
Crafted of leather, nylon, and webbing for a diverse, waterproof finish
Rated to withstand temperatures as low as -65°F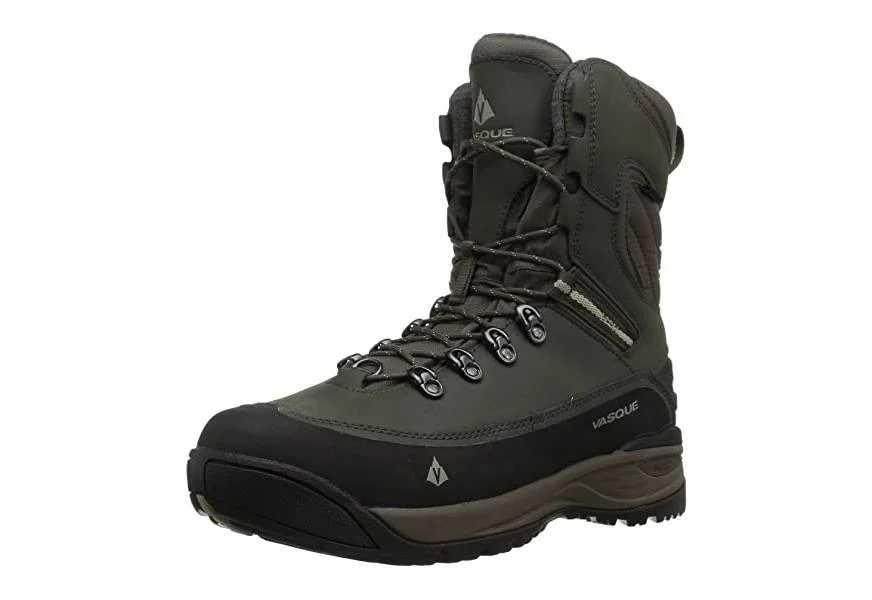 Vasque Snowburban II UltraDry Snow Boots have a lot going on but still remain at a reasonable price. Vasque isn't the cutting-edge of winter boots, but these little gems come with two different systems for keeping water out of your boots. You get their UltraDry technology, as well as a separately waterproofed leather upper for maximum protection. They added a great amount of oomph to the heel, built with an EVA dual-density midsole for extra shock absorption, and to put more distance between you and the ice beneath your toes. Last but not least, the textile and synthetic construction makes these absolutely fantastic to clean. They barely take up five minutes of your time and look like they just came out of the box when you're done.
Key features
Textile and synthetic construction w/ rubber insole
Waterproof leather upper
EVA dual-density midsole
UltraDry waterproof system
Reinforced heel with padded collar
In our quest to find the best snow boots for men, some brands surprised us. Sorel was one of those brands. We were in love with the sticker price, but what really caught our attention was their AeroTrac technology. This works wonders no matter what you're trying to traverse over, whether it's jagged ice or a pile of frozen-over snow, you're going to get through it with these. Sorel Bear Extreme Snow Boots also include vulcanized rubber along the toe box and the reinforced heel. Omni-heat liners reflect your warmth back at you, which is why these boots work in temperatures as low as -60°F. You could be trudging through a blizzard at Mt. Washington, and you'd still have your digits nice and protected.
Key features
Synthetic and textile design
Omni-heat reflective lining keeps warmth in
Works in temperatures as low as -60°F
Waterproof vulcanized leather exterior
AeroTrac outsole for maximum traction
Northside's another brand that's got the budget-conscious covered. With Northside Waterproof Country Boot you get a combination of suede and rubber on the exterior, which helps repel snow and water naturally, and the extra coating doesn't hurt. That waterproofing continues down into the rubber toe box and heel, which works like a shield when you're dragging your feet through slush on the side of the road. There isn't much more to tell, except that the quick-lacing system works very well, and the traction along the bottom of the outsole is excellent.
We've come to an end, my friends. With the Quest Winter GTX Snow Boot, Salomon provides excellent quality, and a bit of diversity compared to the other boots we've covered. You get a 100% fabric exterior with a rubber insole. The outside may not be perfectly waterproof, but you do get Gore-Tex lining to prevent moisture from seeping into your boot. Not super sure? Not to worry. Salomon gives you a two-year warranty.
If you're still not sure what you're looking for in a snow boot, take a peek at our guide below and circle back to grab your favorite. You'll find everything you need in there to make an informed decision.
Key features
Gore-Tex insulation keeps you dry and warm
Fabric construction with rubber insole
Outsole provides great traction
Two-year limited warranty included with purchase
See Salomon Men's Quest Winter GTX Snow Boot on Amazon
How we chose our selection of snow boots
Brand
Brand names come and go, but the ones that offer true quality tend to stick around for a while. We've been taking these well-known brands (and some lesser-known ones) and putting them under the microscope. At the end of the day, better brands tend to make better products.
Warmth
Depending on how thick the boots are, your warmth can remain even in -40°F weather. Some of these temperature ranges are pretty insane.
Quality
Some brands are synonymous with quality but that doesn't give them a free pass. If anything, we more closely inspect them to ensure that you're not just buying a pretty logo, but that they're justified in their prices.
Reviews
User reviews help us whittle down our selections. We started this list with over eighty different snow boots in mind, and reduced it based on the best of the best, utilizing user reviews to find the ones that we would eventually purchase and test.
Design
The design dictates how your feet are going to land. If the boot isn't designed right, it isn't going to feel right, and you'll lose your footing when you crash down on the snow and ice.
Price
You're always going to be impacted by price. The one difficult part of compiling this list is the wide range that many products have. Depending on your size, you could be paying anywhere from 1.0x to 3.5x the bottom price, at the cost of additional materials on bigger boots. It's a hassle, but one that can't be avoided in this space no matter how hard you look. We took pricing into consideration when building this list, but just know that there's a wide range that you're going to be met with when you check the current price on these snow boots for men.
Features to look for in snow boots
Insulation
You can't very well say that the boots you have are top quality if they're not keeping your toes warm. Our fingers and toes are the first areas on our body to receive frostbite or acute nerve damage from extreme temperatures.
Boot height
The taller the boot, the less likely you're going to get snow shooting down the top. This can come down to preference, depending on what area you live in and how much snow you frequently get. If you do go for a tall boot, make sure the upper section is made out of naturally waterproof material.
Weight
Your winter gear is already packing a lot of additional pounds on you, which takes more out of you with each step. On average, you're looking at between four and seven pounds for a quality pair of snow boots, and that's just your feet. You can pack anywhere from twenty to fifty pounds of added weight on with gear alone.
Liners
A necessity for sure. Liners need to be easy to clean (as easy as a snow boot can be to clean), as well as provide excellent arch support throughout your journey. Bonus points if you grab a snow boot that has a removable liner.
Weatherproofness
Many make the mistake of assuming that just because they're "snow boots" they're waterproof and wind-resistant. That's not the case. Leather and rubber are naturally water-resistant, and the latter also fairs quite well against wind. It's about the materials, the thickness, and if they've been treated with a coating or not. You can waterproof snow boots, but if they're thin, the wind is going to knock right through them.
Grip
Depending on your activity level, the grip is one of the most important elements in your purchase decision. Some just do it better than others, and some are designed for extreme use.
Comfort
Just because you're buying these with effectiveness in mind doesn't mean that they can't be comfortable at the same time. Many manufacturers look to make a contoured design for the toe box, giving your feet a more comfortable resting position and reducing fatigue. This is where user reviews really help.
Activity level
What are you planning on using them for? Whether it's skiing, snowboarding, hiking or simply getting from A to B, you have to envision your everyday use. This will help you paint a better picture of just how much coverage you need, and how much money you should spend.
Types of snow boots
Casual
Just as you'd expect. These are great if you're just walking through town to get a bite to eat, or you're just looking out for your safety on patches of ice and inclement weather on your way to work.
Hiking boots
These are your number one companion on any hiking trip in winter. You're not going to let a little bit of fresh snow stop you from taking the hike, but being a bit safer about it doesn't hurt. These have a great balance between being comfortable and gripping the ground.
Extreme cold winter boots
Much like our number two selection above, these are designed to handle sub-zero temperatures with finesse. Whether you're moving through slush with a mild wind going, or you're working outside for extended periods of time, you're going to need additional warmth. Extreme cold winter boots are a necessity in regions like northern New England, the upper midwest, and mountainous areas.
Snow boots FAQ
Q: What are snow boots?
Snow boots are built from superior materials that are naturally water-resistant, or can easily be coated in water-resistant spray or coatings. Designed to travel through snow, accompany you ice fishing, and just keep you warm through frigid conditions. Snow boots are one of the leading ways to prevent frostbite in harsh winter months (your digits are the first thing to be affected because they're the farthest from your heart).
Snow boots also offer excellent comfort to reduce ankle swelling and fatigue when you're traveling through fresh snow or stubborn, frozen-top snow that's been on the ground for a few days.
Q: The soles don't have as much grip as before, why?
Your interior soles are eventually going to whittle down, and you'll feel like you're slipping around in your own boots.
The main cause of your soles breaking down is directly related to bacterial growth along the insole. You'll find that over time, the grip lessens and even socks with traction pads on the bottom will have a hard time finding a grip. Consider replacing the insoles, and using our cleaning guide at the end of this to maintain your interior, and prevent this from happening again.
Q: Are higher shoes better for snow walks?
Yes, they are, but not just for the obvious reasons.
For one, you'll have better traction while hiking. Sounds a bit arbitrary, eh? The higher the sides, the more stability you're going to have for your ankles, and the better grip you're going to get when you step down. Think about losing your footing on a rock or a section of the path when hiking. You always feel weight and force in your ankle before it moves up your shin. In fact, you're about four times more likely to damage your ankle instead of anywhere else from the waist down while hiking, with your foot being in second place. Stability, dexterity, lessened chance of injury.
Then there's the main point of keeping you dry while you walk or hike. The taller the cuff on the boot, the less likely the chance of stepping into deep snow or a sudden snowbank and it biting you in the rear end. Once the snow gets inside the boot, it's basically stuck there. These are meant to keep water out at all costs, but once it gets inside, you'll have to wait until you break or head home to take off your boot and remedy the situation.
Lastly, the main reason that snow boots with higher cuffs are better for going on a walk, is being protected against slosh on the roads. Keep the slush out, stay dry and warm in more urban areas.
Q: What is the difference between regular and waterproof hiking boots and snow boots?
Most of the design is all focused on the bottom half of the boot. You're dealing with different treads that help to provide traction in different situations. For instance, standard hiking boots and waterproof hiking boots usually have the exact same treads along the bottom. Waterproofing the bottom of one of those boots would do nothing but make it slippery. That's why we have to rely on the materials and their natural water-repellent nature (which is why most boots have rubber soles).
With snow boots, they're built in an odd way that lets you grip onto the snow, but also keeps it from melting and seeping through the material. The main difference is in the treads, but when you get into the upper second on snow boots, that's where you hit the reason that the price point is so much higher.
The best snow boots are made of leather or rubber, which both naturally repel water. It's still necessary to seal leather and reapply waterproofing spray to both types of boots, but since most manufacturers use these materials, it's pretty resistant to water seeping through or getting in. The taller the boot cuff, the more expensive materials used, and the higher the price point is going to be. Then again, it's also better coverage.
Q: Should I wear some special socks with my snow boots?
You have a couple of options. You can either go with a wool sock for maximum warmth and comfort, or a compression sock to keep your circulation alive and well, but also don't have much in terms of insulation.
Personally, we use merino wool, which has proven to be the most breathable while keeping you completely warm. When your feet are already stuffed into these winter boots all day, it's good to have a bit of breathability.
We don't recommend standard Hanes cotton socks (or whichever brand you use) simply because they're notorious for getting overly sodden and assisting frostbite while you're out on the slopes or hiking through the snow.
Q: How do I best care for my snow boots?
There are two primary methods we want to go over. Before going through the step-by-step procedures, we just want to take a moment to explain the importance of caring for your snow boots.
Unlike a pair of work boots that promotes a bit of ventilation to keep your toes cool, snow boots do the exact opposite. You're going to sweat, it's going to get gross, and you're going to develop a lot of bacteria growing in the toe box of your boot. Even the best snow boots are going to run into some form of these problems. The higher the collar and the better the rest of your snow gear is, the better the habitat you're building for bacteria. It's a double-edged sword, really.
So when we tell you to be extremely meticulous and thorough with these steps, it's not simply out of a desire to sound intelligent. Bacteria eats away at your boots, causes athlete's foot and other fungal growths, and also creates a nasty odor. This is everything you can do (in two different fashions) to avoid all those problems.
The Kitchen Cabinet Method
This one was a household staple back in the 1960s. When you come in and kick off your snow boots, there's melted snow and sweat sloshing around in there. This method not only gets rid of bacterial growth but also helps to reduce odors in the future.
In a small bowl, mix together two teaspoons of baking soda with a half-cup of white distilled vinegar. One handles odors (which also handles bacteria), the other sterilizes, and if they both sit in the lining of your shoe, it's not going to be a problem. Whip it into as much of a paste as you can.
Get a rag or a simple face cloth and completely soak it in this mixture. Depending on the size of the rag, you may need to double the recipe we've provided. Make sure it's saturated, and prepare to go to work.
Dig that rag deep into the boot, moving all through the toe box. You'll have to work your fingers in there up to your elbows but trust us, this is what's going to eliminate that bacteria. R.I.P. that face cloth, though.
Give a whiff over the boot. You should be able to smell a reduction of up to 90% in the previous odor. If not, if it's been too long since you've cleaned your winter boots, get another rag and do it again. All the ingredients listed might cost you a whopping $3.00 for large containers of each product. Repeat this as necessary.
Air dry. Leave the mouth of these boots in front of a fan or hang them at an angle outside, so that gravity will help to remove any excess moisture. Even if you leave in some of that mixture soaked into your liners, it's not going to harbor bacteria.
The Old Toothbrush Method
This can also be exchanged with a broader light bristle brush, but to get in those crevices, a toothbrush is best. Let's get into it.
Make a mixture of two parts warm water, one part vinegar. Scale the batch to the size of your boot, ensuring there's enough to cover a tall collar.
Swash the toothbrush around before every burst of brushing. You're going to start from the top near the collar and work your way down, scrubbing circles into your boot. This mixture works well on leather, polyester, nylon, basically anything.
Once you reach the bottom, flip the boot on its side and take care of the treads. You're going to be surprised when you see it. These may be snow boots, but they pick up a lot of other junk along the way.
Rinse your boot under the hose of your kitchen faucet, but don't submerge. You're just getting all those excess particles off that the toothbrush loosened, but didn't fully remove.
Important note: for leather boots, you may need to reseal them at this stage. This is up to your discretion.
Lastly, consider applying a waterproof spray to recase your boots. Most snow boots rely on their materials to keep snow out, but no manufacturing process is 100% accurate. You should use a waterproofing spray because, for most snow boots, manufacturers use them before packaging.