Winter camping can be beautiful, adventurous, and a whole new way to enjoy the season. But no matter how much you may love snow, you cannot go winter camping without the proper equipment. When you sleep, your heart rate drops and your body temperature dips. You wake up, cold. You don't want that. The key to staying warm in freezing conditions is having the proper clothing layers, warm winter boots, and a good sleeping bag. Tent heaters and camping lanterns can make winter camping much more comfortable.
Even in summer, temperatures at night can drop significantly, and having a heater is a key ingredient in a happy weekend. Below are some of the best tent heaters, including electric, propane, and butane heaters.
The best tent heater
Heats up to 225 sq. ft. for up to 110 hours
Portable with a fold-down handle for easy storage
Automatic shut down when over 7,000 feet above sea level
Strong power outage
Apart from an attractive price point and immense power on the Mr. Heater 4K/9K BTU Portable Radiant Tent Heater, you get the safety and security of the dual sensors: if this falls over, or if the oxygen quality in your tent or camper dips below a reasonable level, this will automatically shut down to preserve your safety. Mr. Heater 4K/9K BTU comes with a hose that attaches to propane tanks, so you can run this all night long in a 225 square foot space with no problem. Bear in mind that when you reach over 7,000 feet above sea level, this is going to shut down pretty easily; the air is thinner, so the oxygen depletion sensor is going to go off more often. But overall, this heater is a fantastic buy that isn't going to burn through your fuel too quickly, all while providing an excellent heat source no matter your needs. A close friend of mine has used this in their camper for years without issue. This space heater also uses propane effectively to minimize costs.
See Mr. Heater 4K/9K BTU Portable Tent Heater on REI
See Mr. Heater 4K/9K BTU Portable Tent Heater on Amazon
See Mr. Heater 4K/9K BTU Portable Tent Heater on Walmart
360-degree heating design
Max heat output 9,000 BTU
Adjustable flame control for cooking
Compatible with butane, isobutane, and propane fuel
Compact, comes in a carry case for easy transport
When searching for the best tent heater for my campervan, I very nearly opted for the Mr. Heater but I wanted to try a night without one in the snow to see how it would feel. Turns out, my van is really warm so I decided to save money and find a smaller space heater option. I found the Campy Gear Chubby 2 in 1 Portable Propane Heater via Amazon and knew I'd found the one. The reason I jumped on it? I love the versatility of having another burner to cook on. I love to cook and often will make big breakfasts for my friends before ski days and while my two-burner stove is often enough, sometimes I have a lot of pans on the flame and I love having this as a backup and I save a lot of space.
This tent heater for camping comes with a convenient carry case which I hang on my van walls. While small, this heater can provide 9000 British thermal units of heat. Additionally, I can use butane or propane tanks to fuel it and operate it in cook, heat or cook and heat mode. I've found it perfect for short heating stints but have not used it overnight.
See Campy Gear Chubby 2 in 1 Portable Propane Tent Heater on Amazon
360-degree spin for all-around warmth
Multiple safety features
Comes with a fan option
Suitable for RV's and camper vans
Easy to carry handle and sturdy base
While Honeywell 360-Degree Surround Heater is not designed for the minimalist camper (tent, dehydrated camping food, and sleeping bags), it is perfect for those who are at least near the plugins of an RV at a campsite. You get two different heat settings, as well as a singular fan option that doesn't push any heat at all but provides air circulation, making it great for warmer weather too. The chassis is designed with an easy carry handle and sturdy base. when it comes to the industry safety standards, Honeywell took it ten steps further: with over-heat protection, an auto-off timer option, and tip-over protection, this is one of the safest electric heaters out there. And with a 360-degree spin to push out comforting heat, you'll be able to enjoy this heater in a small group as you huddle around the heater.
See Honeywell HHF360V 360-Degree Tent Heater on Amazon
See Honeywell HHF360V 360-Degree Tent Heater on Walmart
Continuous 45-degree heating angle
Simple on/off operation
Auto shut-off for protection against overheating
Tip-over switch function
Indoor propane heater that offers a maximum elevation of 7,000 feet
The Mr. Heater F215100 MH4B is built as an indoor propane heater that functions at a maximum elevation of 7,000 feet. This low oxygen heater is greatly favored for its auto shut-off protection against overheating as well as its odor-free, 45-degree heating angle. The heater also comes with an accidental tip-over switch function as well as a power indicator light. An additional benefit is its lightweight yet durable construction that allows you to take it practically anywhere with you; it's a great way to quickly and safely heat even the coldest rooms in winter – up to 95 square feet. As for the run time, is 5.6 hours. Overall, this is a very stable little device with a sturdily built carrying handle –- there's no safer heater to take camping at high altitudes with you.
See Mr. Heater F215100 MH4B Tent Heater on Amazon
See Mr. Heater F215100 MH4B Tent Heater on Walmart
4,000, 9,000 or 18,000 BTUs of heat output
Up to 450 square feet of heating space
Oxygen depletion sensor & tip-over detection system
Large fold-down handle for easy transport
With a maximum output of 18K BTU power, Mr. Heater Big Buddy Propane Tent Heater will heat up about 400 square feet of space — that's power. If you're planning a large-scale camping trip, this propane heater is the one for you. It hooks up to propane with ease, so you can start heating up your space in no time. Whether it's a cabin, a porch, or a large tent, (though you should be careful with safe oxygen levels), this one will keep you nice and toasty. You also get all the features that ensure your safety, even if you kick the heater over in your sleep. The unit has a sensor to shut off when it's tipped over, and will also shut down when low oxygen levels are detected.
See Mr. Heater Portable Propane Tent Heater on Amazon
See Mr. Heater Portable Propane Tent Heater on Walmart
Sturdy metal construction with a carrying handle
Adjustable thermostat with 2 heat settings
Multiple safety features
Quiet operation
Compact and complete with a sturdy metal casing, Comfort Zone Personal Heater is going to give you every bit of comfort that you need to make it in the great outdoors. You can kick cold nights in the rear end with this compact, cost-effective heater — with additional features to boot. You get optimal safety with power indicator lights, and a high limit safety fuse to ensure you can use the unit to its maximum potential without fear. One of the best uses for a personal heater out in the wilderness is keeping your body temperature up when you're sleeping. The problem is, sleeping can also be challenging when you're trying to tune out the aggravating whizzing sound that accompanies most electric heaters. Thankfully, Comfort Zone's model has a nearly noise-free operation.
See Comfort Zone Personal Heater on Amazon
Ceramic burner with a swivel body
CE Certificate for safety
Pressure sensing safety shut-off
Robust metal casing with a carrying handle
If you find that your electric heater can't heat up your tent quickly enough, get a butane heater such as Neiko. A butane unit is by far one of the best ways to heat up your tent in a flash, and this one is an ultra-portable emergency heater that uses cartridges, so you won't have to hook it up to a large propane gas tank. When the chilly air rolls in over the hills while you're hopping into the tent for the night, you can flip this on, and say goodbye to the frosty air and hello to a toasty bed. With a ceramic burner for optimal heating and a 100gm/hr rate of gas consumption, you'll be ready to keep the heat burning for several hours easily.
See Tooluze Butane Heater on Amazon
See Tooluze Butane Heater on Walmart
360-degree tip-over protection
Multiple safety features
Small and lightweight for easy transport and storage
Honeywell's name is everywhere, especially when it comes to good-quality electronics on a budget. This small, low-cost heater is ideal for heating small spaces — tents, camper vans, and RVs included. The portable unit comes complete with overheat protection and 30-degree tip-over protection so you don't have to be overly gentle with it. While this portable heater for camping works wonders, it's going to shine the brightest in smaller tents with 1-2 occupants. And since it's so small, it's super-easy to both take it with you when you go out there and store it when you come back home.
See Honeywell HCE100 on Amazon
See Honeywell HCE100 on Walmart
Cooker and heater in one
Between 10,000 and 15,000 BTUs of heat power
Comes assembled and ready to go
Automatic safety shut-off
No-frills design makes it lightweight and portable
Looking for a powerful heater and cooker in one? Check out Mr. Heater 15,000 BTU Cooker. The brand took a no-frills approach to the design of this unit to ensure you have less weight going into the woods and more power than anyone else around you. You could heat up a tent with several people in it; simply pop in a disposable cylinder or refillable tank adapter, and turn the heat up. You get three heat settings, as well as an automatic safety shut-off feature to give you peace of mind. Mr. Heater doesn't hide the fact that they can engineer raw heating power, and that's exactly what they've done here.
See Mr. Heater 15,000 BTU Cooker on Amazon
See Mr. Heater 15,000 BTU Cooker on Walmart
Why trust us
As someone who does quite a bit of cold-weather camping, I've thought about how to stay warm in the single digits and sub-freezing temps. With a campervan, I know I've got some insulation but when it is that cold out, a camping heater is a must-have. Between myself and my climbing and skiing friends who live full-time or part-time in vans, campers, and on the road, I've seen a lot of heating setups and experienced them myself.
Who this is for
This guide is for anyone who wants to camp in cold weather. Whether you're going to rough it properly in a tent or upgrade to a camper, a van or car camping, tent heaters for camping will serve you well and keep you warm and protected from the frigidity outside.
How we picked
Selecting the best tent heaters was a blend of research and personal experience. I recently built out a camper van for weekend trips and have thus far only camped in the snow on Mt Hood and Bachelor Butte in temperatures of 32 degrees or less and when it's cold, a heater is a must-have. I knew I'd need a tent heater for my van and started looking around as soon as I started my build-out. I originally wanted a Mr.Buddy but with how small my van is, I opted for a Campy Gear Chubby and have been using it since. I also love that I can use it as a stove when I need an extra burner. I've got several friends who also winter camp in their vans or campers and have heaters as well.
How we tested
Testing the best tent heater involved recruiting friends to tell me all about their favorite heaters and chilly nights spent in each other's vans and campers with whiskey and laughs before big days of skiing. Cold-weather camping isn't as scary when you've got friends around. As far as product testing goes, it was pretty chill and rather heart-warming. Get it? Warming…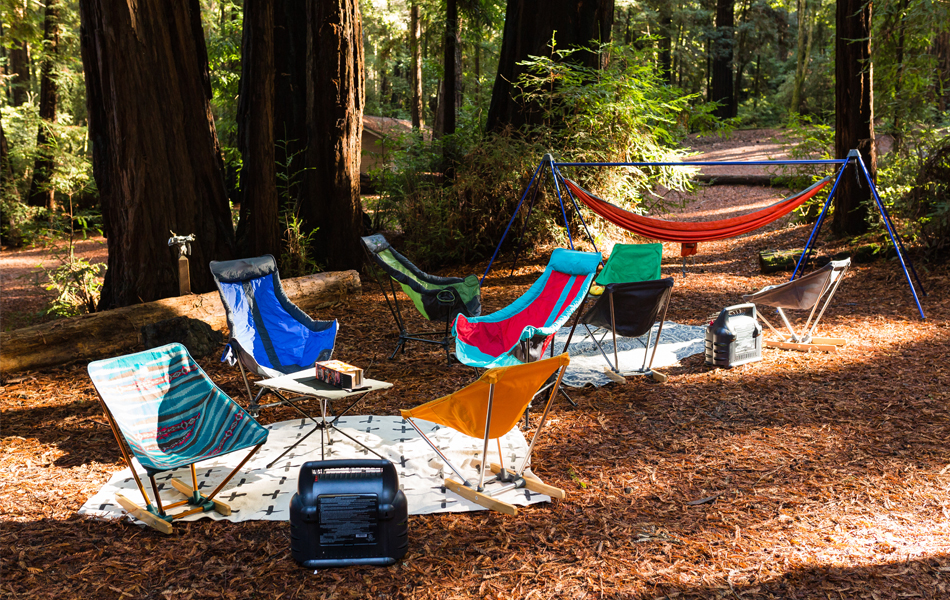 Features to look for in tent heaters
When you purchase your camping tent or hammock, you're looking out for quality and safety. While any tent heater you find on the market is going to be safe enough to use, you have to think of the practicality of your use. Is it going to work well inside whichever tent you've purchased, i.e. a solo or backpacking tent? Will it be able to heat up you, your partner, and your kids? And then, there's safety to take into consideration. When you play with fire, we don't want you to get burned — that's why we've thought up every aspect of the buying process and laid it all out in a clear guide to help you determine what's best for you and your needs.
Heater type
There are several types of heaters available, but ultimately, it all comes down to the fuel source type. Most of the heaters in our guide and in general run off of butane or propane, but there are plenty of electric heater models available too.
Heat output
Heat output matters in relation to the size of the space you are trying to heat. A tent may allow heat to escape through the walls easier than in a camper or van. In a large camper, you'll need more heat output than in a small van or tent. This measurement is listed in BTUs and the higher the number the higher the heat output.
Runtime
Runtime and how effectively a device uses a canister of propane or butane fuel is important in saving money and staying warm. Going to sleep and only being warm for four hours is a bust. Propane and butane heaters should have a listing of how long they can run on certain fuel canister sizes.
Tipping feature
Most commonly referred to as a safety feature, this is going to shut off your heater if you accidentally kick it over in your sleep, preventing a fire from sprouting out of your tent walls in the middle of the night. In short, it allows you some peace of mind and additional safety.
Noise
Light sleeper? Depending on how many decibels the heater outputs, you're going to be in for a rough night if noise bugs you. It's not recommended to bring noise-canceling headphones or earplugs into the wilderness, so it's best to find out the noise level and either find out how to live with it or let it be a defining factor in your final decision. While testing, I didn't find any of the heaters we used to be too loud.
Size/weight
You don't have a pack mule — you're going to be hauling this in and out of the woods on your own, so paying close attention to the specifications for weight and size is going to be key. You don't want to travel like a buffoon just to accommodate your needs; it all needs to be a seamless trek in and out of the woods. Alternatively, this may not be a problem if you're camping in a camper or vehicle. as you won't be lugging your heater from place to place by hand.
Safety
When you're playing with fire, safety is key. Any gas heater, whether propane or butane, should have an auto shut-off feature or be closely monitored at all times. A fire in the woods could have grave consequences not only for you but for the land around you too. As Smoky the Bear says, only you can prevent forest fires.
Types of tent heaters
You're basically looking at three different types of heaters: electric, propane, and butane. There isn't much to tell — electric tent heaters are going to eventually die on you if you're planning on camping for 2-3 days at a time. Butane will turn from liquid into a gas at a higher temperature than propane, meaning a butane heater isn't the most ideal model for winter camping, but should still work. Propane heaters are reliable, burn a little faster than butane, and retain their liquid form in colder climates, making them the most ideal option.
Safety tips when using a tent heater
It's not as simple as dropping it down, turning it on, and hoping nothing bad will happen. You need to utilize every safety tip possible to ensure that not only yourself but other members of your party are kept safe. When everyone else is relying on you — the one setting up the heater — to take care of business, you can't disappoint.
Avoid stands – If your model comes with a built-in stand, then by all means, utilize that. Those are built individually with specific models in mind, by the companies that manufacture them. However, if you're upset at how low the heater is to the ground, the most important thing to remember is to avoid using objects to raise your heater or portable AC up higher. A milk crate or piece of firewood can melt or cause a fire under the command of a heater, as well as project your heater a farther distance should it fall, potentially singeing your sleeping bag or camping cot or a member of your party (kid).
Proper placement – Putting your heater in the middle of your tent space is absolutely optimal for proper heat distribution, but it's not always practical. If your tent is very compact, it's not made to withstand tent warmers. Instead, you need to think logistically, also while keeping it away from the edges. It's a tricky situation, but it all depends on the interior shape of your tent. Use your best judgment, and just remember that the edge of the tent doesn't have to be touching the heater directly to melt or set on fire.
Keep brush away – If you're really roughing it in the middle of the woods, and you haven't taken the easy path to a camping ground or campsite, then your number one priority is to ensure you're picking the right spot. Campsites aren't really roughing it, but they do come with the knowledge that each area is specifically built the way it is for a reason. If you're on the forest floor, be wary of dried brush, leaves, and twigs. If your heater catches those ablaze, it'll spread fast.
Understand your model's maximum heat – If you read the booklet you get with any model you purchase, you'll be able to see the maximum heat that your tent warmer can reach. Understanding the power of your heater can aid in better judgment calls when the time comes to place it, as well as understanding if your heater even possesses the potential to start a fire.
How to properly set up your tent heater
Safety comes first. No matter how square that makes you sound, it's true, especially in the case of setting up your camping tent heater without razing the place to the ground. Taking a tent warmer with you is crucial to your comfort and keeping everyone's body temperature in check. It's still advised to bring alternate means of keeping warm, especially if it's your first time using a tent heater; you don't want to run out of propane or butane cartridges. Here's the step-by-step guide on how to set up your tent heater for optimal safety, and function.
Unboxing and necessary assembly – Yes, we're going to square one. Your heater may require small bits of assembly, which won't take you very long at all. The main thing to take note of here is the booklet and all the information that's wrapped up inside. It will prove invaluable later, especially if you can remember it. We're all guilty of "losing" manuals, especially if you have a junk drawer that will probably also have an old flask in it! Read all instructions available to you so you are truly familiar with the ins and outs of your new camping heater.
Propane tank setup – We'll fast-forward to you being in the tent, trying to set up your propane heater. Not every model will come with a short hose. If you have one, great. If not, we'll deal. Most propane tent heaters you can buy will likely have a hose you can directly hook up to your tank, and turn the valve. Figure out where your tent is going to go, and ensure that neither it nor the propane tank, are going to tip over from wind or light movements.
Butane setup – Butane is the same fuel used in Bic cigarette lighters at every gas station in America. Butane comes in smaller packages, like cartridges, and generally lasts about 20% longer than propane does. However, they do burn at the same heat and output the same temperature down to a fraction of a degree, so don't let propane vs. butane be a big selling point for you. Much like setting up your propane tank, find a spot where it's not going to tip over, and where it's away from belongings, brush, and the edges of the tent. With butane, you'll be able to pop your cartridge in, making it a little easier to set up than a propane heater. The cartridge areas will be clearly visible, and once you snap it in, voila! You've done it.
Actually heating up the tent – Every model is different, but it goes something like this: use the electric igniter, and watch the heat pour out. You'll know immediately if it's working or not. The actual process of turning it on is easy. Just remember this: if you're going to be turning off your tent warmer, you need to ensure that no more fuel is fanning the heat. Twist your propane off, or press your switch/button to flick off the butane output, and save the rest for later.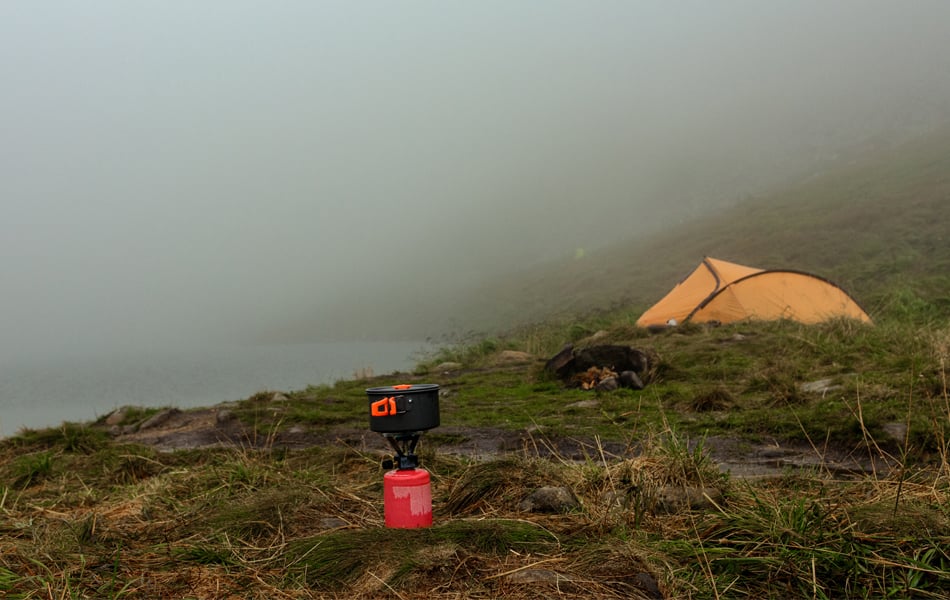 Tent heater FAQ
Q: How much heat in BTU measurements do I need?
A: BTUs stand for British Thermal Units, and there's a fairly simple way to calculate the appropriate amount needed. Define your square footage, or cubic feet, by sizing up the height, width, and length of the tent, van or camper's interior. Next, consider the material and how thick it is. If you're going with a really thin tent and it's howling cold outside, you'll need an increase.
Tents will have insulation ratings attached to them. If you had, say, 100 cubic feet of space and you're going camping in the dead of winter, you'll most likely end up with an 800 BTU heater as a requirement for optimal insulation and heat retention. More BTUs simply means more power and some heaters have several heat settings, allowing you to moderate as needed. We'd always recommend going warmer or more BTUs than you think you need.
Q: How hot is "too hot" for my tent?
A: In short, if it's affecting your breathing, or you're profusely sweating under your clothes, you have too much heat going on in your tent. Our bodies don't always wake up when it's too humid or hot, and high heat can mimic fever. If the heat is pushing your internal body temperature past 106.1, you're entering an (arguable) zone where you can start suffering slow brain damage. This is very uncommon though, especially in winter, unless you have a very powerful portable tent heater and well-insulated tent.
Okay, it got kind of dark there for a minute. But you can seriously hurt yourself with too much heat, which is why we recommend setting some phone alarms or bringing alarm clocks with backup batteries with you, and breaking up your sleep to monitor the heat in your tent, particularly if it's extremely cold outside. This is also a good measure if it's too cold and allows you to check the space around you for fire hazards or to warm up or cool down as needed.
Q: What's the big deal with Coleman?
A: For ages, Coleman has been the number one brand that everyone has flocked to when looking to keep their tent warm during camping trips. Especially if you're going out in the winter, you'll see everyone and their grandmother recommend a Coleman tent heater. They're a perfectly good brand, but as times change, so does brand dependability. They're not the only ones in the market, and as such, they don't have a steady grip anymore. Coleman tent heater models are still great for heating up your tent in winter, but there are plenty of brands, models, and types out there that are perfect solutions as well. Don't go brand diehard when it comes to keeping yourself or your coffee or camping mug warm in inclement weather.
Q: Is it safe to heat a tent?
A: Yes, generally it is safe to heat a tent unless it is highly flammable or your device does not have safety features. You should be careful and ensure breathability and that there is proper ventilation in your tent so that you don't get any carbon monoxide buildup.
Sources:
Gas Cylinders – California Product Stewardship Council (CPSC)