Like any athlete, runners can get infatuated with gear — high-tech running shoes, the best hydration packs, compression socks, gooey gels, the latest sweat-wicking fabrics, wireless earbuds, and other gadgets and gizmos. But running is simple by nature, and sometimes I just want the basics: my shoes and my GPS running watch. This GPS watch only needs to deliver live performance data and safety features. That's it. And it shouldn't break the bank.
Anyone looking for a GPS running watch under $100 should thoroughly consider the Forerunner 35. Even if budget isn't an object, the GPS features, training programs, and intuitive interface make the  Garmin Forerunner 35 a running watch for anyone, not just those on a tight budget.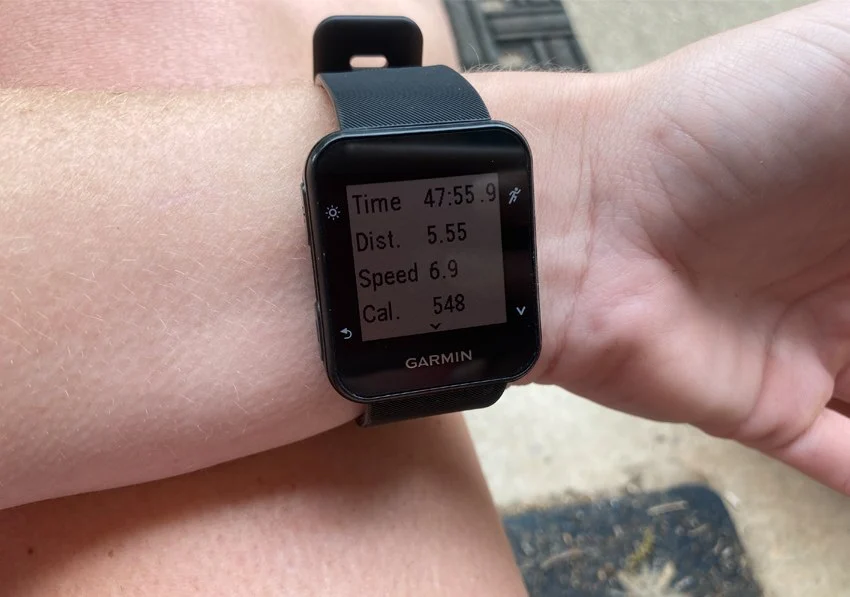 Inside the Garmin Forerunner 35
The Garmin Forerunner 35 is built tough with a silicone band and a chemically strengthened glass watch face. The 1-inch watch face displays stats and live-streaming data broadly on the screen while running. A 9-day battery life is sufficient while training, and the 13-hour battery life with GPS will see you through roughly 70 miles at a 5-hour marathon pace. Take advantage of the 5-ATM water rating and the cardio setting to swim on cross-training days.
The watch has five activity settings: outdoor running, indoor running, cardio, bike, and walk. Within each activity, there are options for intervals, run, jog, or a paced run; each can be programmed directly in the watch rather than through the Garmin Connect app.
A slew of features makes it hard to believe the Garmin Forerunner 35 has a $100 MSRP. Running and cycling-specific sensors, profiles, cadence, heart rate, distance, and calories barely breach the list of the Forerunner 35's features. The Garmin Elevate heart rate monitor is wrist-based, so a chest strap isn't required, and the watch can send alerts to help you stay in the correct heart rate zone. An accelerometer allows the watch to recognize changes in pace and will auto-pause recording to keep the data accurate.
Other perks include Find My Phone and connectivity. Once paired with the phone via Bluetooth, music, weather, and other notifications appear on the watch's display to keep you connected hands-free during your workout.
Setting Up the Forerunner 35
The Forerunner 35 setup was just like any other Garmin watch setup: straightforward and quick. Once I established the Bluetooth connection through the Garmin Connect app, I was immediately prompted with steps to link and set it up. I have two Garmins, and both connected to my Mobile Connect app simultaneously without a hitch. The app summarized data from both watches into the same calendar for a complete synced physical activity calendar.
The Forerunner 35 Fit
The Forerunner 35 felt quite large on my wrist. The wristband is just shy of an inch wide, and the square watch face seemed more imposing and slightly thicker than the circular 45S model. Folks with bigger wrists, though, probably will feel like the size is perfect.
GPS Running Watch Training Partner
The 4-button controls of the Forerunner 35 were straightforward to learn and intuitive once I knew the interface's basics. I felt in control interacting with the watch while bounding down the trail. The font was easy to read on the wide display.
The Forerunner 35 offered a gentle nudge towards my running goals without overwhelming me with advanced technical data that usually accompanies the GPS running watches in the $600 range. The audible and vibrating lap and pace alerts helped keep me on target with my workouts.
The interval and pace training features were game-changers. Previously, I've had to keep my head down to keep time on my watch, which didn't have alerts. With Garmon 35's signals,  I was able to keep my eyes up ahead and focus more on my breathing and cadence instead of being distracted by eyeing my watch.
Garmin Mobile Connect App
I utilized the Garmin Mobile Connect App more than I anticipated. Customizable reminder notifications from the app about logging specific women's health stats and hydration levels kept me honest about all aspects of my training and lifestyle, not just the physical activity.
The specific breakdowns of heart rate, cadence, and elevation change throughout the activity got me pretty nerdy about my training plans.
I was much less inclined to skip workouts after inputting a training plan and receiving daily reminders on both my watch and phone.
Garmin Forerunner 35 In Review
Garmin makes impressive GPS running watches, but not all of them are realistically priced for the everyday runner, and they can have an overabundance of functions and features.
The Garmin Forerunner 35 offers live GPS tracking and gathers just enough information to be a reasonable choice for an avid everyday runner that doesn't want to spend the big bucks.
See the Garmin Forerunner 35 on Amazon
See the Garmin Forerunner 35 on Garmin