550 km unsupported foot crossing of Lake Baikal
A two man British team are planning to complete an unassisted and unsupported partial crossing of Lake Baikal, starting in the last week of February 2018, from Listvyanka.
The team of two (Ash Routen, 31; Phil Sturgeon, 50) will fly into the nearby city of Irkutsk, with the intention of crossing from South to North (Listvyanka to Severobaikalsk), a distance of approximately 550 km.
The team, conditions dependent, intend to complete the route in 20-22 days, aiming therefore to cover between 25-28 km per day on foot.
According to Wikipedia, Lake Baikal is a rift lake in Russia, located in southern Siberia, between Irkutsk Oblast to the northwest and the Buryat Republic to the southeast.
Lake Baikal is the largest freshwater lake by volume in the world, containing 22–23% of the world's fresh surface water. With 23,615.39 km3 (5,670 cu mi) of fresh water, it contains more water than the North American Great Lakes combined. With a maximum depth of 1,642 m (5,387 ft), Baikal is the world's deepest lake. It is considered among the world's clearest lakes and is considered the world's oldest lake— at 25 million years. It is the seventh-largest lake in the world by surface area.
Updates on the teams plans can be followed at:
https://ashrouten.com/baikal-2018
#Baikal18
About the Author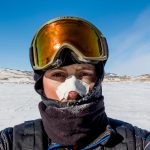 Ash Routen
Ash is an outdoor and adventure writer from the UK. He juggles a day job as a public health scientist with a second career in outdoor writing.

His words have featured in national newspapers, international magazines, and on various websites. Major bylines include Financial Times, Daily Telegraph, Porsche, Outside Magazine, Rock and Ice, and Red Bull.

He holds two degrees in Exercise and Health Sciences, and a PhD in Public Health.

His areas of expertise are polar expeditions, mountaineering, hiking, and adventure travel. In his spare time Ash enjoys going on small independent sledding expeditions, outdoor photography, and reading adventure literature.

Read more at www.ashrouten.com or follow Ash via @ashrouten on Twitter and Instagram.