Alex Txikon continues his on/off relationship with Everest as he pushes to become the first person to summit Everest without supplemental oxygen entirely during the winter. This time he will be supported by renowned Pakistani mountaineer Muhammad Ali Sadpara.
Alex Txikon needs little introduction to the climbing community, with twelve 8,000m peaks under his belt. Since 2011 he has been concentrating on winter climbs, new routes, big walls and alpine style ascents. This winter he is attempting to achieve what is arguably one of the two most prestigious Himalayan firsts remaining; Everest without bottled oxygen, climbing entirely during the calendar winter.
This will be Alex's second shot at the achievement. In winter 2016/2017 Alex made a series of attempts on Everest without oxygen, in the most successful of which he made it to 7,950m before extreme cold and high winds forced the team to turn back from near the South Col. Disappointed but not beaten, Alex was forced to shelve his plans for the season, declaring that "this isn't goodbye, it's a see you later", and so it has proved.
Karrar Haidri, Chief Editor for ExplorersWeb in Pakistan, reports that for this fresh attempt Alex will be joined by renowned Pakistani mountaineer Muhammad Ali Sadpara. Muhammad has previously summited Nanga Parbat alongside Alex during the winter of 2015/2016, as well as joining him for an initial attempt on the mountain the previous season. They will be climbing alongside a team of nine, eight of whom are returning members from last year's attempt.
The expedition is already at
5164 m; we'll be keeping you updated on their progress as information arrives.
Previous / Links:
Lifesaving Wrong Turn: unsuccessful but happy expedition on Nanga Parbat
Nanga Parbat: First Winter Summits!
About the Author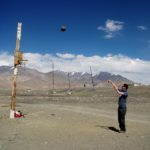 Martin Walsh
Martin Walsh is a freelance writer and wildlife photographer based in Da Lat, Vietnam.

A history graduate from the University of Nottingham, Martin's career arc is something of a smörgåsbord. A largely unsuccessful basketball coach in Zimbabwe and the Indian Himalaya, a reluctant business lobbyist in London, and an interior design project manager in Saigon.

He has been fortunate enough to see some of the world. Highlights include tracking tigers on foot in Nepal, white-water rafting the Nile, bumbling his way from London to Istanbul on a bicycle, feeding wild hyenas with his face in Ethiopia, and accidentally interviewing Hezbollah in Lebanon.

His areas of expertise include adventure travel, hiking, wildlife, and half-forgotten early 2000s indie-rock bands.