Kami Rita Sherpa did not start climbing to set records, but after nearly three decades working in the Himalaya, he is nearing a major, if unintentional, achievement. Currently the world record for successful Everest summits is shared by Kami Rita Sherpa, Phurba Tashi Sherpa and Apa Sherpa at 21. Kami Rita will move into sole position at the top of the list if he summits again this season.
Kami Rita Sherpa was born to a mountaineering family in the village of Thame, in the Khumbu region of Nepal. His father worked in the industry till severe frostbite ended his career early, while his older brother became the first Nepali climber to complete the seven summits in 2009, as well as achieving his own haul of 17 Everest summits.
Kami Rita Sherpa first climbed Everest in 1994, one of only 49 successful summits that season. By his 21st summit in 2017, the season's grand total had ballooned to 600. This year, he will be working as a senior climbing guide for Seven Summits Treks. The Nepali operator is leading an Everest expedition featuring the season's youngest climber, 16-year-old Shivangi Pathak, along with several other commercial clients.
The expedition team flew to Lukla on April 15 and the clients are currently acclimatizing in the Khumbu Valley. Kami Rita Sherpa will be helping lead the group via the Southeast Ridge, and is now engaged in fixing the route via the South Col.
Previous / Links:
Spring 2018 Himalaya Expeditions
Top 7 Expeditions in the Spring 2018 Himalaya Season
About the Author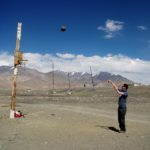 Martin Walsh
Martin Walsh is a freelance writer and wildlife photographer based in Da Lat, Vietnam.

A history graduate from the University of Nottingham, Martin's career arc is something of a smörgåsbord. A largely unsuccessful basketball coach in Zimbabwe and the Indian Himalaya, a reluctant business lobbyist in London, and an interior design project manager in Saigon.

He has been fortunate enough to see some of the world. Highlights include tracking tigers on foot in Nepal, white-water rafting the Nile, bumbling his way from London to Istanbul on a bicycle, feeding wild hyenas with his face in Ethiopia, and accidentally interviewing Hezbollah in Lebanon.

His areas of expertise include adventure travel, hiking, wildlife, and half-forgotten early 2000s indie-rock bands.