Austrian mountaineer Hansjörg Auer has just departed for 7,181m Lupghar Sar West in Pakistan's Karakorum.
Tempered by a number of hard solo climbs in Europe, Auer is now translating these abilities to the great ranges. He will continue his tradition of solo climbing. His only companions will be a cook and a few porters on the lower slopes.
Auer has previously summited the 7,000-er Kunyang Chhish East, also in the Karakorum, with his brother in 2013. This expedition sparked his interest in returning to the region. A German team first climbed Lupghar Sar in 1979, but Auer says that there has been no recorded activity on the mountain since 2000. He intends to climb the peak's west face.
Auer told ExWeb that his original intention was to climb a different mountain in the region, Khurdopin Sar, but that his climbing partner for that attempt fell ill. Speaking to PlanetMountain, Auer gave a fascinating insight into the mindset required for solo climbing in the highest mountains on earth:
There is a big difference between setting off alone from home and soloing a mountain, to going on an expedition with others and then soloing … because a partner is unwell, or whatever. Sometimes 80% of the time during an expedition you're not actually climbing. When you have a team of friends with you, it's easier to deal with that time off … But now I won't be able to count on my friends … This lends the project a very special taste. If I'm honest… this is a taste I'm always looking for somehow.
Auer built his reputation by his impressive solo climb of the south face of the Marmolada in the Italian Dolomites, his first ascents in Patagonia, and his 2013 first ascent of Kunyag Chhish East (7,400 m), which was considered one of the last great problems of the Karakorum.
About the Author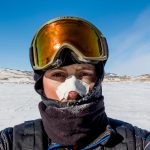 Ash Routen
Ash is an outdoor and adventure writer from the UK. He juggles a day job as a public health scientist with a second career in outdoor writing.

His words have featured in national newspapers, international magazines, and on various websites. Major bylines include Financial Times, Daily Telegraph, Porsche, Outside Magazine, Rock and Ice, and Red Bull.

He holds two degrees in Exercise and Health Sciences, and a PhD in Public Health.

His areas of expertise are polar expeditions, mountaineering, hiking, and adventure travel. In his spare time Ash enjoys going on small independent sledding expeditions, outdoor photography, and reading adventure literature.

Read more at www.ashrouten.com or follow Ash via @ashrouten on Twitter and Instagram.