American high school teacher Bryce Carlson has broken the speed record for rowing across the Atlantic Ocean from Canada to Great Britain. Carlson left St John's, Newfoundland on June 27 and landed in the Scilly Isles, off the southwest corner of England, on August 4. He completed the 3,705-kilometre journey in 38 days and 6 hours, at an average speed of 4.6 kilometers per hour.
Including Carlson, 16 rowers have successfully crossed the Atlantic solo from west to east. They either start from Newfoundland or Halifax in Atlantic Canada or from Cape Cod or New York in the U.S.
Carlson's is the fastest crossing of the Atlantic Ocean from Canada in an open class boat, whose higher profile catches a tailing wind and makes it potentially faster than classic class models.
The previous record as detailed by the Ocean Rowing Society was held by Canadian pilot and adventurer Laval St. Germain, who rowed from Halifax to Brest, France in 2016. Carlson knocked off 15 days from St. Germain's record. However, St. Germain rowed approximately 1,400 km further than Carlson.
Links

http://www.oceanrowing.com/statistics/Atlantic_W-E_solo.htm
About the Author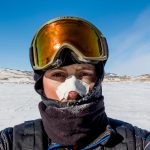 Ash Routen
Ash is an outdoor and adventure writer from the UK. He juggles a day job as a public health scientist with a second career in outdoor writing.

His words have featured in national newspapers, international magazines, and on various websites. Major bylines include Financial Times, Daily Telegraph, Porsche, Outside Magazine, Rock and Ice, and Red Bull.

He holds two degrees in Exercise and Health Sciences, and a PhD in Public Health.

His areas of expertise are polar expeditions, mountaineering, hiking, and adventure travel. In his spare time Ash enjoys going on small independent sledding expeditions, outdoor photography, and reading adventure literature.

Read more at www.ashrouten.com or follow Ash via @ashrouten on Twitter and Instagram.