Three Frenchmen have abandoned a third attempt to sail and manhaul across the Arctic Ocean from northern Alaska to Svalbard.
After struggling for 57 days, Vincent Colliard, Sébastien Roubinet and Eric André reached an impasse on August 1. For 10 to 12 days previously, they had struggled in a headwind to cover more than 15km per day. Their dwindling food supply, further headwinds in the forecast and the imminent approach of winter at that latitude prompted them to call it quits.
For Roubinet, this marks the third time unlucky. He previously attempted this journey in 2011 and then in 2013 with Colliard.
The French team were 50km shy of the 80th parallel and 1,000km into the estimated 3,000km journey when they aborted. They are currently heading south to the village of Tuktoyaktuk, on the northwest coast of Canada.
Throughout their journey, the trio managed a few good days in open water, but thick pack ice this summer has forced them to haul their heavy catamaran long distances across rough ice. Not surprisingly, they have also encountered sections of porridge ice, that bane of summer travelers on the Arctic Ocean: ice mush that can neither be walked across nor sailed through.
They are now covering 80 to 100km a day southwards and are 560km from their finish point. They expect to arrive in Tuktoyaktuk around the end of August.
Previous: Setting Sail on the First Summer Crossing of the Arctic Ocean
About the Author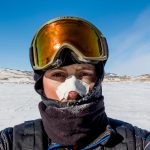 Ash Routen
Ash is an outdoor and adventure writer from the UK. He juggles a day job as a public health scientist with a second career in outdoor writing.

His words have featured in national newspapers, international magazines, and on various websites. Major bylines include Financial Times, Daily Telegraph, Porsche, Outside Magazine, Rock and Ice, and Red Bull.

He holds two degrees in Exercise and Health Sciences, and a PhD in Public Health.

His areas of expertise are polar expeditions, mountaineering, hiking, and adventure travel. In his spare time Ash enjoys going on small independent sledding expeditions, outdoor photography, and reading adventure literature.

Read more at www.ashrouten.com or follow Ash via @ashrouten on Twitter and Instagram.