"I was eating something from the rubbish, I was sleeping on the street. And it broke me a lot." — Denis Urubko
Denis Urubko, enigma of the mountaineering world. A hero to some, vilified by others. One thing you can't question, however, are his sporting achievements. All 14 8000'ers without supplemental oxygen. New routes on Broad Peak, Manaslu, Cho Oyu and Lhotse, and a dusting of winter 8000'er first ascents. Add in the rescue of Elisabeth Revol on Nanga Parbat, and you have someone who, at the very least, deserves to be talked about.
We most often hear about Urubko in the context of his bold Himalayan climbs, his controversial interactions with teammates and quibbles over what defines a winter ascent in the Greater Ranges. We hear less about the story behind the man. How was this "weak young guy", as Urubko puts it, molded into the legendary strongman of today?
This excellent two-part film starts with Urubko's humble beginnings in the Caucasus, where a chance reading of Reinhold Messner's Solo Nanga Parbat spurred him to join the Soviet Army's mountaineering school of hard knocks: "Sometimes I did many mistakes, I fell down in avalanches, I broke my legs, I did emergencies for other people," he states with characteristic bluntness.
After the dissolution of the Soviet Union, Urubko found himself in Kazakhstan, where he lived on the streets and rummaged through bins for food. But a chance encounter with legendary Italian Simone Moro led to the pair taking on the fabled Snow Leopard Challenge (a series of five 7,000m peaks across the former USSR), in memory of then recently deceased Anatoli Boukreev.
Urubko was off and running. He continued with Moro to the Himalaya and has never looked back.
Now, in his mid-forties, he drops his guard and shows a mellower side, as he talks of prioritizing his family and tackling lower, more technical climbs, as his physical prowess begins to wane.
Smelted under the Hammer and Sickle, toughened on the streets of Kazakhstan, shaped by the climbers he met and finished by his own hand — this is the story of Denis Urubko.
About the Author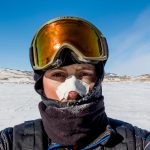 Ash Routen
Ash is an outdoor and adventure writer from the UK. He juggles a day job as a public health scientist with a second career in outdoor writing.

His words have featured in national newspapers, international magazines, and on various websites. Major bylines include Financial Times, Daily Telegraph, Porsche, Outside Magazine, Rock and Ice, and Red Bull.

He holds two degrees in Exercise and Health Sciences, and a PhD in Public Health.

His areas of expertise are polar expeditions, mountaineering, hiking, and adventure travel. In his spare time Ash enjoys going on small independent sledding expeditions, outdoor photography, and reading adventure literature.

Read more at www.ashrouten.com or follow Ash via @ashrouten on Twitter and Instagram.