Poor weather has forced the experienced team of Horia Colibășanu, Marius Gane, and Peter Hámor to call off their attempt to open a new route on Dhaulagiri (8,167m).
The trio were going for the unclimbed Northwest Ridge, without oxygen and Sherpa support. Stationed at Base Camp since the beginning of April, they managed to reach 5,600m through a steep chimney and technical ice, but could advance no further because of strong winds and continuing bad weather.
"We needed winds no stronger than 30kph around the summit for at least four days… This year, the good weather failed to happen. Just as in 2014, a weather disturbance brought endless rains to Romania, floods to Slovakia and a lack of windows for ascents without supplemental oxygen in the Himalaya," said Horia Colibășanu archly.
Colibășanu remains optimistic about the new route, if the weather cooperates next time.
"We have overcome the most difficult part, a chimney and a very difficult and technical wall with rocks falling off," said Colibășanu. "We covered this stretch countless times, as we had to equip it for climbing. Beyond it, on the ridge, it was possible to walk. Next year, with the route already partially equipped, our chances are much higher."

Relevant Links
Romanian-Slovakian Team Reach Dhaulagiri
About the Author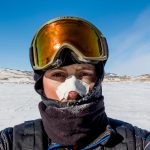 Ash Routen
Ash is an outdoor and adventure writer from the UK. He juggles a day job as a public health scientist with a second career in outdoor writing.

His words have featured in national newspapers, international magazines, and on various websites. Major bylines include Financial Times, Daily Telegraph, Porsche, Outside Magazine, Rock and Ice, and Red Bull.

He holds two degrees in Exercise and Health Sciences, and a PhD in Public Health.

His areas of expertise are polar expeditions, mountaineering, hiking, and adventure travel. In his spare time Ash enjoys going on small independent sledding expeditions, outdoor photography, and reading adventure literature.

Read more at www.ashrouten.com or follow Ash via @ashrouten on Twitter and Instagram.