Veteran Thomas Huber of Germany, together with Italian Simon Gietl and French camerman Yannick Boisennot, are returning to Latok I (7,145m) for another crack at the legendary North Ridge. They will reach the Choktoi Valley in about three weeks.
Speaking to ExWeb last summer, Kenton Cool described the North Ridge as "one of the last great Himalayan climbs. Many of the very best have pitted themselves against this colossal ridgeline, and all have been repelled, either by technical difficulties, the route's condition or by the notoriously bad Karakorum weather."
Huber, Gietl and Boisennot, plus German Rainer Treppte, abandoned their attempt on the North Face last year when they found the wall in an unclimbable state, plastered in snow and shedding spindrift avalanches. Huber said at the time: "The North Face seems invincible. If you go there, you have to say' 'Goodbye, life' –- and then touch and go!"
The first team to attempt the ridge, in 1978, were George Lowe, Jeff Lowe, Michael Kennedy and Jim Donini. The powerful Americans spent 26 days on the 2,600m ridge. They were turned back 150m below the summit, when Jeff Lowe fell semi-conscious with fever. For the next 40 years, the ridge has rebuffed the very best alpine climbers. Jeff Lowe once dubbed the route "the unfinished business of the last generation."
2018 was an eventful season on Latok: a South Korean team was avalanched off the North Face, a Russian team met with tragedy and Tom Livingstone and co. summited via the north side.
Links

Latok I: In Conversation with Tom Livingstone
Breaking News: North Side of Latok I Finally Climbed
Updated: Gukov Rescued From Latok I
Gukov Trapped on Latok I After the Death of his Partner
South Koreans Survive Avalanche on Latok One
About the Author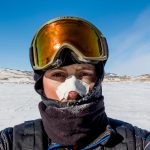 Ash Routen
Ash is an outdoor and adventure writer from the UK. He juggles a day job as a public health scientist with a second career in outdoor writing.

His words have featured in national newspapers, international magazines, and on various websites. Major bylines include Financial Times, Daily Telegraph, Porsche, Outside Magazine, Rock and Ice, and Red Bull.

He holds two degrees in Exercise and Health Sciences, and a PhD in Public Health.

His areas of expertise are polar expeditions, mountaineering, hiking, and adventure travel. In his spare time Ash enjoys going on small independent sledding expeditions, outdoor photography, and reading adventure literature.

Read more at www.ashrouten.com or follow Ash via @ashrouten on Twitter and Instagram.