The two veteran polar greats, Borge Ousland and Mike Horn, have teamed up again, this time to trek across the Arctic Ocean during early winter. The 57-year old Norwegian and 53-year old South African are in Nome, Alaska preparing to imminently set sail for the Arctic Ocean on Horn's boat, Pangaea.
They aim to penetrate as far into the Arctic Ocean as the ice allows, before leaving the Pangaea and continuing on skis across the frozen ocean to the Geographic North Pole. Ousland estimates it will be a 500km journey to the Pole, if they manage to reach their anticipated drop-off point of 86 degrees north.
The pair will be walking into winter, as the sun sets at the North Pole on September 23 and doesn't rise again until the equinox on March 20-21. Their journey doesn't finish at the Pole, however: They will continue for another 800km to the edge of the ice, just north of the Norwegian archipelago of Svalbard. Here, they will be picked up by boat.
In 2006, Ousland and Horn trekked to the North Pole in winter over 61 days, unassisted and unsupported, from Cape Artichesky in Russia. Despite the magnificent achievement, some did not accept this as a true winter expedition, since they reached the North Pole two days after the spring equinox.
A year later, Russians Matvey Shparo and Boris Smolin started their North Pole night expedition on December 22, the day of the winter solstice, from the same location. They reached the Pole on March 14, 2008 after 84 days, still within winter. However, their one unplanned air drop gives their effort an asterisk as well.
Ousland and Horn are giving themselves three months to complete the journey and intend to finish before the polar winter really takes hold. Despite this, they will be completing the first journey of its kind by crossing the frozen Arctic Ocean via the North Pole to Svalbard and trekking into darkness and winter. In 2012, Timo Palo & Audun Tholfsen skied and kayaked, unsupported and unassisted, from the Pole to Svalbard in 54 days, but this took place in the 24-hour sunshine and comparatively balmy temperatures between April and July.
Ousland and Horn are taking 75 days of food, with daily rations of 6,000kcal (1.1kg per day). Ousland calls the high-fat diet "real food for the big boys." They expect their sleds to weigh a grim 160-170kg each.
Despite walking through the colder temperatures of the Polar Night, Ousland anticipates a lot of open water. He expects to take a dip at some point, so with his usual equipment ingenuity, the Norwegian has designed a harness combining buoyancy and an easy-to-reach holster for his revolver against polar bears.
"It will be incredibly exciting to do that kind of trip with Mike again," says Ousland. "I'm sure there will be times I'll regret that we started this. But at the same time, I know that ultimately it will be a good trip."
In contrast to the controversial Antarctic expeditions of the past 12 months, Ousland and Horn's upcoming project marks a welcome return to an unquestionably difficult and pure polar objective — crossing the Arctic Ocean in early winter, no further caveats required.
About the Author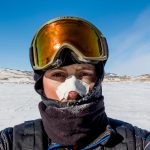 Ash Routen
Ash is an outdoor and adventure writer from the UK. He juggles a day job as a public health scientist with a second career in outdoor writing.

His words have featured in national newspapers, international magazines, and on various websites. Major bylines include Financial Times, Daily Telegraph, Porsche, Outside Magazine, Rock and Ice, and Red Bull.

He holds two degrees in Exercise and Health Sciences, and a PhD in Public Health.

His areas of expertise are polar expeditions, mountaineering, hiking, and adventure travel. In his spare time Ash enjoys going on small independent sledding expeditions, outdoor photography, and reading adventure literature.

Read more at www.ashrouten.com or follow Ash via @ashrouten on Twitter and Instagram.