Here at ExWeb, when we're not outdoors, we get our adventure fix by exploring social media and the wider interweb. Sometimes we're a little too plugged in, and browsing interesting stories turns from minutes into hours. To nourish your own adventure fix, here are some of the best links we've discovered this week…
Living with the White Bear: For decades, behavioural scientist Nikita Ovsyanikov lived among polar bears on Wrangel Island, off the Siberian coast, with nothing but a long stick, some bear spray and quite clearly, a big pair of cajones.
The Myth: When a black, moist nose poked through an opening in his tent, biologist Steve Smith felt that he had only one option. But was this inquisitive polar bear really the danger that Smith assumed?
The World's Best Belayer: Meet Ray Verseau, who spends 250 days a year craning his neck upward and holding a rope for some the world's best rock gymnasts.
Survivor: Immortalized in Krakauer's shelf filler, Into Thin Air, Charlotte Fox continued climbing 8,000m peaks after Everest, only to perish in the most unlucky circumstances at her home in Colorado.
Strait of Magellan: In the new adventure magazine, BASE, paddler Will Copestake recounts a 450km voyage across rarely traveled fiords in Patagonia.
Protect Our Winters: A host of top US mountain athletes and outdoor brands are mobilizing to reduce their carbon footprint and push for climate action.
About the Author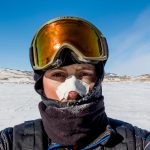 Ash Routen
Ash is an outdoor and adventure writer from the UK. He juggles a day job as a public health scientist with a second career in outdoor writing.

His words have featured in national newspapers, international magazines, and on various websites. Major bylines include Financial Times, Daily Telegraph, Porsche, Outside Magazine, Rock and Ice, and Red Bull.

He holds two degrees in Exercise and Health Sciences, and a PhD in Public Health.

His areas of expertise are polar expeditions, mountaineering, hiking, and adventure travel. In his spare time Ash enjoys going on small independent sledding expeditions, outdoor photography, and reading adventure literature.

Read more at www.ashrouten.com or follow Ash via @ashrouten on Twitter and Instagram.