Here at ExWeb, when we're not outdoors, we get our adventure fix by exploring social media and the wider interweb. Sometimes we're a little too plugged in, and browsing interesting stories turns from minutes into hours. To nourish your own adventure fix, here are some of the best links we've discovered this week…
Centimetres From Death: Outdoor Journal has a new podcast. This excellent first episode features the irrepressible Mike Horn speaking about his recent Arctic Ocean crossing.
Lessons From The Cave: On their well-known Patagonian travels, Yvon Chouinard and co. spent 15 days in a cave high up on Fitz Roy. The lessons the gang learned during their stay in that lonely outpost in the sky now apply more than ever.
Outside Classics: Listicles are the order of the day. Outside have compiled their best long reads from recent times. From The Chris McCandless Obsession Problem to Amundsen Schlepped Here.
Bomba Sexy: Rock and Ice catches up with Ecuadorian mountain guide Carla Perez to talk about 8,000m peaks, guiding in a male-dominated industry and the pressure from sponsors to be "Bomba Sexy".
Ground To A Halt: For some of us, COVID-19 has only meant a small shift in lifestyle. But spare a thought for those who live life on the road, such as this paddler halfway through a cross-country paddle.
Forgotten Pioneer: Self-confessed accidental mountaineer Barbara Washburn spent a lifetime mapping blank spots on the map, including the Grand Canyon.
Immersion Shock: When a group of paddlers finish a 25-day trip through the Grand Canyon, they discover that the world they left behind is in the grip of a global pandemic.
About the Author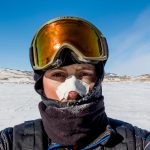 Ash Routen
Ash is an outdoor and adventure writer from the UK. He juggles a day job as a public health scientist with a second career in outdoor writing.

His words have featured in national newspapers, international magazines, and on various websites. Major bylines include Financial Times, Daily Telegraph, Porsche, Outside Magazine, Rock and Ice, and Red Bull.

He holds two degrees in Exercise and Health Sciences, and a PhD in Public Health.

His areas of expertise are polar expeditions, mountaineering, hiking, and adventure travel. In his spare time Ash enjoys going on small independent sledding expeditions, outdoor photography, and reading adventure literature.

Read more at www.ashrouten.com or follow Ash via @ashrouten on Twitter and Instagram.