Here at ExWeb, when we're not outdoors, we get our adventure fix by exploring social media and the wider interweb. Sometimes we're a little too plugged in, and browsing interesting stories turns from minutes into hours. To nourish your own adventure fix, here are some of the best links we've discovered this week…
McKinley Diaries: Climber Nigel Vardy is recording daily video logs of his fateful expedition to climb Denali (then known as McKinley) in 1999. Vardy suffered severe frostbite after being caught in a storm close to the summit.
Alone At Sea: The remarkable story of Aleksander Doba, who kayaked the Atlantic for the third time, aged 70, three years ago. Before that, he amassed a lifetime worth of ocean, sea and lake crossings and was named National Geographic Adventurer of the Year in 2014.
Lord of the Flies: The real-life version — about a group of schoolboys who were marooned on an island near Tonga in the 1960s — has an altogether more realistic and cooperative outcome than William Golding's dystopian classic.
No Summit No Cry: Michael Kennedy's first-person account of the fabled American assault on the North Ridge of Latok I in 1978.
Lockdown Antics: To abate COVID-19 lockdown boredom, professional climber Steve McClure has bolted a route on the outside of his house in the north of England. When his homemade wall hit national TV last week, viewers were less than impressed.
Grandma Gatewood: In the mid-1950s, a pension-aged woman ticked off the Appalachian trail with no previous hiking experience. A life of hardship, including surviving domestic abuse, meant the trail was no match for this iron lady.
About the Author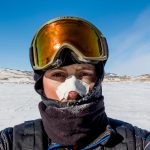 Ash Routen
Ash is an outdoor and adventure writer from the UK. He juggles a day job as a public health scientist with a second career in outdoor writing.

His words have featured in national newspapers, international magazines, and on various websites. Major bylines include Financial Times, Daily Telegraph, Porsche, Outside Magazine, Rock and Ice, and Red Bull.

He holds two degrees in Exercise and Health Sciences, and a PhD in Public Health.

His areas of expertise are polar expeditions, mountaineering, hiking, and adventure travel. In his spare time Ash enjoys going on small independent sledding expeditions, outdoor photography, and reading adventure literature.

Read more at www.ashrouten.com or follow Ash via @ashrouten on Twitter and Instagram.