Here at ExWeb, when we're not outdoors, we get our adventure fix by exploring social media and the wider interweb. Sometimes we're a little too plugged in, and browsing interesting stories turns from minutes into hours. To nourish your own adventure fix, here are some of the best links we've discovered this week…
A Life of Hope: Roberto Canessa, one of the survivors of the famous 1972 Andes plane crash and subsequent survival story, went on to become one of Uruguay's best-known pediatric cardiologists.
Do Climbers Make Good Capitalists? Using Alex Honnold as an example, this short essay wrestles with how climbing and adventure might develop entrepreneurial attributes. Seems tenuous to me.
Living in a Ghost Town: In a lonely corner of New Mexico, a hardy pensioner has made her home in a long-abandoned town. Thirty-two years of self-isolation and counting.
The Ice Balloon: In 1930, a Norwegian party stumbled across the remains of an ill-fated expedition to reach the North Pole by air balloon.
Steep Way Down: Last year, three free riders headed out to Alaska to see if they could transfer their hardcore European skiing experience to the steepest lines in North America.
Higher Ground: A personal account of the epic 1988 ascent of a new route on the Kangshung Face of Everest by Robert Anderson and company.
About the Author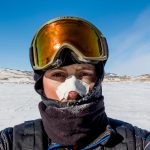 Ash Routen
Ash is an outdoor and adventure writer from the UK. He juggles a day job as a public health scientist with a second career in outdoor writing.

His words have featured in national newspapers, international magazines, and on various websites. Major bylines include Financial Times, Daily Telegraph, Porsche, Outside Magazine, Rock and Ice, and Red Bull.

He holds two degrees in Exercise and Health Sciences, and a PhD in Public Health.

His areas of expertise are polar expeditions, mountaineering, hiking, and adventure travel. In his spare time Ash enjoys going on small independent sledding expeditions, outdoor photography, and reading adventure literature.

Read more at www.ashrouten.com or follow Ash via @ashrouten on Twitter and Instagram.