Here at ExWeb, when we're not outdoors, we get our adventure fix by exploring social media and the wider interweb. Sometimes we're a little too plugged in, and browsing interesting stories turns from minutes into hours. To nourish your own adventure fix, here are some of the best links we've discovered this week…
Alone In a Frozen Sky: Riddled with past expedition debts and still only in his mid-twenties, Mike Libecki set off for Baffin Island and the largest concentration of huge vertical cliffs in the world, hoping to make a lone ascent of a 600m cliff known as the Ship's Prow.
Perimeter Trail: An Oregonian has been loosely tracing the perimeter of the U.S. on foot for the past year, with an eye to creating a 19,000km rival of the Appalachian and Pacific Crest Trails.
The Ice Inferno: Spending a season at a scientific outpost in Antarctica many years ago, a scientist recalls the gradual realization that Antarctica "did not offer a unique experience so much as the experience of having the familiar world removed."
The Other World: An insight into the Greenland Inuits' traditional narwhal hunt and how the catch is shared among the entire community.
My First Epic: Two inexperienced climbers find out too late that scoping out the descent from a Yosemite spire might have been a good idea. Instead, they spend a long night out under the stars, spooning each other for warmth.
Close Encounters: A rich essay on time spent among the glaciers, people and porters in the Karakorum.
How Nepal Tourism Began: A look back at the impossibly charismatic Boris Lisanevitch, who opened the first hotel in Kathmandu back in the 1950s.
About the Author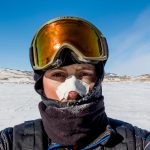 Ash Routen
Ash is an outdoor and adventure writer from the UK. He juggles a day job as a public health scientist with a second career in outdoor writing.

His words have featured in national newspapers, international magazines, and on various websites. Major bylines include Financial Times, Daily Telegraph, Porsche, Outside Magazine, Rock and Ice, and Red Bull.

He holds two degrees in Exercise and Health Sciences, and a PhD in Public Health.

His areas of expertise are polar expeditions, mountaineering, hiking, and adventure travel. In his spare time Ash enjoys going on small independent sledding expeditions, outdoor photography, and reading adventure literature.

Read more at www.ashrouten.com or follow Ash via @ashrouten on Twitter and Instagram.