Norwegian guide Are Johansen and British client Preet Chandi have spent the past five days in their tent, sitting out tempestuous winds. At one point, they had to shovel every two hours to keep the drifting snow from engulfing their shelter. With more erratic weather predicted, they decided to call for a helicopter evacuation three days ago.They were finally picked up today, Thursday.
Autumn expeditions in Greenland are rare because of the unstable weather compared to late spring or summer. Many snow bridges that allow travel across crevasses have also melted. Strong winds, heavy snow and treacherous icefalls have slowed most of this year's travelers. All this year's guided expeditions ended in failure.
On the west coast, Norwegian sisters Aase and Hanne Seeberg managed to escape the worst of the storms and arrived into Kangerlussuaq on August 19. They took 29 days for their east-west crossing of the Ice Sheet.
Dixie Dansercoer and his three clients are now back in civilization. They told ExWeb that their evacuation was a private charter after their clients ran out of time. They had just four weeks to kite the 1,400km or so from from Kangerlussuaq to Qaanaaq.
Flying under the radar, polar veteran Rune Gjeldnes has guided a group of clients up a series of unclimbed nunataks (a summit protruding from an ice cap or glacier) in South Greenland. Gales also affected their trip, as Gjeldnes reported winds of 108kph on their third day. Gjeldnes recently uploaded images from their journey onto YouTube.
About the Author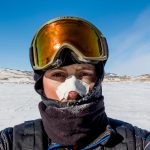 Ash Routen
Ash is an outdoor and adventure writer from the UK. He juggles a day job as a public health scientist with a second career in outdoor writing.

His words have featured in national newspapers, international magazines, and on various websites. Major bylines include Financial Times, Daily Telegraph, Porsche, Outside Magazine, Rock and Ice, and Red Bull.

He holds two degrees in Exercise and Health Sciences, and a PhD in Public Health.

His areas of expertise are polar expeditions, mountaineering, hiking, and adventure travel. In his spare time Ash enjoys going on small independent sledding expeditions, outdoor photography, and reading adventure literature.

Read more at www.ashrouten.com or follow Ash via @ashrouten on Twitter and Instagram.