American climber Ethan Berman has teamed up with Uisdean Hawthorn of Scotland to put up a new route on Mount Robson in Canada. At 3,954m, Robson is the highest peak in the Canadian Rockies, and its imposing northwest flank is home to the Emperor Face — a prized line for elite alpinists.
The international pair climbed the 2,000m route in 19 hours, stopping for a bivouac once they had completed 14 pitches and stepped off the face onto the main ridge. They then fought off some wild weather during a 12-hour trudge to the summit, before another night out under the stars.
In recent years, Berman and Hawthorn have tackled other new and hard alpine routes. Hawthorn, for example, made the third ascent of the House-Anderson route on Mt. Alberta (3,619m), also in the Canadian Rockies, and also put up a new line on the East Face of Mt. Jezebel, in Alaska's Revelation Mountains. Berman has put in new routes in Alberta and Bolivia.
The Emperor Face was first climbed in the late 1970s by Jamie Logan and Mugs Stump, an early mentor to Conrad Anker. Since then, only a handful of elite alpinists have added routes on this formidable glaciated face, including locals Dave Cheesmond and Tony Dick in 1981 and Barry Blanchard and friends in 2002. The late Marc-Andre Leclerc nailed the first solo of the Face in 2016.
About the Author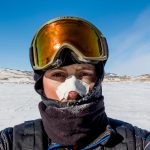 Ash Routen
Ash is an outdoor and adventure writer from the UK. He juggles a day job as a public health scientist with a second career in outdoor writing.

His words have featured in national newspapers, international magazines, and on various websites. Major bylines include Financial Times, Daily Telegraph, Porsche, Outside Magazine, Rock and Ice, and Red Bull.

He holds two degrees in Exercise and Health Sciences, and a PhD in Public Health.

His areas of expertise are polar expeditions, mountaineering, hiking, and adventure travel. In his spare time Ash enjoys going on small independent sledding expeditions, outdoor photography, and reading adventure literature.

Read more at www.ashrouten.com or follow Ash via @ashrouten on Twitter and Instagram.