Here at ExWeb, when we're not outdoors, we get our adventure fix by exploring social media and the wider interweb. Sometimes we're a little too plugged in, and browsing interesting stories turns from minutes into hours. To nourish your own adventure fix, here are some of the best links we've discovered this week…
A Life Well Lived: Stephen Venables remembers legendary mountaineer, author, and Community Action Nepal founder Doug Scott, who passed away this week.
Paw Patrol: Sled dogs have helped hunters cover vast swathes of the Arctic for more than 4,000 years. Yet as sea ice diminishes, these dogs — which often outnumber people in Greenland communities —  could disappear. Arctic photojournalist Ragnar Axelsson pays tribute to these arctic stalwarts.
The climate apocalypse hangs over us—so how should we write about it? A quote commonly attributed to Antoine de Saint-Exupéry goes, "If you want to build a ship, don't drum up people together to collect wood … but rather teach them to long for the endless immensity of the sea." Nature writers should learn.
New Digs: One of Russia's wealthiest men, Oleg Deripaska, is supporting the construction of a new home for 76-year-old Agafya Lykova, the well-known hermit who lives deep in the mountains of Siberia.
Muchu Chhish: CNN profiles what is arguably world's highest unclimbed peak (7,453m) and examines recent attempts at a first ascent, including one in 2020.
How eBird Changed Birding Forever: Over the past two decades, eBird has become the go-to online platform for scientists and hobbyists to upload and share bird observations. But it has also transformed the process and etiquette of birding.
Avalanches and Ice Climbers: A literate, thought-provoking article on why climbers, even more than skiers, need better avalanche awareness. Among the piece's passing gifts: its introduction of the expert halo and Dunning-Kruger effects, psychological dangers which affect a lot of us in the outdoors.
About the Author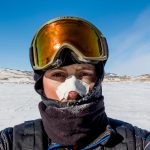 Ash Routen
Ash is an outdoor and adventure writer from the UK. He juggles a day job as a public health scientist with a second career in outdoor writing.

His words have featured in national newspapers, international magazines, and on various websites. Major bylines include Financial Times, Daily Telegraph, Porsche, Outside Magazine, Rock and Ice, and Red Bull.

He holds two degrees in Exercise and Health Sciences, and a PhD in Public Health.

His areas of expertise are polar expeditions, mountaineering, hiking, and adventure travel. In his spare time Ash enjoys going on small independent sledding expeditions, outdoor photography, and reading adventure literature.

Read more at www.ashrouten.com or follow Ash via @ashrouten on Twitter and Instagram.