Simone Moro, Alex Txikon, and Iñaki Alvarez will fly to Nepal on the last day of the year. In preparation, everyone had a PCR test for COVID-19 today. They will also need a second negative result at least five days after arriving in Kathmandu. Once cleared, they can head off for Manaslu.
Despite the emphasis (particularly by Moro) on climbing as fast and light as possible, their team has grown since we last heard from them. As they did on previous winter climbs with Txikon, Chhepal Sherpa and Kalden Phura Sherpa will aid the team's effort. "They could have gone to winter K2 but preferred to climb Manaslu with us instead," Txikon said today.
Txikon's friend, Lur Uribarren, will also support them between BC and Camp 2, though not on the final summit push. Seven Summit Treks will run the relatively large base camp, which will include two journalists and a film crew.
Simone Moro gave further details in a video posted on Facebook today. If he reaches the summit on this third attempt, he would be the only climber with five winter 8,000'ers. "Ours would not be a winter first, though," he points out, "but a repetition of the first winter ascent by Polish climbers back in 1983."
As on winter K2, however, it's all about the weather. His two previous tries were thwarted by up to six meters of snow on the mountain. "As of today, the approach trek is bare, and the mountain is in beautiful, autumn-like conditions," said Moro. "But who knows about tomorrow?"
The other winter Manaslu expedition, led by Tenji Sherpa, will aim for an alpine-style push with partner Vinayak Jay Malla. "I know Tenji well," said Moro. "He used to climb with Ueli Steck. We have already been in contact and will cooperate [with them]."
About the Author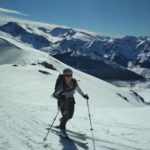 Angela Benavides
Senior journalist, published author and communication consultant. Specialized on high-altitude mountaineering, with an interest for everything around the mountains: from economics to geopolitics. After five years exploring distant professional ranges, I returned to ExWeb BC in 2018. Feeling right at home since then!