Something went wrong with Alex Txikon's summit plans. This morning, the team left Camp 3 at 6,550m as planned, but stopped at around 6,750m. Txikon's tracker showed lines going to and fro as if the climbers were looking for a route and couldn't find it.
By noon local time, they had returned to Camp 3. Presently, they continued marching down. By dusk, they were past Camp 1. We expect to hear news from them soon.
About the Author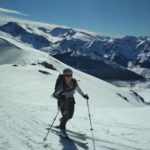 Angela Benavides
Senior journalist, published author and communication consultant. Specialized on high-altitude mountaineering, with an interest for everything around the mountains: from economics to geopolitics. After five years exploring distant professional ranges, I returned to ExWeb BC in 2018. Feeling right at home since then!