Here at ExWeb, when we're not outdoors, we get our adventure fix by exploring social media and the wider interweb. Sometimes we're a little too plugged in, and browsing interesting stories turn from minutes into hours. To nourish your own adventure fix, here are some of the best links we've discovered this week.
Life After a Stroke: Leading alpinist Malcolm Bass suffered an unexpected stroke one morning last August. In this interview with Ed Douglas, Bass tells of the mental therapies that are helping him –- and of his battle to regain some semblance of his previous life.
Beaked Whales: An entire group of whales has somehow escaped human attention, until now. Marine biologists suggest that the only way to give them the space they need might be to seek them out.
The Samburu Climbers of Kenya Find a New Way of Life On the Stone: In Kenya's far north, the semi-nomadic Samburu tribesmen are exploring their ancestral landscape in a radical new direction — vertically.
Overcrowded Gem: Along Russia's majestic Lake Baikal, the quest for tourism cash stalks a pristine landscape.
Cold Shoulder: From dubious first ascents to tense clashes at high altitude, here are 10 famous climbing controversies –- some resolved and others less so.
From the Amazon to the Arctic Ocean and Beyond: Yachting World catches up with all-around adventurer Mike Horn, who reckons that he has sailed around the planet 27 times. Is Mike Horn the ultimate expedition sailor?
Would the Pandemic Stop Paul Theroux From Traveling? No, of course not.
Making Bargains With God on Mount Logan: When four young climbers with big-mountain dreams went north to tackle Canada's highest peak, they had no idea how close they'd come to never returning.
Arctic Domes for Homes: Could a few thousand cheap, cute, igloo-shaped geodesic domes solve the Canadian Arctic's housing crisis?
Gravity: Death on El Cap pulls two climbers in opposite directions.
About the Author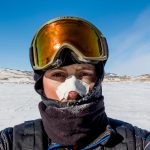 Ash Routen
Ash is an outdoor and adventure writer from the UK. He juggles a day job as a public health scientist with a second career in outdoor writing.

His words have featured in national newspapers, international magazines, and on various websites. Major bylines include Financial Times, Daily Telegraph, Porsche, Outside Magazine, Rock and Ice, and Red Bull.

He holds two degrees in Exercise and Health Sciences, and a PhD in Public Health.

His areas of expertise are polar expeditions, mountaineering, hiking, and adventure travel. In his spare time Ash enjoys going on small independent sledding expeditions, outdoor photography, and reading adventure literature.

Read more at www.ashrouten.com or follow Ash via @ashrouten on Twitter and Instagram.