French adventurer Vincent Colliard and filmmaker Caroline Cote have completed their 1,000km sled haul across the Norwegian archipelago of Svalbard.
The pair wanted to make the first unsupported winter crossing (North to South) of the main island of Spitsbergen. Since they were beginning from the capital of Longyearbyen, they had to do it the hard way: Longyearbyen-northern tip, northern tip-southern tip, then back to Longyearbyen.
Starting on February 2 Colliard and Cote skied north, pulling 180kg and 130kg sleds respectively. They reached the northern tip of Spitsbergen, then turned around and headed back south. All of this, of course, within the polar winter, hence the expedition's name: Polar Shadows. They traveled in darkness until February 15, when the sun crested the horizon for the first time in 2021.
Colliard and Cote made it to Sorkapp at the southern tip of Spitsbergen one day before spring on March 20, thus completing their unsupported double crossing totally in winter. After sitting out four days of bad weather, they still had to sled back to their starting point in Longyearbyen, a journey of around 250km.
All in all, the pair covered around 1,000km in 63 days without support.
About the Author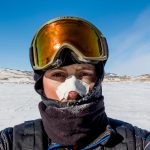 Ash Routen
Ash is an outdoor and adventure writer from the UK. He juggles a day job as a public health scientist with a second career in outdoor writing.

His words have featured in national newspapers, international magazines, and on various websites. Major bylines include Financial Times, Daily Telegraph, Porsche, Outside Magazine, Rock and Ice, and Red Bull.

He holds two degrees in Exercise and Health Sciences, and a PhD in Public Health.

His areas of expertise are polar expeditions, mountaineering, hiking, and adventure travel. In his spare time Ash enjoys going on small independent sledding expeditions, outdoor photography, and reading adventure literature.

Read more at www.ashrouten.com or follow Ash via @ashrouten on Twitter and Instagram.