Here at ExWeb, when we're not outdoors, we get our adventure fix by exploring social media and the wider interweb. Sometimes we're a little too plugged in, and browsing interesting stories turn from minutes into hours. To nourish your own adventure fix, here are some of the best links we've discovered this week.
During Apollo 11, He Wasn't on the Moon. But His Coffee Was Warm: Michael Collins kept an orbital vigil during Neil and Buzz's moonwalk, but he really didn't feel that lonely.
Path of the Dormouse: Leading trad climber James Pearson goes in search of esoteric delights underground, in the Grotte de la Salamandre.
How the Pentagon Started Taking U.F.O.s Seriously: For decades, flying saucers were a punch line. Then the U.S. government got over the taboo.
Why I'm Running 5,000 Miles Around The Coast of Britain Solo: It has taken four winters so far, but wild beauty, nature, and the kindness of strangers make this slow journey worthwhile.
Complete Devastation: Friends are remembering Markus Dyck. The polar bear biologist died last week in a helicopter crash near Resolute Bay, Canada, along with two crew members.
Meet a Man Who Has Lived Alone On An Island For 32 Years: Mauro Morandi found serenity in solitude for decades on Italy's Budelli island. He now has to leave.
Professional Editing: A former winner at the International Landscape Photographer Awards, Alex Nail gives a YouTube masterclass on simple but professional landscape photography editing.
The COVID Outbreak on Everest Is Getting Worse: A climber posted on social media that the situation at Base Camp is "a total shitstorm. I had no idea what I was flying into."
The Real Story Behind the Infamous Mutiny on H.M.S. Bounty: The British naval crew's rebellion is legendary. But here's what happened afterward — from marooned mutineers to court-martials.
The Magic Glass: Insights into Adventure Navigation: The story of the development of navigation, from its earliest days to modern satellite positioning systems.
About the Author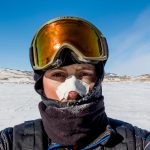 Ash Routen
Ash is an outdoor and adventure writer from the UK. He juggles a day job as a public health scientist with a second career in outdoor writing.

His words have featured in national newspapers, international magazines, and on various websites. Major bylines include Financial Times, Daily Telegraph, Porsche, Outside Magazine, Rock and Ice, and Red Bull.

He holds two degrees in Exercise and Health Sciences, and a PhD in Public Health.

His areas of expertise are polar expeditions, mountaineering, hiking, and adventure travel. In his spare time Ash enjoys going on small independent sledding expeditions, outdoor photography, and reading adventure literature.

Read more at www.ashrouten.com or follow Ash via @ashrouten on Twitter and Instagram.