French mountain guide Paul Bonhomme has made the first known descent of the West Face of 2,898m Mont Pouzenc in the French Alps. This is number eight in Bonhomme's self-imposed challenge to ski 10 new lines in the Italian, French, and Swiss Alps.
On May 4, he started at 5:30 am, then spent two hours reaching the base of the West Face and a further two hours summiting the steep, exposed line.
After resting for half an hour, he began his descent down the leftward-trending line on the West Face. He skied the entire route except for one 30m downclimb at a cliff band and a 50m traverse with his skis on his back. He evaded other cliff bands through careful navigation. The ski down took about an hour.
"The snow and the face were complex and needed some really strong steep-skiing skills," said Bonhomme afterward.
Bonhomme named the new route La traversée des Anges (The Angels' Traverse) in memory of those who died in avalanches in recent weeks, "and of whom I often thought on this slope." Recent overnight freezes had improved the snow conditions.
About the Author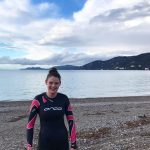 Rebecca is a freelance writer and science teacher based in the UK.

She is a keen traveler and has been lucky enough to backpack her way around Africa, South America, and Asia. With a background in marine biology, she is interested in everything to do with the oceans and aims to dive and open-water swim in as many seas as possible.

Her areas of expertise include open water sports, marine wildlife and adventure travel.