Paul Bonhomme, Vivian Bruchez, and Giles Sierro have made the first ski descent of the southwest face of the Bietschhorn in Valais, Switzerland. This is the ninth in Bonhomme's quest to ski 10 new lines across the Italian, French, and Swiss Alps this season.
For the fourth time, Bruchez joined him on a descent. Previously, the French pair skied a new line on Mount Blonnière (France), the southeast face of Tête Carrée (Italy), and the east face Combin de la Tsessette (Switzerland) together.
The trio skied this southwest face of the Beitschhorn on May 9. It was the second Swiss line of the project. Because of the complex weather and recent avalanches, planning was crucial.
"On a slope steep, what I'm looking for is stability," Bonhomme said. "Hard snow guarantees safety, even if it means increasing the technical level."
They had planned to ascend to the Bietsch Hut on May 8 to scope out the summit. But after inspecting the face with binoculars, they judged that their planned line was in good condition. Just after midnight on May 9, they began their four-hour trudge to the base. They then climbed to the summit, which they reached eight in the morning. It took them two hours to ski down the 900m, sometimes 50° line. They succeeded without rappels and suggested rating the route 5.4/E4.
"The line is really wonderful, very steep all the way, and the cliffs all around are just mystical!" Bonhomme said.
About the Author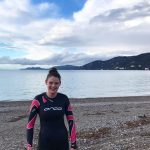 Rebecca is a freelance writer and science teacher based in the UK.

She is a keen traveler and has been lucky enough to backpack her way around Africa, South America, and Asia. With a background in marine biology, she is interested in everything to do with the oceans and aims to dive and open-water swim in as many seas as possible.

Her areas of expertise include open water sports, marine wildlife and adventure travel.