SOG is a tactical knife and equipment company for tough guys. The SOG Instinct Mini neck knife is a reflection of those qualities. It's designed to absorb abuse with a thick, full tang blade, coarse G10 handle scales, and a hard polymer sheath.
I found the knife to be rugged and heavy. Its military inspiration was obvious — user comfort was subordinate to the utility. Though I found SOG's take on the neck knife to be a little cumbersome for EDC use, its solid build inspired confidence, and it tested well in the field.
Definition and Specs: Neck Knives and the SOG Instinct Mini
A neck knife is a small fixed blade knife worn around the neck on a lanyard attached to a sheath, concealed beneath clothing. Neck knives are EDC tools, often with tactical and self-defense capabilities.
The SOG Instinct Mini is a heavy-duty take on the form. It's 4.8 inches long and a little heavy for the category at 3.8 oz. (sheath included). The handle scales are G10, which is a hard fiberglass compound. The hard polymer sheath is substantial, with grooved edges, four large lashing slots, and a stout clip that attaches to either side (allowing for left- or right-handed draw). Instead of a parachute-cord lanyard for a necklace, SOG opts for a dog tag chain.
The full tang blade is 4-mm thick with a 1.9-inch edge. It has generous oval-shaped aeration (presumably to dump weight, though it seems to help open bottles). The spine is grooved where my thumb naturally met it. The blade narrows to a relatively tall clip point and a robust cutting edge.
Testing: What Happened
After registering its heavy-duty build, the first thing I noticed about the Instinct Mini was its robust edge. Since the blade is thick but not very tall, its primary grind leaves a lot of material near the edge — which features a fairly high-angle grind.
That doesn't mean the knife is not sharp: it means it's less of a precision slicing tool and more of a workhorse. The knife wouldn't cut a free-hanging sheet of paper smoothly, even when the edge was razor-sharp. However, it did hold its edge well. Intuitively, this is an advantage in an EDC knife that sees heavy use. It's impractical to have to sharpen your working knife all the time — it seemed to me like the Instinct Mini's high-angle grinds were SOG's solution to dulling.
Beyond that, the SOG Instinct Mini is a tank of a knife. It held its own underwood batoning, rope cutting, pruning woody stems up to about 1/8 inch, and bottle opening, requiring little resharpening.
I wasn't impressed by the knife's carrying comfort. It felt heavy hanging around my neck, and I never forgot it was there. Removing the clip and replacing the chain with a parachute cord helped some, but it's the knife itself that's heavy.
Perhaps worse, it tended to twist on the chain whenever I bent over, and it hung freely. That meant it sometimes hung in a left-handed draw position without me knowing it. Usually, it's not that big of a deal, but fumbling to draw your knife backward could be a disaster in a self-defense situation.
SOG does advise that carrying the Instinct Mini as a neck knife is optional. Its clip is the main event: it mounts on either side of the sheath and tightens at any position in a full 360-degree circle. It's a preference setting that shows SOG's intent on tactical utility.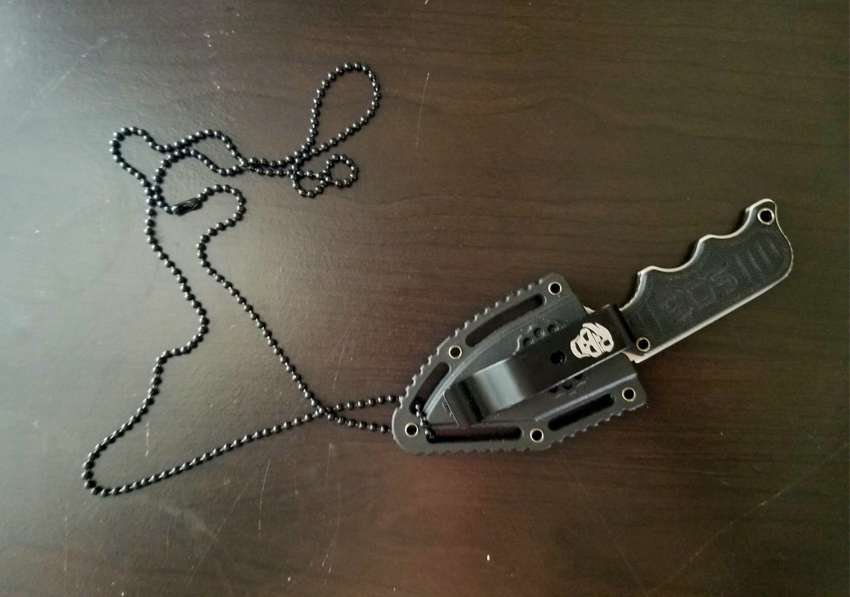 Review Conclusions: The SOG Instinct Mini
It may not be my favorite neck knife, but the SOG Instinct Mini is a rugged, capable EDC blade. It's a little heavy, but it's built for the long haul. I felt satisfied by its quality and utility at MSRP $35.
See SOG Instinct Mini on Amazon