Polish ski mountaineer Andrzej Bargiel has become the first person in history to ski down from the summit of the second highest mountain in the world. This follows a busy few days on K2, as 31 climbers summited on July 21. No word on whether Bargiel had to dodge any of them as he hurtled downhill.
Within each generation of high-altitude alpinism, there are exceptional moments: Reinhold Messner's solo climb of Everest in 1980, or House and Anderson's alpine-style ascent of Nanga Parbat's Rupal Face in the noughties, for example. Given the notoriously harsh weather on K2, its extreme altitude, the exposure and the technical difficulty, Bargiel's descent must rank as one of those moments. That some of the world's best extreme skiers have tried and failed only strengthens his achievement.
On July 19 Bargiel left Base Camp for Camp 2, where his climbing partner, Janusz Golab, was waiting. After a night at Camp 3, Bargiel hurried on to Camp 4 alone as Golab was feeling unwell. Here, Bargiel spent the night before pushing on alone to the summit. He reached it early on Sunday morning (July 22).
Bargiel at Camp 4 high on the southeast spur of K2. These shots were taken via a drone piloted by Bargiel's brother. Photo: Bartek Bargiel

Bargiel left the summit by the Abruzzi route, the voie normale, then traversed right to follow a series of lines that culminated in the Polish route down the steep and imposing south face.
Speaking at Base Camp, Bargiel said: "I'm very happy that I've managed to ski down the summit of K2 and get back to the base safely! I started to climb K2 at 4 in the morning on Sunday. The weather was good. Some problems appeared when I reached the peak and started to ski down. It was very cloudy and I had to wait for it to clear up at Base IV because the next phase of my downhill was going to be very difficult and technical on an extremely steep wall. I feel huge happiness and, to be honest, it was my second attempt, so I'm glad that I won't be coming here again".
About the Author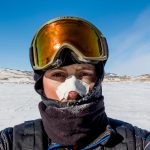 Ash Routen
Ash is an outdoor and adventure writer from the UK. He juggles a day job as a public health scientist with a second career in outdoor writing.

His words have featured in national newspapers, international magazines, and on various websites. Major bylines include Financial Times, Daily Telegraph, Porsche, Outside Magazine, Rock and Ice, and Red Bull.

He holds two degrees in Exercise and Health Sciences, and a PhD in Public Health.

His areas of expertise are polar expeditions, mountaineering, hiking, and adventure travel. In his spare time Ash enjoys going on small independent sledding expeditions, outdoor photography, and reading adventure literature.

Read more at www.ashrouten.com or follow Ash via @ashrouten on Twitter and Instagram.