On September 25, Catalan mountaineer Sergi Mingote summited Manaslu, his third 8,000'er in just 70 days. Three peaks remain before he completes the six-summit project he calls 3x2x8000. Mountaineer Moeses Fiamoncini and four Sherpas accompanied Mingote on a 16-hour ascent through dismal conditions and a dangerously strong wind.
As they approached the summit, the clouds parted and beautiful views spurred them on. The descent was even longer than the climb up, but an upbeat Mingote has decided to continue on to Dhaulagiri, the next on his list of three paired 8,000'ers.
About the Author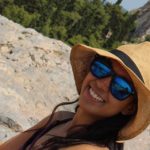 Kristine De Abreu
Kristine De Abreu is a writer (and occasional photographer) based in sunny Trinidad and Tobago.

Since graduating from the University of Leicester with a BA in English and History, she has pursued a full-time writing career, exploring multiple niches before settling on travel and exploration. While studying for an additional diploma in travel journalism with the British College of Journalism, she began writing for ExWeb.

Currently, she works at a travel magazine in Trinidad as an editorial assistant and is also ExWeb's Weird Wonder Woman, reporting on the world's natural oddities as well as general stories from the world of exploration.

Although she isn't a climber (yet!), she hikes in the bush, has been known to make friends with iguanas and quote the Lord of the Rings trilogy from start to finish.