Four veteran Austrian alpinists have made the first ascent of an unnamed peak in the Indian Himalaya. Hansjörg Auer, Max Berger, Much Mayr and Guido Unterwurzacher took three days to reach the 6,050-metre summit.
Hansjörg Auer told ExWeb: "We climbed a very logical line on the southeast face in a three-day, alpine-style push from the valley floor at around 3,200 meters."
They spent a number of days acclimatizing and waiting for suitable weather. When they were finally on the mountain, they encountered what Auer described as "very beautiful mixed pitches, but not too hard." Following bivys at 4,000 and 5,000 metres, they summited early on October 5, then descended by rappelling the same route.
Said Auer: "It's always great to attempt a virgin peak, and this time every decision turned out to be the right one."
This first ascent caps off a good year for Auer in the Greater Ranges. In June, he soloed the West Face of Lupghar Sar West in the Karakorum.
Previous
Hansjörg Auer Solos Lupghar Sar West
Hansjorg Auer Begins Solo of Lupghar Sar
Hansjörg Auer to solo Lupghar Sar West
Weekend Warm-Up: No Turning Back – Hansjörg Auer
About the Author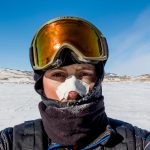 Ash Routen
Ash is an outdoor and adventure writer from the UK. He juggles a day job as a public health scientist with a second career in outdoor writing.

His words have featured in national newspapers, international magazines, and on various websites. Major bylines include Financial Times, Daily Telegraph, Porsche, Outside Magazine, Rock and Ice, and Red Bull.

He holds two degrees in Exercise and Health Sciences, and a PhD in Public Health.

His areas of expertise are polar expeditions, mountaineering, hiking, and adventure travel. In his spare time Ash enjoys going on small independent sledding expeditions, outdoor photography, and reading adventure literature.

Read more at www.ashrouten.com or follow Ash via @ashrouten on Twitter and Instagram.