Following the rope-fixing Sherpas, 30 or more Everest climbers reached the summit from the south early today. The successful mountaineers belong to three teams: Seven Summits Treks, Myrmidon Expeditions and Tenji Sherpa plus a single client.
As expected, guide Kami Rita Sherpa broke his own record for the most Everest summits, with 23.
As of early Thursday morning local time, more teams have left Camp 4 and have about 400m to go. This is expected to be the last day of good weather on the upper reaches of Everest for a while.
The largest successful contingent appears to be the Chinese Everest Expedition, supported by Seven Summit Treks. They are:
1) Ping Wang (Leader) – China 🇨🇳
2) Qiu Zu- China 🇨🇳
3) Jiang Yang – China 🇨🇳
4) Liu Ping (female) – China 🇨🇳
5) Luo Rijia – China 🇨🇳
6) Rui Junjian – China 🇨🇳
7) Fuan Wang – China 🇨🇳
8.) Xia Hongwei – China 🇨🇳
9) Ye Gesiji – China 🇨🇳
10) Ze Yong – China 🇨🇳
11) Yang Zhang (female) – China 🇨🇳
12) Che Lingping – China 🇨🇳
13) Cui Zhouping – China 🇨🇳
14) Gexi Yangchu – China 🇨🇳
15) He Honghu -(female) – China 🇨🇳
About the Author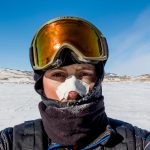 Ash Routen
Ash is an outdoor and adventure writer from the UK. He juggles a day job as a public health scientist with a second career in outdoor writing.

His words have featured in national newspapers, international magazines, and on various websites. Major bylines include Financial Times, Daily Telegraph, Porsche, Outside Magazine, Rock and Ice, and Red Bull.

He holds two degrees in Exercise and Health Sciences, and a PhD in Public Health.

His areas of expertise are polar expeditions, mountaineering, hiking, and adventure travel. In his spare time Ash enjoys going on small independent sledding expeditions, outdoor photography, and reading adventure literature.

Read more at www.ashrouten.com or follow Ash via @ashrouten on Twitter and Instagram.