Looking up at Langtang Lirung from their isolated Base Camp, Adam Bielecki and Felix Berg came to two conclusions: First, their decision to turn back from the upper slopes earlier this week had been right. Snow had fallen non-stop since then. Second, the time left before the monsoon strikes has run short. Too short.
"The weather forecast is miserable," said Bielecki. "Annapurna is also under constant snowfall, and our acclimatization is too weak to attempt a new and difficult route on an 8000'er." So the pair has decided to call off the expedition, without even setting foot on Annapurna.
The difficult 7,000m Langtang Lirung was to have been their acclimatization climb, one of the "autonomous adventures in wild regions that is much more tempting for me than merely climbing 8,000'ers [in any style]."
Bielecki didn't try to hide his disappointment. He had been gearing toward this new line on Annapurna for two years. "I have never been as well-prepared," he said. "I comfort myself that failure is the mother of success."
About the Author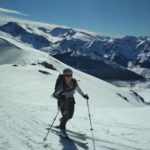 Angela Benavides
Senior journalist, published author and communication consultant. Specialized on high-altitude mountaineering, with an interest for everything around the mountains: from economics to geopolitics. After five years exploring distant professional ranges, I returned to ExWeb BC in 2018. Feeling right at home since then!