Here at ExWeb, when we're not outdoors, we get our adventure fix by exploring social media and the wider interweb. Sometimes we're a little too plugged in, and browsing interesting stories turns from minutes into hours. To nourish your own adventure fix, here are some of the best links we've discovered this week…
My Midlife Crisis as a Russian Sailor: Researching a book on 16th-century polar explorer William Barents, an author books a place on an expeditionary boat bound for frigid waters.
Death Couloir: Safely navigating the Grand Couloir du Goûter is a game of Russian Roulette, thanks to the deadly rockfall that peppers this part of Mont Blanc's via normale. But a team of researchers have been busy studying the best time and conditions to cross the dangerous chute.
Line of Sight: Mountain blogger Mark Horrell uses a neat website to try and work out which two mountains on earth have the world's longest view.
Thirty-Six Thousand Feet: The story of Victor Vescovo and the team behind the series of record-breaking dives in the Pacific Ocean's Mariana Trench. It's another luxurious long read from The New Yorker.
Wringing It Out: An unusual turn of events for a climber caught out on a soaking route in Wyoming with a less experienced partner.
A Cautionary Tale: Chucking in your job and heading into the wilderness to build a cabin with a good mate might sound idyllic, but two guys found out that chasing that dream is much harder than it seems.
About the Author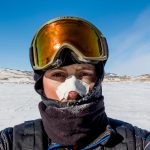 Ash Routen
Ash is an outdoor and adventure writer from the UK. He juggles a day job as a public health scientist with a second career in outdoor writing.

His words have featured in national newspapers, international magazines, and on various websites. Major bylines include Financial Times, Daily Telegraph, Porsche, Outside Magazine, Rock and Ice, and Red Bull.

He holds two degrees in Exercise and Health Sciences, and a PhD in Public Health.

His areas of expertise are polar expeditions, mountaineering, hiking, and adventure travel. In his spare time Ash enjoys going on small independent sledding expeditions, outdoor photography, and reading adventure literature.

Read more at www.ashrouten.com or follow Ash via @ashrouten on Twitter and Instagram.