In a year when outdoor athletes, stranded by COVID-19, have broken many long-standing local records, Tony Riddle has completed the UK's Three Peaks Challenge in the fastest time. Not only did he climb the three highest mountains in England, Scotland and Wales back-to-back — barefoot! — he also ran the distance between them in minimalist shoes.
He set off on his peculiar odyssey on August 29 and completed the 780km challenge in nine days, seven hours and 18 minutes. This broke the previous record by four hours and 31 minutes and was a world first for barefoot running.
The 45-year-old ran 80km a day, starting at Mt. Snowden (1,085m) in Wales. He then climbed Scafell Pike (978m), England's highest peak, and Ben Nevis (1,345m) in Scotland.
He did this with a broken toe, after just recovering from COVID-19. Riddle found pavement the most difficult to run on, as he often goes barefoot in the mountains. That is why he wore minimalist runners between peaks. "When tarmac gets wet, it has this cheese-grater effect on feet," he explained.
Riddle described the nine days as "brutal and beautiful". Occasionally, he had to peel off sections of skin on his legs because of chafing. He likened it to peeling away the ego's protective layers: "I had to go through that level of exhaustion to remove whatever masks or facades were in place."
This is not Riddle's first barefoot challenge. In September 2019, the ultra runner ran barefoot for 1,400km across Great Britain, from Land's End to John O'Groats. During the month-long journey, he ran approximately 50km a day until the last two days. Near the end of the run, he cut his foot on a jagged rock, forcing him to rest for a few days while it healed. He then decided to increase his distance over the last two days, logging in 75km and 92km.
Riddle's love for barefoot running comes from a foot deformity he was born with. In the womb, his feet had wrapped under his armpits, so as a young child, he often wore various corrective measures, including plaster casts and boot braces. It changed his perspective on his body and ignited a fascination with biology. He has come to believe that the human body performs best when you embrace nature and cast aside modern inventions.
About the Author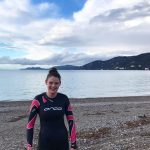 Rebecca is a freelance writer and science teacher based in the UK.

She is a keen traveler and has been lucky enough to backpack her way around Africa, South America, and Asia. With a background in marine biology, she is interested in everything to do with the oceans and aims to dive and open-water swim in as many seas as possible.

Her areas of expertise include open water sports, marine wildlife and adventure travel.