Marek Holecek and Radoslav Groh have launched their pure alpine-style climb on 7,100m Baruntse's Northwest Face.
The weather did not begin as clear as they expected. "[It] was playing with us after we left BC in the afternoon," Holecek wrote yesterday. "We made a decision, and during a small snowfall, Rada and I [huddled] between cracks in the ice, under ominously hanging, house-sized seracs."
The pair had some tense times crossing the icefall. Eventually, they camped on a snow plateau above the icefall, right by the face that they started climbing yesterday morning. "We have a great desire to fight for the result, but also a lot of worries, and lightly pissed in our pants."
Geographically, it will be interesting to learn exactly where the Czech climbers open their new line. According to Richard Salisbury of the Himalayan Database, the face shown in Holecek's pictures is not the Northwest Face, but the WSW Face.
Also, the Base Camp from which they took their pictures "is the normal BC for Baruntse SE Ridge attempts via the West Col," Salisbury told ExplorersWeb. "Holecek's proposed route appears to be the WSW Face, not the NW face, which is on the other side of the mountain (in the shadows)."
About the Author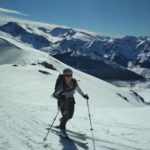 Angela Benavides
Senior journalist, published author and communication consultant. Specialized on high-altitude mountaineering, with an interest for everything around the mountains: from economics to geopolitics. After five years exploring distant professional ranges, I returned to ExWeb BC in 2018. Feeling right at home since then!