I've been running for as long as I can remember, not lengthy runs but consistent, avid ones. I remember my first watch: a $20, purple and black Timex from Target. I still have it; it's dead in a make-up bag, like an old friend reminding me how far we've traveled on our own two feet.
In eight years, I only replaced the battery in my trusted Timex twice. Granted, it had only a small fraction of the functions that today's running watches offer. But after retiring the Timex for a Garmin Forerunner 45S, the battery-demanding features of a smart running watch had me excited, on my tiptoes, even. And it connects via Bluetooth to the Garmin Connect mobile app. Essentially, it unified my running progress and my health monitoring on one platform.
My Timex had a light, a calendar, an alarm, and a stopwatch. The best-running watches replace the Timex-style stopwatch in function, including vitals, Smart features, complementary mobile apps, and emergency services. The Garmin Forerunner 45S is a low-profile, average-priced, functional, smart running watch that'll keep you honest about your training and feeling safe while running.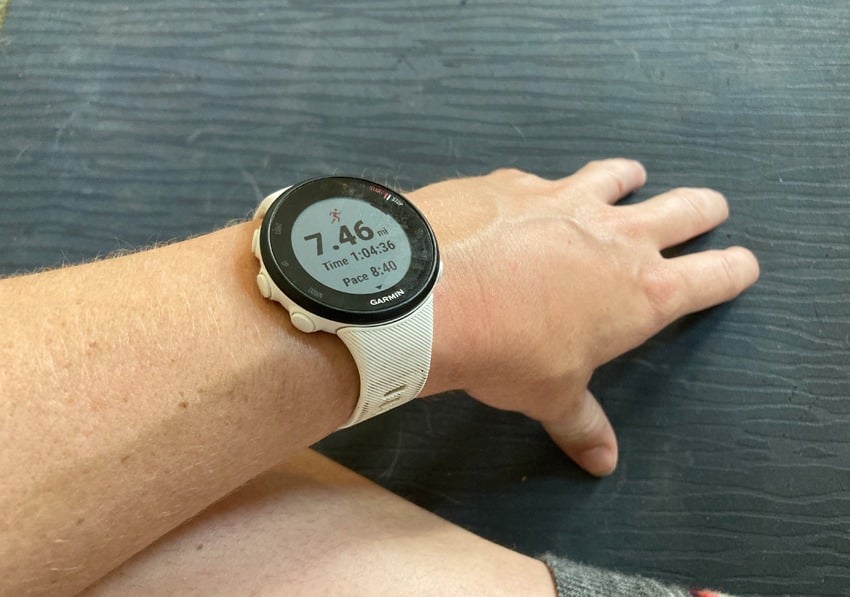 Garmin Forerunner 45S details
For an MSRP of $200, I think the Forerunner 45S packs a punch. It's slightly smaller, with a 40mm diameter face, than its larger sibling, the Forerunner 45. While its best use is running, the watch does have other pre-loaded activities like cycling, cardio, elliptical, and yoga settings. You can upload free training programs to the watch for pre-programmed workouts or routes in the Connect app.
The Lithium-Ion battery life is up to 14 days as long as the GPS feature isn't constantly engaged. If you're an ultra-runner and race for longer than 13 hours, the 45S won't see you to the end of the race. It has a stopwatch and timer for training and an alarm to get you out of bed.
The GPS watch is satellite detectable and the pedometer uses a digital three-axis accelerometer. With a 50-meter water resistance rating, 45S owners are clear to swim with the watch on cross-training days.
Choosing a running watch
I knew what I wanted in a running watch when it came time to replace my Timex: a low profile, GPS, and training features. I would highly recommend figuring out your budget and needs before heading to the Garmin online store or your local retailer. Narrowing down the field based on features and price makes for a smaller playing field, and ultimately an easier choice.
I've been running with this Garmin watch for about three years. The only grief I have is the lack of an altimeter. But, in reality, Texas's elevation changes aren't significant enough to justify the cost of a model with an altimeter.
Otherwise, the Garmin Forerunner 45S was ideal for me. The one-inch color display screen sits about a quarter of an inch above my wrist. Its profile didn't impede my arms cadence, and I could still wear a fitted long sleeve thermal layer over the watch without feeling bulky or too tight. I have worn the watch over my long sleeve in some cases, and the heart rate monitor would still read my wrist's HR.
Setting up the Garmin Forerunner 45S
Setting up the 45S was hassle-free. Once I downloaded the app and turned on the Bluetooth, the app immediately recognized the watch and confirmed the pairing. Once in the Garmin Connect app, I made a profile. From there, I could view daily activity, stress levels, sleeping habits, and "body battery", monitored by the wristed-based heart rate monitor.
The app also allows for manual input of water intake, a female-specific calendar to track your period, and specific workouts that correlate to a tracked activity.
Safety features
Users can set three emergency contacts inside the app. I've never had to use the feature but if I did, the watch would send my GPS location to my designated contacts. The assistance feature felt like a safety blanket as I ventured into the woods for a trail run. Additionally, the incident detection feature senses any major changes in motion. After tripping over my own feet, the 45S prompted me with a question: "Incident detected, contact emergency assistance?"
Splits on my wrist
Old habits die hard, and previously, while doing interval training or tempo runs, I've always had to peek at my wristwatch frequently. The customizable pace alerts and the integrated interval training features changed the course of my training. The vibrating and audio pace alerts allowed me to keep my eyes up and look in front of me.
Pairing my phone also meant I could link my music app to the watch. Instead of having the confusing touch-control dance with my AirPods, I could change the volume and the songs from my wrist, keeping me on pace and off my phone.
Long runs are my favorite, and it has been rewarding to see improvement towards becoming a more efficient runner. After the run, splits appear on the watch face. After syncing the information to my watch, I could see heart rate splits, average pace, individual mile splits, a map of the route with a color-coded pace, and average speeds. I could finally get into the nitty-gritty of training.
Garmin Forerunner 45S review conclusions
The features of the Garmin Forerunner 45S border between what a runner needs and what a runner wants. Some features render nothing for a new runner, whereas others aren't advanced enough for a competitive athlete.  If you're living in the realm between a casual health-oriented runner and a uber-competitive athlete, the Garmin Forerunner 45S should suit you.
See the Garmin Forerunner 45S on Garmin
See the Garmin Forerunner 45S on Amazon
See the Garmin Forerunner 45S on Walmart