Bulgarian mountaineer Boyan Petrov has high hopes for 2018. He aims to summit Shishapangma and Everest this spring, and Cho Oyo in the autumn.
Three 8,000m peaks in a year sounds daunting, but Petrov is no stranger to high altitude. He already has ten 8,000m peaks to his credit, beginning with Gasherbrum I in 2009. Since then, he has climbed Kangchenjunga, Broad Peak, K2, Manaslu, Annapurna, Makalu, Nanga Parbat, Gasherbrum II and Dhaulagiri. He made all ten climbs without supplemental oxygen.
Petrov also has experience climbing 8,000m peaks with short turnaround times. In 2014, he successfully reached Broad Peak and then K2, in just 8 days total. This year, he will attempt Shishapangma first, then move on to Everest from the Tibet side. Once again, he will climb without supplemental oxygen.
Previous / Links:
Top 7 Expeditions in the Spring 2018 Himalaya Season
Annapurna Descent Update: Boyan Petrov's Summit Report
Boyan Petrov's GII Summit Debrief
About the Author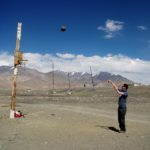 Martin Walsh
Martin Walsh is a freelance writer and wildlife photographer based in Da Lat, Vietnam.

A history graduate from the University of Nottingham, Martin's career arc is something of a smörgåsbord. A largely unsuccessful basketball coach in Zimbabwe and the Indian Himalaya, a reluctant business lobbyist in London, and an interior design project manager in Saigon.

He has been fortunate enough to see some of the world. Highlights include tracking tigers on foot in Nepal, white-water rafting the Nile, bumbling his way from London to Istanbul on a bicycle, feeding wild hyenas with his face in Ethiopia, and accidentally interviewing Hezbollah in Lebanon.

His areas of expertise include adventure travel, hiking, wildlife, and half-forgotten early 2000s indie-rock bands.