Polish ski mountaineer Andrzej Bargiel is currently in the Karakorum to try to become the first person to complete a ski descent of K2.
Before taking on this ambitious target, Bargiel teamed up with Polish climber Janusz Golab to acclimatize by climbing and skiing down Gasherbrum II, the lowest and most accessible of the 8000m peaks in the Karakorum. In 2012, Golab and fellow Pole Adam Bielecki became the first to summit Gasherbrum I in winter.
Upon leaving the last outpost of Skardu three weeks ago, Bargiel and Golab took jeeps to a small village called Askole, where they continued on foot past notable landmarks such as the Trango Towers and across the Baltoro Glacier.
They arrived at Gasherbrum II Base Camp on June 25, with clear weather and reasonable temperatures (-10 C).
Two days later, the pair headed up to Camp 1 to acclimatize. They planned to move up to Camp 2 the following day, but heavy snowfall forced them back to Base Camp. The weather continued poor the following week, so on July 4 they decided to abandon Gasherbrum II and head to K2 for Bargiel's primary goal of the season.
About the Author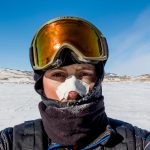 Ash Routen
Ash is an outdoor and adventure writer from the UK. He juggles a day job as a public health scientist with a second career in outdoor writing.

His words have featured in national newspapers, international magazines, and on various websites. Major bylines include Financial Times, Daily Telegraph, Porsche, Outside Magazine, Rock and Ice, and Red Bull.

He holds two degrees in Exercise and Health Sciences, and a PhD in Public Health.

His areas of expertise are polar expeditions, mountaineering, hiking, and adventure travel. In his spare time Ash enjoys going on small independent sledding expeditions, outdoor photography, and reading adventure literature.

Read more at www.ashrouten.com or follow Ash via @ashrouten on Twitter and Instagram.