Sergey Nilov and Dimitry Golovchenko face an impending decision — to continue climbing the last 500m to the summit of 7,710m Mount Jannu by the original 1962 French route (Southeast Ridge), or to abandon and descend.
Yesterday, March 25, the resilient duo got to within one or two rope lengths of the sloping shoulder of the Southeast Ridge, at an altitude of about 7,270m. Today, half a metre of snow fell, and they spent the day huddled in their tent, with diminishing supplies. They've been on the mountain for 11 days, and food and fuel are running low.
For the next 48 hours, the wind should drop and the snowfall taper off, potentially allowing for a summit push on Wednesday.
If Nylov and Golovchenko manage to top out, they are expected to downclimb the Southeast Ridge, as the Southeast Face is considered too complex and dangerous at this stage.
Related stories:
Mount Jannu: Why is It So Hard?
About the Author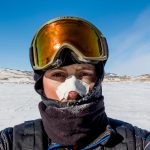 Ash Routen
Ash is an outdoor and adventure writer from the UK. He juggles a day job as a public health scientist with a second career in outdoor writing.

His words have featured in national newspapers, international magazines, and on various websites. Major bylines include Financial Times, Daily Telegraph, Porsche, Outside Magazine, Rock and Ice, and Red Bull.

He holds two degrees in Exercise and Health Sciences, and a PhD in Public Health.

His areas of expertise are polar expeditions, mountaineering, hiking, and adventure travel. In his spare time Ash enjoys going on small independent sledding expeditions, outdoor photography, and reading adventure literature.

Read more at www.ashrouten.com or follow Ash via @ashrouten on Twitter and Instagram.