Malaysian climber Wui Kin Chin is currently in serious condition in Mediciti Hospital in Kathmandu. Kin Chin was at high altitude on Annapurna without supplementary oxygen, food or water for over 40 hours.
The 49-year-old Malaysian disappeared during his descent from the summit on April 23. He went missing somewhere below the French Couloir at 7,750m on Tuesday evening, but it is not known why his climbing guide or fellow climbers seemingly abandoned him.
During an initial aerial search on April 25, Kin Chin was seen waving at the helicopter crew at 08:00. A rescue team consisting of Nirmal Purja, Mingma David Sherpa, Geljen Sherpa and Gesman Tamang were then dropped at Camp 3 (6,500m) by longline. After five hours of climbing, they located Kin Chin at 17:30 local time at 7,500m.
"The rescue was difficult," said Nirmal Purja. "The wind was picking up making the going and conditions harder. Chin was incredibly tired. As were we, after summiting 36 hours previously."
Kin Chin was lowered down to Camp 3 (6,500m) late last night to await helicopter evacuation. The Malaysian's condition deteriorated before he was evacuated by longline at 09:00 this morning, after three failed attempts at a pick-up.
Bureaucratic issues delayed Kin Chin's rescue.
Correction: May 1, 2019 An earlier version of this article stated "His insurance company, Global Rescue, initially refused to authorize a search until his wife intervened, and Simirk Air was chartered." We have removed this sentence as it was deemed to be incorrect in light of further information. An in-depth treatment of the facts can be found in a later article here.
About the Author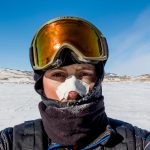 Ash Routen
Ash is an outdoor and adventure writer from the UK. He juggles a day job as a public health scientist with a second career in outdoor writing.

His words have featured in national newspapers, international magazines, and on various websites. Major bylines include Financial Times, Daily Telegraph, Porsche, Outside Magazine, Rock and Ice, and Red Bull.

He holds two degrees in Exercise and Health Sciences, and a PhD in Public Health.

His areas of expertise are polar expeditions, mountaineering, hiking, and adventure travel. In his spare time Ash enjoys going on small independent sledding expeditions, outdoor photography, and reading adventure literature.

Read more at www.ashrouten.com or follow Ash via @ashrouten on Twitter and Instagram.