We reported a few days ago that Thomas Huber, Simon Gietl and Yannick Boisennot, are heading back to Latok I to attempt the legendary North Ridge. It turns out that contrary to initial reports, their exact plans remain under wraps. ExWeb grabbed a few moments with Huber before he headed to Pakistan.
On his plans for Latok I

We've decided not to say too much. First of all, we want to have a great time again in the Choktoi Valley. Of course, we have a plan, but you never know how the weather or the conditions will be. We'll start our expedition in two weeks and we expect to be there until the end of August. We really hope we get some good weather. Then we'll see what we can do.
I want to go back to mountaineering as it was few years ago: no blogs, news or social media during the expedition. We want to connect with the mountains and with each other. There's time for media when we return. For now, I look forward to being without a connection, except with our families via satphone.
On the strengths of their team
We are good at all [types of climbing]. But I think it's always a matter of the right moment. If you feel great, you can push limits, because then the terrain does not feel so hard, just very sustained and complex. The key is to make the right decision in the right moment, and to lead when you feel great!
On acclimatization
There are many peaks in the Choktoi Valley around 6,000m.
On relaxing at Base Camp
We'll train on a hangboard, do some bouldering and sport climbing, play cards with our cook and read books.
On their main objective
We'll see which mountain we'll try to climb. First, we must reach our Base Camp safely. All other things, I'll let you know when we come back.
Related stories:

"Goodbye, Life": Huber Returns to Latok's Legendary North Ridge
Latok I: In Conversation with Tom Livingstone
Breaking News: North Side of Latok I Finally Climbed
Updated: Gukov Rescued From Latok I
Gukov Trapped on Latok I After the Death of his Partner
South Koreans Survive Avalanche on Latok One
About the Author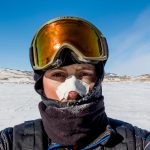 Ash Routen
Ash is an outdoor and adventure writer from the UK. He juggles a day job as a public health scientist with a second career in outdoor writing.

His words have featured in national newspapers, international magazines, and on various websites. Major bylines include Financial Times, Daily Telegraph, Porsche, Outside Magazine, Rock and Ice, and Red Bull.

He holds two degrees in Exercise and Health Sciences, and a PhD in Public Health.

His areas of expertise are polar expeditions, mountaineering, hiking, and adventure travel. In his spare time Ash enjoys going on small independent sledding expeditions, outdoor photography, and reading adventure literature.

Read more at www.ashrouten.com or follow Ash via @ashrouten on Twitter and Instagram.