After his unauthorized ascent of Chukima Go (6,257m), Spanish climber David Suela Fernandez has been handed a hefty travel and climbing ban by Nepalese authorities.
The Ministry of Culture, Tourism and Civil Aviation have banned Fernandez, 40, from entering Nepal for five years, and have started the process of deporting the Spaniard. The Ministry is also recommending that Fernandez receive a 10-year ban on climbing in the country, and a fine of $250.
Fernandez's climbing partner, Felipe Valverde, died while descending from the summit last week, allegedly taking a 700m fall after unroping. Fernandez was subsequently heli-rescued by longline after Alex Txikon coordinated a pick-up by a private operator.
Besides climbing without an official permit, the pair didn't take out appropriate insurance. The families of the two Spaniards are now looking to crowdfund the $44,000 to cover the rescue operation, medical fees and repatriation.
The permit to climb Chukima Go was a meagre $125 and Fernandez must surely regret the decision to dodge such a small outlay. Nepal has previously doled out 10-year climbing bans for similar misdemeanors, but this appears to be the first time a foreigner has received a lengthy travel ban for a climbing violation.
Nepal issued just under 1,000 permits to foreign climbers this autumn. Fernandez's extended ban is no doubt an attempt to dissuade other climbers from flaunting the rules.
About the Author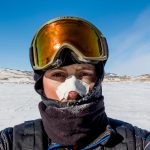 Ash Routen
Ash is an outdoor and adventure writer from the UK. He juggles a day job as a public health scientist with a second career in outdoor writing.

His words have featured in national newspapers, international magazines, and on various websites. Major bylines include Financial Times, Daily Telegraph, Porsche, Outside Magazine, Rock and Ice, and Red Bull.

He holds two degrees in Exercise and Health Sciences, and a PhD in Public Health.

His areas of expertise are polar expeditions, mountaineering, hiking, and adventure travel. In his spare time Ash enjoys going on small independent sledding expeditions, outdoor photography, and reading adventure literature.

Read more at www.ashrouten.com or follow Ash via @ashrouten on Twitter and Instagram.